Twitterati stand in support of Suresh Raina after N Srinivasan's 'prima donna' comment
Whatever be the reason, fans are not supporting the ugly side of this matter and are standing with Raina.
Updated - Sep 1, 2020 10:45 am
3.2K Views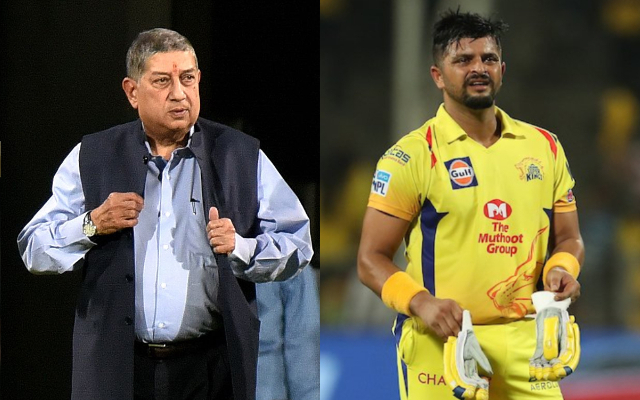 Things have not been looking good for Chennai Super Kings this year ahead of the Indian Premier League 2020. At least 13 members tested COVID-19 positive from their contingent, and then star player Suresh Raina set foot for India, leaving everyone befuddled. Firstly it was in talks that he left the team stating 'personal reasons', but gradually more details started surfacing, and no one could reason out his abrupt departure.
While many speculated that the murder of his close relative in Pathankot could be the reason, others said he was possibly scared of coronavirus spread in his camp. He was someone who kept family before everything, and related concern pushed him to fly back to India. However, according to the latest reports of Outlook, the CSK cricketer had an issue with the allotted hotel room. It was because of this he was in a rift with CSK management.
In the same light, CSK owner N Srinivasan criticised the 33-year-old Raina heavily. He has used strong words like 'prima donna', and stated that 'fame has gone to his head'. Whatever be the reason, fans are not supporting the ugly side of this matter and are standing with Suresh Raina.
Here's how Twitterati supported Suresh Raina-
Srinivasan has disrespected Raina by calling him prima donna, etc.
Suresh Raina should leave CSK, deserves a better team next year.

— Abhishek (@ImAbhishek7_) August 30, 2020
He celebrated others' success like his own 🙌

This man left his team due to a hotel room?#Raina #Srinivasan pic.twitter.com/qQZs4rUV4W

— Thala Cricket (@thalacricket) August 31, 2020
Dhoni decided to side with Srinivasan as always and sacrifice Raina https://t.co/HrGJ9sJyUG

— Abhishek (@ImAbhishek7_) August 30, 2020
If N.Srinivasan @SriniMaama16 & S.Raina news is
a) true ..

It's absolute disgrace of CSK Boss to talk abt CSK's own lieutenant Chinna Thala who has served CSK over the years so faithfully. He's gotta apologise to Raina & get him back in flight ✈️ to UAE asap.

— Mahin (@mahiban4u) August 30, 2020
If this news/Rumours are false then why Leo @ChennaiIPL is not giving any Clarification or Statement regarding Srinivasan comments & rift over rooms between Raina and Csk management!
Strange to see this!

I am just more worried about #Raina ! 💔

— Sakshi♥️💫 (@Sakshi_Raina3) August 31, 2020
Don't know why Srinivasan had to speak out. Looks like Raina questioned his authority or something..

— Aravind (@netcitizen) August 30, 2020
I have got a solid captain. Dhoni is simply unfazed by anything. That is giving everyone in the team a lot of confidence."

– Srinivasan said. pic.twitter.com/cbW0un8ZKb

— Cricketopia (@CricketopiaCom) August 30, 2020
Mr. N srinivasan words about #Raina its not fair😡😡 it shows EGO of srinivasan pic.twitter.com/ss66HdUV3F

— akhil_MSD (@imakhi_reddy) August 31, 2020
Many don't know that CSK owner had tortured his son for being gay, forced him to marry a woman and lots more.
His son had compared Srinivasan to Orlando shooter in 2016.

The one who can do this to his son, imagine what he must be doing to cricketers #Raina https://t.co/O7FphhOysG

— Abhishek (@ImAbhishek7_) August 31, 2020
For some Morons, Success is doing up #raina. Seriously..!!! #Srinivasan pic.twitter.com/psG7KGwI96

— Amit Yadav (@amit_yadav14) August 31, 2020
Fans even don't believe that a selfless player like Raina would do something rash and the CSK star might have chosen self-respect over money and glamour this time. Srinivasan also stated that he is not realising what he is losing from the monetary point of view. The whopping amount of Rs 11 crore, which was Raina's salary for the fancy tournament, is a hefty amount.
The 33-year old has been an integral part of the team since the inception of IPL. He was known for playing stunning knocks, especially in this format of the game, and his sudden departure has created a huge void for the Yellow Army at the no 3-batting position.
Raina announced his retirement from international cricket along with MS Dhoni on August 15, which happened to be India's 74th Independence Day. Raina is currently the second-highest run-scorer in the history of the IPL after Virat Kohli.