Twitterati troll Aakash Chopra for splurging 7 lakhs on a meal
He is currently on a vacation.
Updated - Jul 17, 2018 3:43 pm
6.1K Views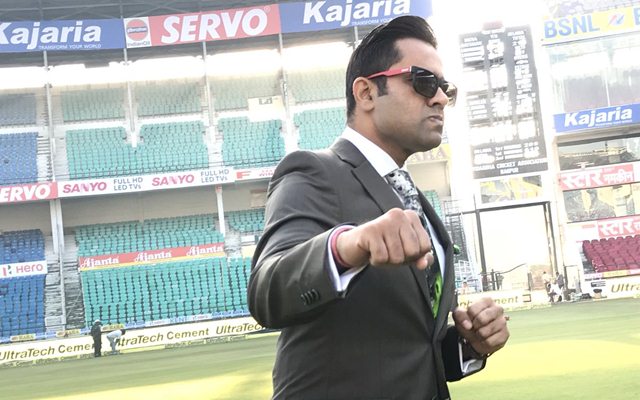 Follow us on Google News
Aakash Chopra is known for his to the point analysis of cricket and his Hindi commentary has given him all the fame. He has now also released his own application in which he expresses his thoughts about the Indian team and the cricketing action all over the world. He is currently enjoying a break away from his work and went to Indonesia for the vacations. However, Twitterati is busy trolling the former Indian cricketer for a hilarious reason for having a lunch worth 7 Lakhs in the Indonesian currency.
Aakash has a crazy fan following on social media and he always keeps his followers updated with different posts. Mostly, he prefers the discussion over cricket and is always perfect in his analysis. During one of the IPL games, there was a banner in the stands which had termed him as the best commentator in the world. Chopra was overwhelmed with the same and thanked he fans for all the love and support.
Hilarious trolls
Unfortunately, Aakash Chopra's attempt this time around hs gone horribly wrong. Recently, he posted a picture of the bill he paid after having a lunch during his stay in Indonesia. He enjoyed a tasty Indian food overseas in the hotel named 'Indian Tandoor' and tried to set the fans on fire by putting up the bill on Twitter. He had paid the total amount close to 7 Lakhs in Indonesian currency.
Many were shocked earlier but then a few realised that an Indian Rupee equates to 210.36 Indonesian Rupiah. Aakash had paid only Rs 3500 and Tweeples soon pounced on him with some hilarious trolls. Ther are a lot of social media gimmicks who never let the silly things miss and the same happened with the renowned cricket analyst.
While it took time for many to figure out the actual amount he paid, few scrutinised the food he had and asked him if it was worth the money it was charged.
Here's Chopra's post:
Paid nearly 7 Lac for a meal 🙈🤣😇😂 Welcome to Indonesia 🇮🇩😋 pic.twitter.com/LYySPXPN3c

— Aakash Chopra (@cricketaakash) July 15, 2018
This is how he was trolled:
Vo to AAP ki cometary se hi pata chal jata vegetarian ho AAP 😂😂😂

— Sachin S Saroj (@sachinsaroj5695) July 16, 2018
Akash bhai sorry to say….but this post not suitable to u bcz u r always been a good analyst…
So u have to analyse money exchange before u post….bdw for your commentary 100% …love

— CA. Shailesh Prajapati (@Shailes93594208) July 15, 2018
Hope the Veg Kebab was worth the price of 135k! 🤪

— Saurabh Malhotra (@MalhotraSaurabh) July 15, 2018
Not a person to judge but Indonesia me bhi chole bhature??? Kamaal karte ho..

— MMG (@OldThibido) July 16, 2018
Bhai utney mein aadmi 2 baar Court marraige karley , woh v Taj mein Party dey kay !!

— Debabrata Nayak (@nayak_debabrata) July 15, 2018
3500 rupees bhi afford nhi krr skte kya

— Ashish Sharma Turbanator😋😊 (@Ashish150902) July 15, 2018
Sorry to say but itne mai naa jaane kitne homeless logo ko Dominos k mzey dila dete..
Jyada hai waste matt karo useful logo mai use karo..

— Its Raj..! (@iLoyalSalmanFan) July 15, 2018
ये ठीक है..इंडोनेशिया में जाकर 4000 का खाना खाओ फैमिली के साथ और 7 लाख का बिल (वहाँ की करेंसी में) चुका के..ट्वीट कर दो!!!

हाहाहा😂😂

— Ⓜanish Joshi(MJ) (@JoshilaMj) July 15, 2018
First I read- Jahan kyu aaya, seminayak, kutta, billi😁😁😁 pic.twitter.com/TV3jFTxxOc

— VJ_OD (@vickey_od) July 15, 2018
Sir etne paise to hamare india me garib log ek sath dekh bhi nhi pate….

— Santosh Kumar Sharma (@Santosh34829622) July 16, 2018
[interaction id="5b4c52bfdb31a078ed269db4″]
Keep following CricTracker for more news and updates
Follow us on Telegram