Twitterati troll Indian batsmen after failing to counter the swing in Dharamsala
India is currently 50/7 after 23 overs.
Updated - Dec 10, 2017 1:43 pm
2.6K Views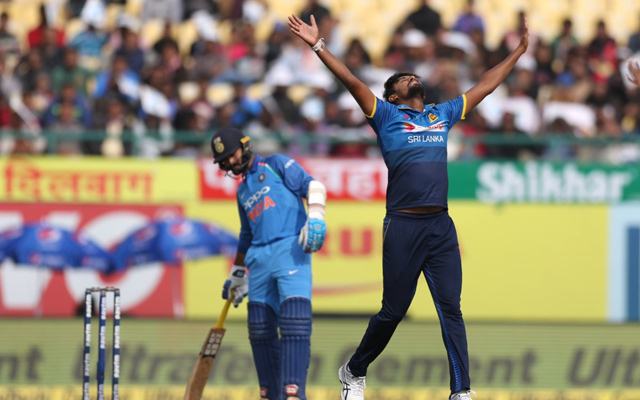 The first One-Day International between India and Sri Lanka is currently in progress in Dharamsala at HPCA Stadium where the visitors are all over the hosts. After being inserted to bat first on a cold morning, the Men in Blue have been rocked by the seam bowlers of Sri Lanka in helpful conditions. However, the approach from the Indian batsmen has been surprising which has led to the Twitterati lashing out at them.
Both Rohit Sharma and Thisara made their debut as the captain in the ODIs when they walked out for the toss in Dharamsala. The latter won the first battle by winning the toss who chose to bowl first as the Indian captain cleared that they wanted to bat first anyway. But the pitch had some juice in it which surprised the hosts and caught them off guard. The visitors had the bowling to exploit the conditions which they did perfectly. The openers were sent back to the hut with virtually no runs on the board.
Inexperienced middle-order all at sea
India are playing without Virat Kohli, the regular captain and no. 3, in this series and clearly missed his confident presence in the middle. The debutant Shreyas Iyer and Dinesh Karthik had no idea literally when the ball was swinging as Suranga Lakmal and Angelo Mathews wreaked havoc. Karthik was finally caught plumb in front by the former which ended his miserable stay of 18 balls for no run. Shreyas Iyer followed soon after chopping on the full-length delivery which he played on the back-foot as India were reduced to 16/5 in 14 overs.
The most experienced duo of Hardik Pandya and MS Dhoni was expected to bail India out of the trouble but the former poked at the harmless delivery to edge it to the second slip. Though he was the highest run scorer of the line-up and also the only batsman to reach the double figures. Bhuvneshwar Kumar strode out to the middle as the pair which won India the second ODI in Sri Lanka came together. But he too was dismissed with a peach of a delivery by Nuwan Pradeep as India looked in danger of being bowled out for their lowest ODI total ever at 29/7.
Dhoni is still fighting it out and needs to stay to post any sort of target in front of the upbeat Sri Lankans. Twitterati praised the visiting bowlers and trolled the Indian batsmen for not showing the required patience to stay on the 22 yards.
Here'show they reacted:
Somewhere in Tuscany now. pic.twitter.com/OEIIHN99Vm

— Prabhu ? ‏ (@Cricprabhu) December 10, 2017
So there is a concern and #Kohli will need to address it. We have a problem. 29 for 7 in moving conditions is an alarm bell. Enough of flat pitches performances.#indvsl

— Mikkhail Vaswani (@MikkhailVaswani) December 10, 2017
16-5 is the lowest score in India's ODI history at the fall of 5th wicket. Previous: 17-5 vs Zimbabwe in 1983 (India still won the match!!). #IndvSL

— Mazher Arshad (@MazherArshad) December 10, 2017
Wheres the smog when you need it, eh…? #indvsl

— Innocent Bystander (@InnoBystander) December 10, 2017
Can someone bring #Virat Back from Holidays or Wedding. TeamIndia needs him. #IndvSL

— Prabhu ? ‏ (@Cricprabhu) December 10, 2017
28-6 doesn't read well for India #INDvSL – that South African tour is only a few weeks away..

— zainab abbas (@ZAbbasOfficial) December 10, 2017
Not even sure what Hardik Pandya was trying to do there. Not sure he knew either. #INDvSL

— Chetan Narula (@chetannarula) December 10, 2017
Sources say BCCI is ready to airlift Virat Kohli from Italy. #INDvSL

— Silly Point ?‏ (@FarziCricketer) December 10, 2017
#IndvSL Virat Kohli After watching the scorecard today..? pic.twitter.com/JdGF4a8HmK

— RJ Deepanshu? (@rjdeepanshu) December 10, 2017
28/6 and Virat Kohli is on his way back. #INDvSL #FakingNews pic.twitter.com/bNz5VMmPro

— Nikhil ? (@CricCrazyNIKS) December 10, 2017
No, Lankan bowlers aren't wrecking Indian batting. Truth is, Indian batsmen are in hurry to board their plane to Italy#INDvSL

— Debarati Majumder (@debarati_m) December 10, 2017
Indian batting line-up without Virat Kohli is like a bank account without a linked Aadhar Card. #IndvSL

— SAGAR (@sagarcasm) December 10, 2017
On behalf of Dhoni?#INDvSL pic.twitter.com/q5HLsnoKbR

— KAJALaneNENU?? (@BanarasiBasanti) December 10, 2017
Hardik Pandya managed to score in double digits in such a difficult time. He should be the finance minister of India. #IndvSL

— SAGAR (@sagarcasm) December 10, 2017
Wow?? get in there lads! #indvsl

— Farveez Maharoof (@farveezmaharoof) December 10, 2017
Seems Indian players have plans to go for sight seeing in the afternoon. #INDvSL

— jatinder pal singh (@JapsPal) December 10, 2017
Lowest scores for India at the fall of the 7th wicket in an ODI:

29 runs v SL, Dharamsala, Today
43 runs v WI, Toronto, 1999
43 runs v NZ, Bulawayo, 2005
44 runs v SL, Sharjah, 2000#INDvSL

— Sampath Bandarupalli (@SampathStats) December 10, 2017
Lagta sabhi players ko Virat Kohli ki shaadi me khana khane ki jaldi hai. Jaldi match khatam karo . Men will be men.#INDvSL

— Govind Mahavar (@govindmahavar) December 10, 2017
Sanjay Manjarekar: Do you miss Virat when he's not in the team?

Rohit Sharma: 24/7#INDvSL

— Absurd Choudhary (@ABChoudhary007) December 10, 2017
Want to beat #IndianTeam
1. Get a grassy pitch
2. Get some quality pacers
3. Bowl around off stump
Job ✔done#INDvSL #cricket #crictracker

— Subhrajit Das? (@CoolRohan6) December 10, 2017
MSD doing what he does best. Playing as many balls as possible before getting out.#INDvSL

— Prashant Singh (@Babusaahab) December 10, 2017
Virat Kohli must be thinking "chain se shadi bhi nhi krne denge ye BC log" #INDvSL

— akshit (@HukkaKing1) December 10, 2017
For once Hardik Pandya's hair isn't the worst thing in a match #INDvSL

— Monish (@Crownish) December 10, 2017
India to give a tribute to Rohit Sharma for his first game as a captain by scoring 45! #INDvSL

— Manya (@CSKian716) December 10, 2017
#INDvSL pic.twitter.com/DJpk5Fcnwt

— kallu mama?? (@the_kallumama) December 10, 2017
ICT and fans to Virat Kohli right now#INDvSL 1st ODI pic.twitter.com/Ud0DmdTTzr

— Cheeku da Fan ✌?? (@IAmVirat183) December 10, 2017
Today's situation of Ind during #INDvSL without @imVkohli, reminding me the same situation of the matches in 90s without @sachin_rt.

— Dr. Batra (@hemantbatra0) December 10, 2017
Just in : Virat kohli to replace all the indian batsman in next two game..#INDvSL

— 18? (@Crichipster) December 10, 2017
#INDvSL ?? #ViratKohli #VirushkaWEDDING
Virat Kohli right now in Tuscany be like – pic.twitter.com/ahsGAV6c7C

— Rosy (@rose_k01) December 10, 2017
#INDvSL An ODI match which is looking like a test match but may end like a T20 #starsports

— Deepak S Nair (@nairds) December 10, 2017
Everyone is in Hurry ro Attend Virushka's Wedding .. #INDvSL Bhailog Wo Italy Chala Gaya India me Nhi hai…

— Arkadeep Mandal (@arkadeep1992) December 10, 2017
Wonderful spell by Suranga Lakmal today! His best! ?

Overs 10
Runs 13
Maidens 4
Wickets 4#INDvSL

— Rukhshan Hameem (@rukhshan) December 10, 2017
2 mins silence for those who canceled all the other plans to watch Ind vs SL match…#INDvSL #ViruPanti

— Broadmentals (@TheBroadmentals) December 10, 2017
I'm going to pretend that there was no #INDvSL game today.

— Sridhar (@NameisSridhar) December 10, 2017
Virat Kohli
After watching today's scores…??
.
.#INDvSL #BCCI @SirJadeja @imVkohli @ashwinravi99 pic.twitter.com/FCSDQEdWvT

— shubham lahoti (@shubham29795) December 10, 2017
India ki aaj do instant problems hain:
1. Dharamsala
2. Dharam Sala#INDvSL

— Subodh Srivastava (@SubodhK_) December 10, 2017
4/13: This is Suranga Lakmal's best spell in ODI cricket. Elite. #INDvSL #INDvsSL

— Aditya Warty (@adityawarty) December 10, 2017
#INDvSL pic.twitter.com/supaEFK6sb

— Prudvi (@prudviraju222) December 10, 2017
2 minutes silence for those who dropped out all other plans to watch today match. #INDvSL

— Rohan Gupta (@irohan_gupta) December 10, 2017