Twitterati unhappy with Sarfraz Ahmed's 'unprofessional and vague' apology
His apology statement had some loopholes, which were caught by social media users.
Updated - Jan 24, 2019 7:58 am
803 Views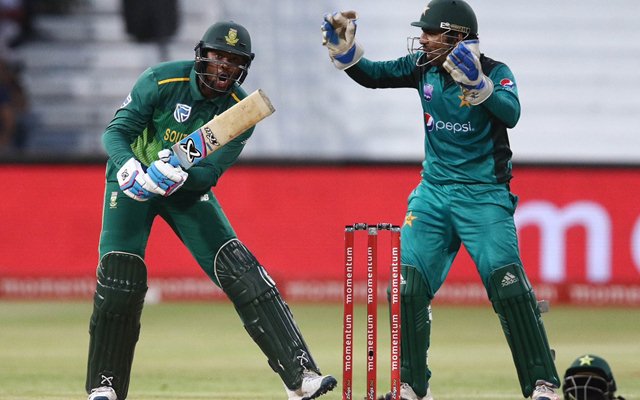 Follow us on Telegram
Pakistani skipper Sarfraz Ahmed rendered an unconditional apology after his comments on Andile Phehlukwayo went viral on social media. However, his apology didn't go down with the fans who picked up many mistakes and blasted him yet again. Sarfraz called Phehlukwayo "Ae Kaala (Hey black guy") during the second ODI and the conversation was caught on stump mic.
Soon after the match, he posted a thread of tweets to apologize to everyone who got offended by his comments. Here's what the Pakistani captain tweeted.
"I wish to extend my sincere apologies to any person who may have taken offence from my expression of frustration which was unfortunately caught by the stump mic during yesterday's game against SA. My words were not directed towards anyone in particular and I certainly had no intention of upsetting anyone.
I did not even mean for my words to be heard, understood or communicated to the opposing team or the cricket fans. I have in the past and will continue in future to appreciate the camaraderie of my fellow cricketers from across the globe and will always respect and honour them on and off the field."
Fans remain unhappy
However, his apology did have some loopholes which were caught by social media users. He said the comments were not directed to anyone in particular whilst it was pretty evident he said that to Phehlukwayo. Fans also opined that he got carried away with the banter that took place in the Australia-India Test series.
He clearly wrote in his tweet "My frustration was unfortunately caught on stump mic," another comment which the fans didn't appreciate. According to some fans, the way he used the word "Unfortunate" showcased he was more upset about being caught rather than the obscene comments he made.
A huge outrage followed after his threat of tweets, which also induced the Pakistan Cricket Board (PCB) to offer a formal apology. Here's how the Twitter universe has been bashing the Pakistani skipper for his "Unprofessional" apology.
Dear captain…your behavior presents the whole nation…think before speak…shouting doesn't make u leader but actions…and come slow on ur players too…may be they shout back at u in future…

— Noman Qureshi (@Nomi290192) January 23, 2019
Apology, not accepted!!

— Ami (@AmiJaneD) January 23, 2019
🤣🤣🤣 #SarfarazAhmed pic.twitter.com/ClKAsSLF2m

— Mohammad KHazran 🇵🇰 (@KhazranSays) January 23, 2019
You are only sorry because u were caught, u racist idiot. You should learn to behave better. You are a role model to so many kids around the world.

ICC and your country's cricket board must deal with you harshly.

— Steven Moloto🇿🇦 (@MolotoSteven) January 23, 2019
You insulted a respectable sportsman and you are captaining Pakistan National Team not a Street Team Of Karachi #WeAreAshamed Of having a leader like you #Shame on your racist comment and now you are justifying it 🖐

— Muhammad Ashraf S (@Muhamma98265000) January 23, 2019
The stump mic should be given eight demerit points.#SAvPAK https://t.co/RzKHcdz3Sz

— Suneer (@suneerchowdhary) January 23, 2019
So It was Ok if It wasn't Heard? Why why That line? And "Unfortunately Heard" in the previous tweet🙃 https://t.co/zByB1Jq4be

— Karthik Raj (@kartcric) January 23, 2019
Come on dude. You could do better. You know who exactly you were saying those words for. https://t.co/DDgcFyW6Ol

— Clive (@vanillawallah) January 23, 2019
What do you mean by not directed towards any one??? Toh phir "kaala" kisko bola bey?? Rajinikanth ki picture yaad karaha tha kya? https://t.co/XfatPbc9jZ

— The Gamechanger (@tarun_0707) January 23, 2019
This apology is not directed towards anyone in particular either and so isn't an apology https://t.co/YT2JJvt4MX

— Nadir Hassan (@Nadir_Hassan) January 23, 2019
Sigh.

In the same "apology" he said words were not directed to anyone in particular (obviously untrue) and they weren't intended to be picked up by the cameras.

Terrible, terrible apology. Why doesn't @TheRealPCB have a PR consultant? https://t.co/EMqXkDh86Y

— 1 Tip 1 Hand (Edges & Sledges Cricket Podcast) (@1tip1hand) January 23, 2019
" I am sorry I got caught".. that's his apology.
What PR company is this https://t.co/npHRPqw4wd

— सिंध यार ٽالپور (@sindhyar) January 23, 2019
He's more annoyed at his words getting caught by the stump mic. https://t.co/Cky0najquh

— ɱơıʑ (@yosoymoiz) January 23, 2019
We do not want to be represented by such an illiterate and abusive person

— Faizan Mazhar فیضان مظہر (@RjFaizan25) January 23, 2019
KISSE PUCH KE LIKHA YE SAB???

— KINGMAKER (@Beingking10) January 23, 2019
@ledsabbath @vinod4787 pic.twitter.com/TAMQLbxnfW

— AK🇮🇳🔴🔴 MUFC®️ (@ashishkaisare) January 23, 2019
U are a disgrace for Pakistan Cricket.
Shame on u

— Shah_Suhail (@imshahsuhail) January 23, 2019
Sarfaraz Ahmed is definitely not a racist, but this apology makes it look like he is more annoyed that his words were caught by the stump mic, than genuinely sorry about his actions in the 2nd ODI #SAvPAK pic.twitter.com/WlUOAItrKN

— Saj Sadiq (@Saj_PakPassion) January 23, 2019
Follow us on Google News