Twitterati unimpressed with Gautam Gambhir criticising MS Dhoni's captaincy in 2012
While some suggested that it was a right decision looking into the future, others felt that it was unfair on Gambhir's part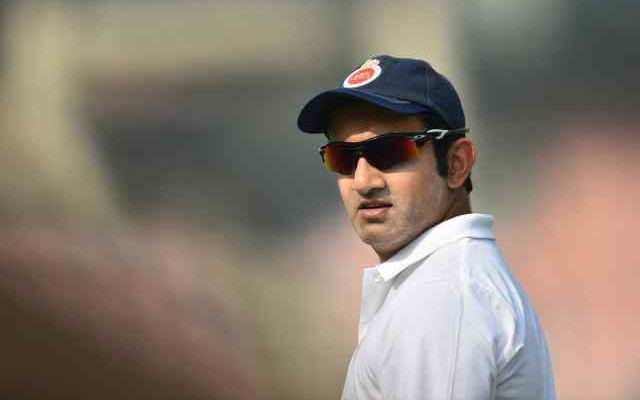 Gautam Gambhir recently announced his swansong from all forms of cricket. The left-handed batsman scored more than 10,000 runs for India across all formats. In his last first-class game, the opener registered a century against Andhra Pradesh that too at his home ground, i.e. Ferozeshah Kotla stadium.
In an interview recently, Gambhir pointed out that he wasn't satisfied with his exclusion from the 2015 World Cup. He also went on to cast aspersions on MS Dhoni's captaincy by questioning his rotational policy during the CB series in Australia in 2012. Further, he was critical of him reversing the decision later on.
"At the start of the series, we didn't play together, it was a rotation thing. When it was a desperate moment, MS had to play three of us. If you take a decision, back your decision, stick to it. Don't back on something on which you have already decided," he was quoted as saying by India Today.
Rotational policy opted from Dhoni
During the 2012 tri-series, in a bid to give a chance to youngsters, Dhoni had introduced a rotational policy. He conceded that the senior trio of Gautam Gambhir, Virender Sehwag and Sachin Tendulkar couldn't be persisted with in every game. As a result, one of them had to make way for a youngster every game.
This was done on the road to the 2015 World Cup which was also in Australia. Dhoni felt that the trio was unlikely to sustain that long. He was absolutely spot on about the same. Tendulkar retired later the same year. Gambhir and Sehwag both lost their forms and were eventually dropped from the side across all formats.
Twitter witnessed fan wars between both the sides. While some suggested that it was a right decision looking into the future, others felt that it was unfair on Gambhir's part. Both Tendulkar and Sehwag had earlier clarified that Dhoni had spoken to them before making the decision. However, Gambhir doesn't seem to have taken it sportingly.
Here are some of the reactions on Gambhir's statement:-
Hmm that is why even you have good skills you didn't play more as you were just trying to hijack captaincy from ms
Most imp thing is that how you keep your ambitions aside but gg has failed to show faith towards indian captain….
If dhoni is not a leader then no one is there https://t.co/fUfODPnSBh

— Prakash Jha (@Prakash61682180) December 9, 2018
Dhoni scored his 1st t20 fifty after 10years and said that GG can't play all three formats never seen such selfish player who dropped gg to save his captaincy

— 😍😍🇮🇳🇮🇳Gautian Shubham😍😍🇮🇳🇮🇳 (@Bshubham13) December 9, 2018
I honestly wish good for you post retirement but common man stop being such a big hypocrite, you say Dhoni is the best captain you have ever played under in an interview and than in the next interview you give out such statementshttps://t.co/j7GrbyaxR0

— * P * (@pree042) December 9, 2018
We know what you've gone through under Dhoni
Loved your words on @anilkumble1074, especially considering even he has gone through the same under Kohli.
Innocent people always face politics from powerful ones!
Proud of you @GautamGambhir
Please enter politics🙏
Country needs you! https://t.co/rIEH107g2A

— Sujith Kolap (@KolapSujith) December 9, 2018
Even if Dhoni made changes in 2012 series. It paid of as India lifted Champions Trophy in 2013. I have a lot of respect for you Gambhir. Don't make it go away like this. https://t.co/JNquJvT8E6

— Abbas Haider (@abbas_haiderr) December 9, 2018
Gambhir has been great player for India . I don't mean to Disrespect whatever he has done for the country . His contribution is immensely valuable , But this is blaming Dhoni for not doing anything particularly wrong .

— Doctor Phd (@iDoctorPhd) December 9, 2018
Gambhir phir se Dhoni ke piche pad gaya. Dhoni's decision was absolutely right . If you cant digest a Long term decision that's your problem . IPL se captaincy experts ban jate hai Saab .

— Doctor Phd (@iDoctorPhd) December 9, 2018
Dhoni is the real snake. He deserves this wrath from Gambhir.

— Indian Cricket Fan (@indiangoogli) December 8, 2018
LMAO How these Gambhir , Harbhajan , Yuvi trio still being salty about Dhoni 🤣🤣https://t.co/zjUJIvYSH8

— ᎡᏆᎠᎬᎡ ᏚᏆNᏩᎻ (@SRKrider1) December 9, 2018
Gambhir: "Dhoni chilly, Dhoni chilly, Mumbai mein final tha, tu mera captain tha, captain hi na hota toh final mein na hota, final mein meine opening dilayi hai, bhai ke dukh hai ke ijjat pe aayi hai, MoM churake na iijat gawa, stadium mein the wo hai mere gawah" https://t.co/z5s4I5fxmf

— Ojas. (@Ojasism) December 9, 2018
Dhoni gives extra security to few players but not to all – Gambhir to India today https://t.co/iIUDNnt2KM

— CRICVIEW Media©️ (@cricviewmedia) December 9, 2018
Totally with Dhoni here. He saw the downfall coming from a long distance and put the foot on the pedal exactly at the right time in 2013.

If not for his massive call, Shikhar Dhawan would have been lost somewhere in domestic circuit. https://t.co/kxCuBj840S

— Abhishek (@Sajjanlaunda) December 9, 2018
Year 2050, Rainy Season:

Gautam Gambhir :

''All these rains are because of Dhoni. He was not as honest as me towards the nature & nature got angry and taking revenge back on us. This is a massive shock to me. Dhoni shouldn't have done this"

— Vidyadhar (@Vidyadhar_R) December 9, 2018
list of things gautam gambhir wouldn't know:
– enjoying his moments without dragging dhoni

that's it. that's the list.

— ْ (@hxmalx) December 9, 2018
People will start critizing MS Dhoni again after hearing Gambhir's statement but for me Dhoni took the right decision because he knew from before that Sehwag and Gambhir both of them were suffering from reflex prob,due to which Viru pa took glasses too. #MSDhoni #gambhir

— Arnab Singh Dhoni (@onlyformsdhoni) December 8, 2018
Gautam Gambhir claims to be an 'honest' man but he chose to criticize MS Dhoni, selectors etc after his retirement. So, he certainly wasn't honest to them all these years

— Hari Sadanandan (@iamharry_88) December 9, 2018
Hahahaha
Some are saying dhoni is a snake
Others saying gambhir is a snake.
😂😂😂
None of them is a snake idiots https://t.co/Fsi1vscwNb

— Akki (@CrickPotato1) December 9, 2018
Waiting for Dhoni to come up with a hip hop song like "tu toh world cup 2015 ke team mein nahi tha chote? World cup 2015 ke squad mein tera naam hi nahi hai, world cup 2011 final jitaane mein tera kuch kaam hi nahi hai. Samaj mein aaya kya?" https://t.co/7tOg6jQQNp

— Ojas. (@Ojasism) December 9, 2018