Twitterati goes wild as Dinesh Karthik replaces Manish Pandey in Champions Trophy
Manish Pandey misses the flight to London, Dinesh Karthik is handed over his ticket
Updated - May 18, 2017 10:31 pm
6.7K Views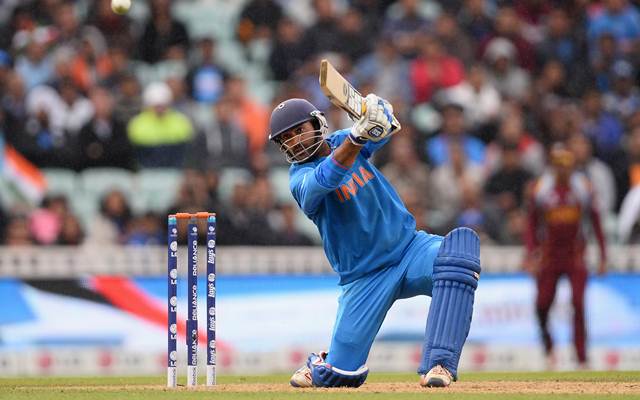 Follow us on Telegram
In the recent developments in the Champions Trophy, Dinesh Karthik is all set to appear for his second successive Champions Trophy as Manish Pandey misses out of the squad due to an injury. Pandey, who has been a common face in the Kolkata Knight Riders lineup this season, was not available in the Eliminator last night against the Sunrisers Hyderabad. Ishan Jaggi replaced him last night, raising many eyebrows.
He was ruled out of the match, the IPL and subsequently from participation in the Champions Trophy 2017 and that opened the doors for Dinesh Karthik the Karnataka star batsman. Karthik though wasn't named in the squad of 15 but was a part of the reserves for the tournament. He had earlier also featured in India's victorious campaign in the Champions Trophy in 2013.
The Board of Control of Cricket in India (BCCI) took to Twitter to make the announcement. The tweet from BCCI captioned," NEWS ALERT: @DineshKarthik to replace injured Manish Pandey in the Indian team for Champions Trophy #TeamIndia"
The wicketkeeper-batsman has been in sublime form this season in the domestic competitions. He has also been in good touch in this edition of the IPL for the Gujarat Lions. DK has amassed as many as 361 in the 14 matches he has played in the tournament. He has scored two half-centuries at an average of 36.1.
As a result, Karthik featured on the backup list for the primary squad of the Champions Trophy along with other names such as Suresh Raina, Rishabh Pant, Kuldeep Yadav and Shardul Thakur. It was MS Dhoni's advice to the chairman of selectors MSK Prasad to keep player's visa and jersey ready, in a case of any emergency due to an injury.
Yet again MS Dhoni's advice proved to be gold and Dinesh Karthik will board the flight to London to take part in his second successive Champions Trophy. The last time he put on the Indian blues was three years back in March 2014 against Afghanistan.
Here's how Twitter reacted to this news
Uh oh. Unfortunate Manish Pandey will miss the Champions Trophy because of a side strain. Dinesh Karthik replaces him

— Cricketwallah (@cricketwallah) May 18, 2017
Nice to hear Dinesh Karthik replaced Manish Pandey but I still feel had DK not neglected his WK skills he would have been a good allrounder

— Makarand Waingankar (@wmakarand) May 18, 2017
by the way, DK had an Avg of 86, SR of 101 and scored 600+ in #VijayHazare Trophy and 247 runs in #Deodhar Trophy at avg of 82, SR 115.

— Prabhu ? ‏ (@Cricprabhu) May 8, 2017
Unfortunate for Manish Pandey, but Congrats @DineshKarthik Earned his spot with an excellent Domestic Season.
Dinesh Karthik in #CT17

— Prabhu ? ‏ (@Cricprabhu) May 18, 2017
OK @BCCI, we get it. You just don't want Raina back.

— Rainaism. ♡ (@pShamika3) May 18, 2017
Brilliant news that Dinesh Karthik makes the cut for Champions Trophy (got the nod ahead of Raina).
Tough luck Manish Pandey.

— Shubh AggarWall (@shubh_chintak) May 18, 2017
Selectors select a expected squad.
People – WTF.
Selectors select a domestic performer – WTF.
Selectors breath!
People – WTF. #CT17

— Nikhil ? (@CricCrazyNIKS) May 18, 2017
i would have loved to see suresh raina get another chance! but congratulations to DK for making the cut! "Dinesh Karthik"

— Mukhar Ghosh (@mukharghosh) May 18, 2017
@BCCI @DineshKarthik why not #GG @GautamGambhir we all want him??

— Surjeet Singh (@sskforever13) May 18, 2017
@BCCI @DineshKarthik Everything is fixed in BCCI a inform man more experienced #Gambhir is there bit still the team is having more out of form player's.

— A.Sharma (@aishwarya_sha) May 18, 2017
@BCCI @DineshKarthik Is any personal animosity of the board & selection committee with @GautamGambhir ? After all such good performance, again ignored!

— Ashraf (@ashrafraahi) May 18, 2017
@BCCI @DineshKarthik Why you are ignoring Raina?? This is unfare !! Bcci ??????????????

— Aiyaz Ahmed (@aiyazahmed08) May 18, 2017
Manish Pandey Ruled Out Of #ChampionsTrophy With Left Side Strain. Dinesh Karthik Named As Replacement

Should've Selected Raina Or #Gambhir

— Sir Ravindra Jadeja (@SirJadeja) May 18, 2017
Manish Pandey's replacement Dinesh Karthik has played some good knocks in England, both in ODIs n Tests. Must b why Rishabh Pant missed out

— Sanjjeev (@Sanjjeev) May 18, 2017
Manish Pandey injured & out of CT. DK to replace him! Much deserved for a highly consistent run in domestic cricket. Can't wait #Champions!

— Srini Mama ? (@SriniMama16) May 18, 2017
@cricketaakash DK replaces Manish pandey in #CT17.. It would have been Raina or Pant.. What u say??

— sandeep kumar Thadka (@sandeep443) May 18, 2017
Man, replacing Manish Pandey with Dinesh Karthik is a big call. Always liked Karthik, but I'd have preferred Pant/Uthappa/Raina.

— Chinmay Bhogle (@chinmaybhogle) May 18, 2017
Follow us on Google News