Twitterverse sad after IPL 2020 suspended until April 15
The BCCI will take a call later depending on the situation.
Updated - Mar 13, 2020 3:40 pm
29.5K Views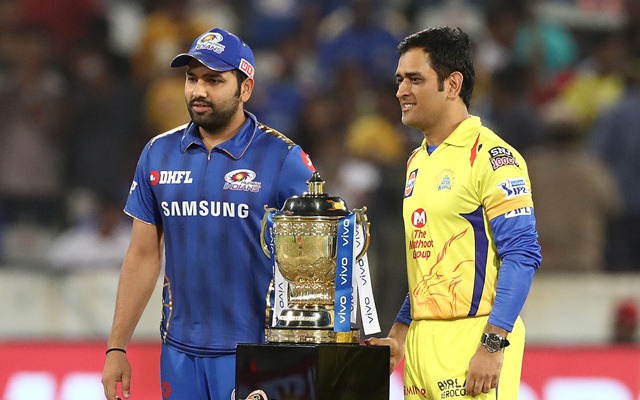 Follow us on Telegram
The much-awaited 13th season of the Indian Premier League (IPL) has been impacted by the spread of the deadly COVID-19 (novel coronavirus). The Indian government ministry of health issued its latest advisory "no public gathering takes place in any sporting event" and this meant that the tickets for the tournament opener on March 29 between Mumbai Indians and Chennai Super Kings in Mumbai were cancelled by Maharashtra government.
There was a threat to the entire tournament being either cancelled or shifted to a later date than usual. The latter has happened that the BCCI announced that the start of the IPL 13 has been moved from March 29 to mid-April keeping with the advisory and government's decision to change its travel advisory increasing restriction of visas for travel to India. All existing visas, except diplomatic, official, UN/International Organizations, employment, project visas, stand suspended till April 15, 2020.
This meant that no foreign players contracted to the eight IPL franchises would have been able to join their respective teams before the 15th of April, severely impacting their plans and strategies. The tournament is expected to be held behind closed doors in empty stadiums as the government banned mass gathering, but the franchises expected revenue from people watching the matches live on TV.
If the foreign players joined the tournament 15 days late, it impacts the revenue, as franchises felt their absence may lead the people to become disinterested in the IPL 13 as a whole. The likes of David Warner, Steve Smith, Ben Stokes, AB de Villiers, Dale Steyn, and many more are expected to perform in the upcoming season of the cash-rich IPL.
BCCI set to take a further call later
The postponement of the league may also mean that the window becomes shorter for the BCCI to stage the whole tournament. They might have to increase the number of doubleheaders to accommodate all the matches or change the format of the IPL for this season. The BCCI has also confirmed that they will take a call further depending on the situation.
The fans, however, were disappointed and sad with the postponement of the tournament. We have seen the madness of some fans which included praying to god for the success of their favourite team. But now their dreams to watch the game in the stadium, cheering for their favourite players, have been dashed as with the coronavirus being declared a pandemic, the IPL 2020 is expected to now be a TV-only event.
Here's how Twitter reacted:
Sensible move and one that's been swiftly taken. Well done @BCCI and all concerned. https://t.co/ezDbkZIJJw

— Simon Doull (@Sdoull) March 13, 2020
The health and safety of our players, fans and management is of utmost importance to us. We look forward to seeing you all in April 🙂#RoyalsFamily | #HallaBol https://t.co/uU5jy6h4xQ

— Rajasthan Royals (@rajasthanroyals) March 13, 2020
First football, then basketball, today's Australia GP, and now this…. https://t.co/6DmMGEKxG6

— Ishan Chakravorty (@am_ishan) March 13, 2020
#IPL2020 is suspended till 15th April 2020 ……

Suspension is okay it shouldn't get canceled BUT ITS RIGHT DECISION CONSIDERING SAFETY ….👏👏 https://t.co/z7z82zjP5h

— avni (@avni96811008) March 13, 2020
Now dear CoronaVirus, do you have any other thing to ruin more…?? https://t.co/V69UkHEl74

— Nayomi (@im_nayomi) March 13, 2020
Just hear that the ipl has been delayed and suspended till April 15th.#ipl

— Hemang Badani (@hemangkbadani) March 13, 2020
Right decision…. https://t.co/OtvAHbx0Ah

— Aakash Chopra (@cricketaakash) March 13, 2020
Another question followers as I just received a very interesting message !!!! Is it true the @BCCI are postponing the @IPL @imVkohli @MichaelVaughan @KP24 @virendersehwag @rajasthanroyals @StarSportsIndia @ajinkyarahane88 @Edged_and_taken @imkuldeep18 @BCCIdomestic @RickyPonting

— Shane Warne (@ShaneWarne) March 13, 2020
https://t.co/3GwMdk5P6d pic.twitter.com/TGoLvkOyKQ

— Manya (@CSKian716) March 13, 2020
IPL postponed from March 29 to around 15 April. Itne din me to RCB waise bhi bahar ho jati hai, to 7 team ke sath hi khelna

— Rishabh Srivastava (@AskRishabh) March 13, 2020
When Virat Kohli realise there won't be IPL upto 15th April. pic.twitter.com/fGCJmy24Sh

— The VVIP (@MrVVIPAK) March 13, 2020
Life without IPL! #IPL2020 pic.twitter.com/6PncCANZ37

— Cheeru (@sobermonk) March 12, 2020
Yes we already seen Corona virus Outbreak, Now BCCI suspended IPL Till 15 April. bcci Taking all necessary step to ensure player and Fans be safe, working closely with Govt. #BCCI #IPL #IPL2020 #Covid_19 #coronavirus

— Akshay Lutade (@Luttu_27) March 13, 2020
Follow us on Google News