UAE's Zahoor Khan and Imran Haider created history on debut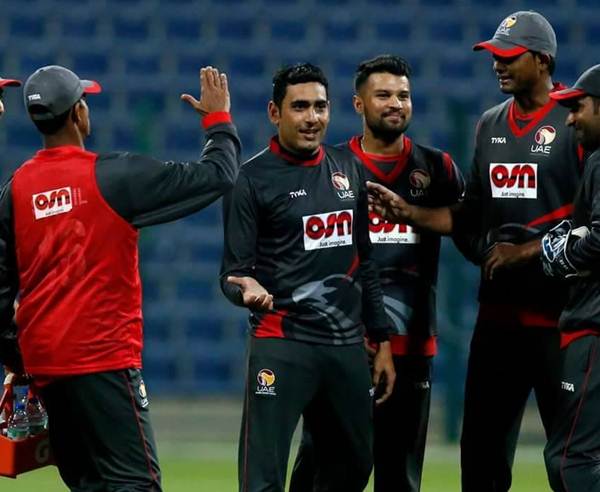 United Arab Emirates is hosting Hong Kong and Scotland for an ODI tri-series in the desert. The series may not be a gleeful venture for the average cricket follower because no Test playing nation or even Afghanistan or Ireland are playing in it. The game was neither televised nor did the ICC bothered to follow it live on their social media feeds.
Even the home support was absent and dumbfounded for the game as hardly twenty odd people showed up for the game. However, all three of the participants have ODI status and can rightfully stake claim to disturb ODI cricket records.
Scotland decided to bat first in match 2 of the tri-series against UAE which turned out to be sour as they were bundled out for 173. UAE had handed five ODI debutant caps earlier in the morning. Debutants Zahoor Khan and Imran Haider, both hailing from Punjab, Pakistan, took three wickets each.
Zahoor finished his spell with figures of 5.2-0-17-3, the best bowling figures by a UAE bowler on debut while Imran finished at 10-0-36-3, second-best figures by a UAE bowler on debut. Another debutant Adnan Mufti alongside Muhammad Usman struck 40s to achieve the target successfully.
This win ended United Arab Emirates 10-match winless drought that started from the World Cup 2015. The win and the performance of the debutants was also an important contributor in a very rare ODI record that: Only the 4th time in history that two bowlers, on debut for the same team, took at least three wickets each.
This feat was first recorded in the very first ODI match when AA Mallett and KR Stackpole took three wickets each for Australia vs England way back in 1971. Then in 1977, CEH Croft and Joel Garner combined to achieve this feat for the West Indies.
Ireland's ODI debut saw a similar feat repeated by D Langford-Smith and JF Mooney against England in 2006. And today, Imran Haider and Zahoor Khan have combined to achieve it for the United Arab Emirates.