Umar Akmal claims he was approached to spot-fix the World Cup match against India
He also said that every time Pakistan is playing India, there are offers made.
Updated - Jun 24, 2018 2:40 pm
4K Views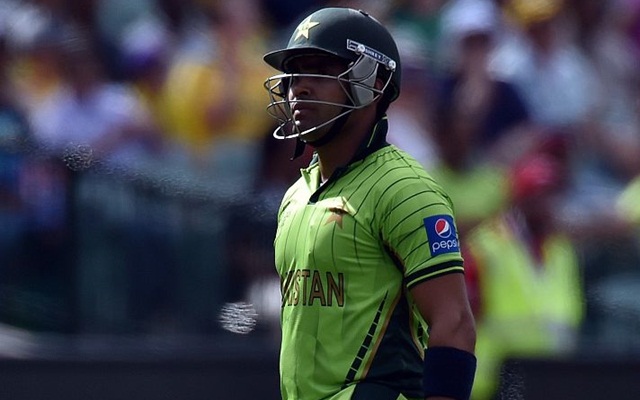 Spot-fixing has been quite a troublemaker for cricketing bodies around the world. National boards along with the International Cricket Council (ICC) have made several attempts to educate the players and have the Anti-Corruption Unit in place to ensure that any attempts to alter the outcome of a game can be defused. Pakistan cricketer Umar Akmal today made a shocking claim about being approached by fixers.
In an interview, the wicketkeeper-batsman said that every time Pakistan is playing India, he gets various offers. He claimed that bookmakers have offered him to sit out of matches and earn a huge sum for that. Akmal further mentioned that ahead of the clash between the arch-rivals in the 2015 World Cup, he was asked to play two dot balls and for that, he would earn $200,000.
As far as his contribution in World Cup matches against India is concerned, Akmal scored 29 runs in 2011 and was dismissed for a duck in 2015. Apart from that the wicketkeeper-batsman has played three World T20 games and managed 21 runs in 2012, 33 runs in 2014 and 22 runs in 2016 against India. In the only other ICC event game he has played in the Champions Trophy 2009, Akmal bagged a duck.
"I had got an offer during the World Cup to leave alone two balls and they were willing to pay me $200,000 for that. It was our first match against India in the 2015 World Cup. Similar offers have been made in the past as well. In the matches with India I've been told to make some excuse and opt out of the game for which I'd be paid but I have told those people that I am committed to Pakistan and to not approach me ever with such offers," he said on Samaa TV.
Watch the interview here:
Umar Akmal claims he was offered $200,000 during World Cup to leave two deliveries, tells @Shoaib_Jatt that he was also offered money to skip games against India. I wonder if Akmal had ever reported these approaches, if not then this statement will get him in more troubles. pic.twitter.com/inIQLN5Np4

— Faizan Lakhani (@faizanlakhani) June 24, 2018
As per the Anit-Corruption policy, it is mandatory for players to report any approaches made to them for fixing matches. The Pakistan Cricket Board (PCB) has in the past suspended players like Mohammad Irfan for a duration of 12 months as he failed to report an approach. It will be interesting to see if the board was aware that Akmal had received such offers as it otherwise can backfire and he will be punished.