Umar Akmal trolled brutally for his comments on Twitter
Updated - Feb 23, 2017 4:22 pm
152 Views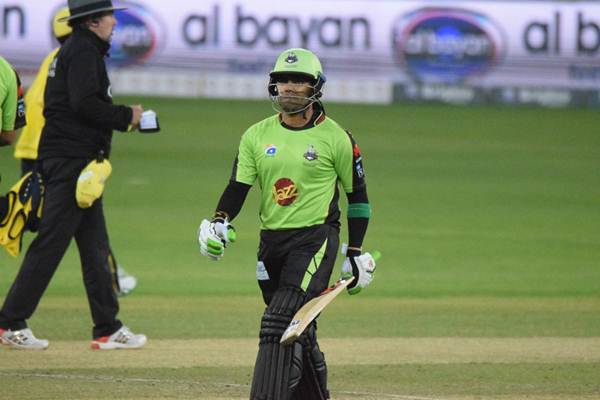 Umar Akmal is no stranger Twitter trolls nor are fans stranger to his quirky accusations and statements. This time, talking in the post-match press conference Akmal after a winning performance in the Pakistan Super League he said if he get's an opportunity to bat higher up the order he can bat as good as Virat Kohli.
He, said that his comparison to Kohli is not acceptable as he bats at number six and the Indian bats at number three. He refused to accept that Kohli is one of the best in the world and rather said that he doesn't moan about where he bats and always plays for the team.
He said, "When people compare me to Kohli, it's a matter of number. Since Kohli's debut, he is batting at number three and I have been batting at number six. Let me play at number three slot and him on six, then compare me with him. I never wailed over my number. I do everything for my team."
Akmal went on to complain about the same and said that for him the number comes later and his team comes first. It might have been indirectly an accusation against Kohli but who knows better than Akmal what he actually wanted to say. He also added that he only complains about batting at six when he is compared.
"Whatever cricket I have played, it's for the team and the number comes later. But when people compare me with Kohli, only then do I point out that I bat in the lower middle order," Akmal told the reporters during the press match conference.
There was a host of tweets due to these statements. There were a lot of trolls that came out and the hate tweets from Kohli fans were at an all-time high.
Here are some of the tweets:
"Let me bowl on Indian pitches, then compare me with Ashwin." – Umar Akmal

Reporter: Suleman Waheed

— PSL Memes (@PSLMemesWalay) February 23, 2017
@taimoorz1 ok then let's compare him with dhoni

— M (@MeethiChuurri) February 21, 2017
@CricketNDTV @imVkohli @Umar96Akmal @ndtv if u r better than virat than why u r no proper member of your Pakistan team.???????

— Arif Mahammed Patel (@parif270) February 22, 2017
@CricketNDTV @ndtv @imVkohli @Umar96Akmal this man is so much comedy???

— Stevie 'D' (@stephen_aqua) February 22, 2017
@CricketNDTV @imVkohli @Umar96Akmal @ndtv Develop that caliber that team mgmt be forced to send u at 3

— 100Rabh (@iSaurabhSri) February 22, 2017
@CricketNDTV @imVkohli @Umar96Akmal @ndtv n still u'll lose to @msdhoni hands down in all departments

— Subhajit Ghose (@SirGenXFerguson) February 22, 2017
@CricketNDTV @ndtv @imVkohli @Umar96Akmal Abe pehle batting seekh le
Baad me no.6 or 3 karyo…..

— sarfaraz siddiqui (@imsarfaraz494) February 22, 2017
@CricketNDTV @imVkohli @Umar96Akmal @ndtv how abt we compare @msdhoni with u cuz he batted at 6

— Subhajit Ghose (@SirGenXFerguson) February 22, 2017
@WisdenIndia @Umar96Akmal avg. batting at 3 and 4 in ODIs is 28 and 14 resp.

— saurabh mahajan (@100r0bh) February 22, 2017
@WisdenIndia @Umar96Akmal You may need to take re-birth to be Kohli. Kohli will be Kohli whether he plays at 3 or 6.

— U desai (@DesaiUnmesh33) February 22, 2017
@WisdenIndia @Umar96Akmal Accept the fact that Kohli is much better player than you.

— Awais Sharif (@Awais097) February 23, 2017
@WisdenIndia @Umar96Akmal If you played at number 6 then u should be compared with Dhoni??? you are not even number 6 batsman..

— Awais Sharif (@Awais097) February 23, 2017
@WisdenIndia @Umar96Akmal Next joke please…

and umar pass the weed bro 😛

— Tahir Hussain ?? (@tahirrhussain) February 22, 2017