Umpire signals wide; reverses his decision to out seconds later in Ireland Women's Super 50 Series
It was quite a tricky situation out there for the on-field umpire.
Updated - Aug 23, 2020 9:29 pm
1.7K Views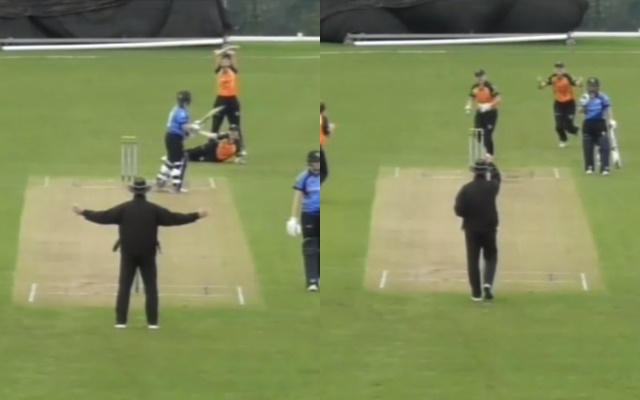 Follow us on Google News
The Ireland cricket board is hosting the Women's Super 50 series to support the budding female cricketers of the country. Scorchers and Typhoons are currently involved in the 8-match One-Day series which is a part of the Super 50 series. The Scorchers took on Typhoons for the fourth time at the Oak Hill Cricket Club on Sunday.
The One-day series commenced on August 3 when Typhoons registered a seven-wicket win against Scorchers. That match was also played at the Oak Hill Cricket Club as the Typhoons had comfortably chased down a target of 220. However, the Scorchers had levelled the series six days later by winning the second one-day by eight wickets. Further in the third match Scorchers had taken a 2-1 lead with back to back wins as they had outshined the Typhoons by 23 runs.
Umpire involved in a tricky situation
In the fourth One Day, Scorchers had won the toss and elected to bat first. Owing to the brilliant bowling from G Dempsey and C Raack with the figures of 3/21 and 3/29 respectively, Typhoons managed to bundle their opposition to a mere score of 177 runs in 39 overs in a 50 over match. Gaby Lewis shined in the innings as she played a brilliant knock of 95 runs in 109 balls.
The Women in Blue (Typhoons) were hoping to see a match-winning innings from their captain Laura Delany. However, disappointing her team, Delany went back to the pavilion after playing only two balls and scoring a duck. On the delivery of LN McCarthy, Laura edged one down the leg but was caught behind by the wicketkeeper S. Kavanagh.
The Typhoons captain had started walking back to the pavilion but stopped after the on-field umpire declared the ball as a wide delivery. However, after looking towards the square-leg umpire, he reversed his decision and gave it out. In this tournament so far, Delany has scored 80 runs in three games with the help of an unbeaten 68 and also picked up four wickets.
Typhoons later lost some quick wickets and conceded the game to Scorchers giving them 3-1 lead in the series. Stokell was the top-scorer for Typhoons.
Watch the video
— AbkiBaarSoumyaSarkar (@SoumyaSarkarFan) August 23, 2020
Follow us on Telegram