'Unlucky Shaw'- Jofra Archer's freakish tweet after Prithvi Shaw's suspension
The tweet was for a footballer though.
Get every cricket updates! Follow us on
Jofra Archer, the England fast bowler, has done an exceptional job on the cricket pitch and also bowled the famous Super Over in the Final of the 2019 World Cup against New Zealand. Quite expectantly, he has been in the limelight. However, he also managed to hog the headlines due to his previous tweets, which had connected with most of the recent occurring in the cricket world.
Even during the mega event, a number of his tweets went viral due to their connections with what was happening, both on and off the field. Now Archer is at it again. On July 30, it was learned that Prithvi Shaw, the young Indian batsman, has been handed a back-dated suspension of eight months for ingesting a prohibited substance called Terbutaline, which is found mostly in cough syrups.
After seeming to have predicted the entire World Cup, Archer had a tweet even for Shaw's ban from cricket. The tweet dates back to September 16, 2015, a time when Shaw didn't even make his first-class debut. Archer's tweet read "Unlucky Shaw". Later it was learned that the tweet was for a footballer named Luke Shaw, who broke his leg during a Champions League fixture.
Here is Archer's tweet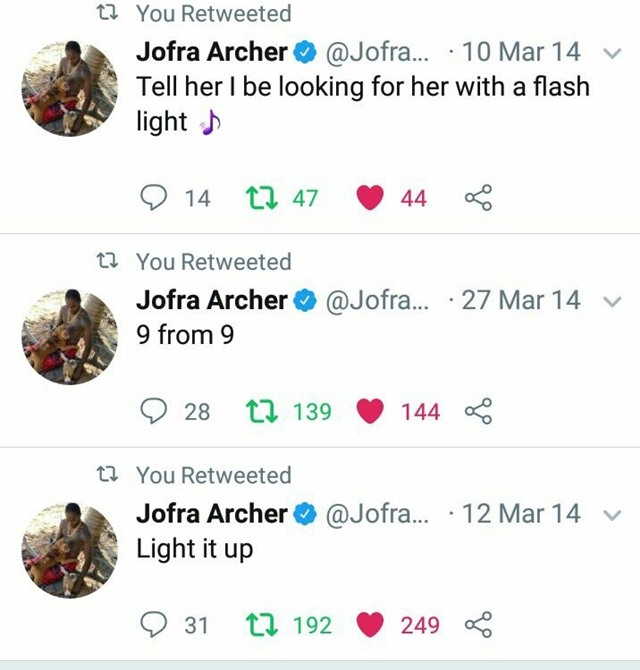 As far as Shaw is concerned, he can't play until November 15, 2019. He had earlier given urine samples as part of the BCCI's anti-doping testing program during the SMAT tournament match on February 22 in Indore. The board was satisfied with his explanation that he had taken Terbutaline inadvertently to treat a Respiratory Tract Infection and not as a performance-enhancing drug.
The suspension period will be deemed to have started to begin on March 16, 2019. Moreover, he can return to train with his state team and or use the facilities of any club or other member organization of the BCCI after midnight on September 15, 2019. Shaw's last competitive match came for the Delhi Capitals (DC) way back in May during the 2019 Indian Premier League (IPL).
Last year in October, he made his Test debut versus the Windies and impressed with a century in his maiden appearance. The 19-year-old was thereafter set to travel Australia for the Test series. But fortunes didn't favour him and he ended up twisting his ankle during a warm-up fixture in Sydney. Ever since, the Thane-born cricketer hasn't taken part in international cricket.