Unnecessary premature declaration cost David Warner a shot at World Record: Shashi Tharoor on Tim Paine's decision
Warner broke the individual totals of former captain Mark Taylor, Michael Clarke and Sir Donald Bradman.
Updated - Dec 1, 2019 2:35 pm
2.5K Views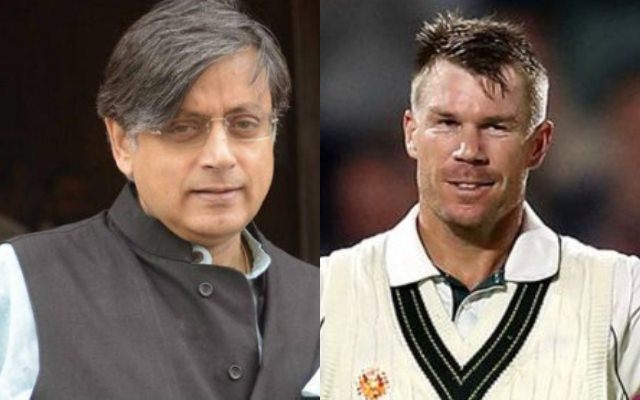 Follow us on Telegram
Australian batsman continued to bully the inexperienced Pakistan bowling attack in the second Test of the two-match series at the Adelaide Oval. And, it was that duo again! The pair of David Warner and Marnus Labuschagne, who had grinded the visitors' bowlers into the dust in the first Test at the Gabba by scoring their respective centuries.
And, they were at it again at the picturesque Adelaide Oval. While Marnus Labuscgane helped his way to his second Test match, veteran opener David Warner went one step ahead and proceeded to break all sorts of records as the southpaw registered the tenth highest individual score in the history of Test cricket.
During the process, Warner broke the individual totals of former captain Mark Taylor, Michael Clarke and Sir Donald Bradman, and the manner in which he was playing, even Brian Lara's record of 400 looked threatened. Until, of course, Australian captain Tim Paine decided to declare the innings. Paine's decision to declare has been a subject of scrutiny.
Shashi Tharoor shared his views on Tim Paine's declaration
While some people like Dean Jones hailed it as a part of the Australian culture where teams' cause is always paramount as compared to individual feats, others felt that Paine should have given Warner some time, for it was a once-in-a-lifetime opportunity and considering the fragility of Pakistan's top-order, it really won't have been an issue as far as taking 20 wickets was concerned, something which Congress MP Shashi Tharoor has also resonated.
Tharoor took to Twitter where he wrote, "This summer, @davidwarner31 made 95 runs in 10 innings in the Ashes series against England. Against Pak, he scored 150+ in the 1st Test last week & followed it up with 335 not out yesterday in the 2nd. An unnecessary premature declaration cost him a shot at the world record. Pity,"
Tharoor also stated that statistics form a part of cricket aficionados and Paine should have waited.
"Part of the pleasure of cricket is its records. Figures & statistics continue to enthral the true aficionado. Cricket teams should go for records when they can. With the 1st Test in the bag & victory likely against a weak Pak side (which was soon reduced to 89 for 6), why declare?" he wrote.
Part of the pleasure of cricket is its records. Figures &statistics continue to enthral the true aficionado. Cricket teams should go for records when they can. With the 1st Test in the bag & victory likely against a weak Pak side (which was soon reduced to 89 for 6), why declare?

— Shashi Tharoor (@ShashiTharoor) December 1, 2019
Follow us on Google News