Used DRS 14 out of 14 times – Here's how Virat Kohli used reviews whenever he got out LBW in Tests
In the long run, these poor reviews could cost the team important matches, which no one, not even Kohli would want.
Updated - Feb 29, 2020 8:49 pm
4.2K Views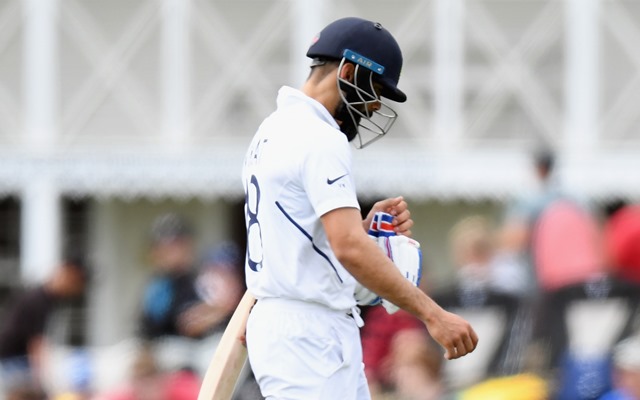 Follow us on Telegram
It is no hidden fact that the Indian captain Virat Kohli has not been in the best of his form of late. In fact, in his last 20 innings, he has not been able to cross the 100-run mark, which is quite worrying, considering the fact that he is one of the batting mainstays of team India. Continuing his poor run, in the first innings of the ongoing second Test match of the series against New Zealand, he was again dismissed cheaply.
On the first ball of the 25th over of the Indian innings, Virat was caught plumb in front of the stumps off a Tim Southee delivery and was adjudged out. He had only 3 runs to his name at that point in time. But, what followed was even worse. Kohli went for the review, which was the last one left for the team in that inning. And the result that came after it was expected, but not at all good for the team. The decision of the on-field umpire prevailed and he had to walk back.
Virat Kohli has used reviews on all 14 occasions of getting adjudged LBW out
Following this, he faced severe backlash from the cricketing community, for using up the review in spite of knowing that he was clearly out. He had even discussed with his partner at that point in time, Cheteshwar Pujara, and was evidently hesitant about it. This dismissal of his was the 14th time that he was adjudged out LBW in his Test career. And, interestingly, he has reviewed the decision all 14 times.
But, there is a thing that has grown to be a thing of worry for him. Out of the 14 reviews he has taken for himself, 9 of them were lost. This means that in more than 60 per cent of the instances where he went for the review where he shouldn't have and out of them only 3 had umpire's call. Rest all of them were straight up out and only 2 of the total 14 have been overturned. This has time and again resulted in a wasted opportunity for the following batsmen to have a go at getting their decision getting overturned when there is clearly a chance of them getting a lifeline.
In the long run, these poor reviews could cost the team important matches, which no one, not even Kohli would want.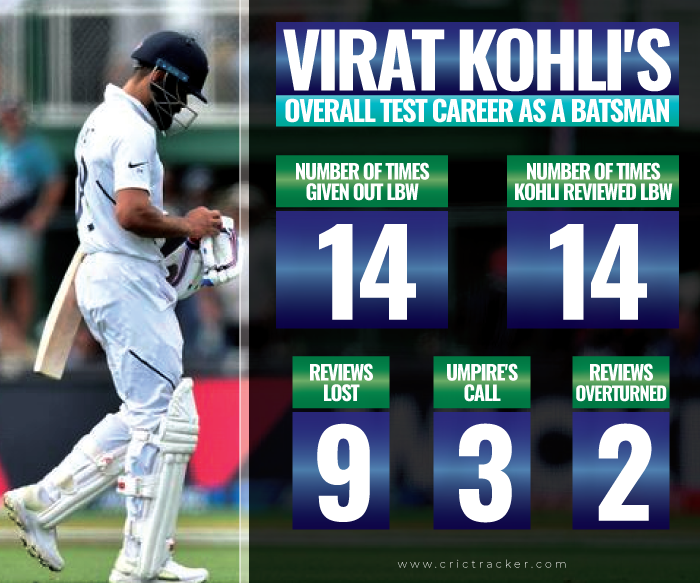 Follow us on Google News