Usman Khawaja reacts to his brother's detention in New South Wales
He maintained that saying too much on the issue is not ideal as the matter is under the jurisdiction.
Updated - Jan 7, 2019 2:08 pm
1.4K Views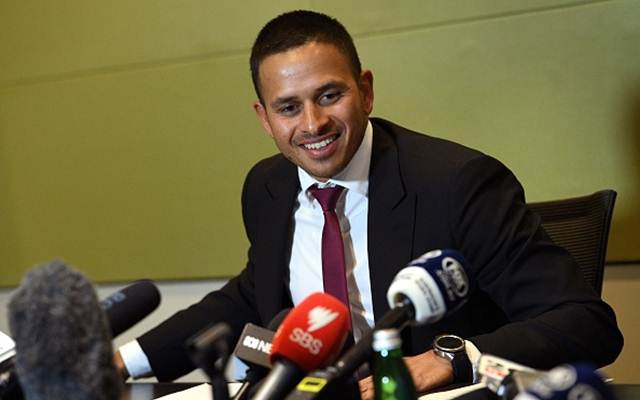 Usman Khawaja, Australia's Test batsman, has called for privacy after his brother was arrested by the police in New South Wales on Tuesday. The 39-year old Arsalan Khawaja has been detained on charges of forgery and perverted justice. It all began when Mohamed Kamer Nizamdeen, a Srilankan student in Sydney, was arrested by the police owing to a notebook of his which had a plan about killing certain Australian politicians.
The 25-year old PhD student, after being detained for a month, he made claims that he was framed by a rival at his workplace, the University of New South Wales. On Tuesday, police asserted that Nizamdeen had been framed in a planned and calculated manner by Mr. Arsalan Khawaja, the 'rival' Nizamdeen referred to. Arsalan has been charged with attempt to pervert justice as well as making a false document.
Respect our privacy at this time
Usman Khawaja, one of the potential game changers for Australia in the upcoming series against India, did make a statement on his brother's detention. He maintained that saying too much on the issue is not ideal as the matter is under the jurisdiction. He also asked for his and his family's privacy to be respected.
"I won't say much. It's a matter for the police to deal with it," the 31-year-old star told reporters. "Out of respect for the process, it would be inappropriate for me to make any further comment. I just ask for you to please respect my privacy and my family's privacy at this time," he said.
Meanwhile, NSW Police has released a statement on the issue which read: "A man arrested in Sydney's west this morning as part of an ongoing NSW Joint Counter Terrorism Team investigation has now been charged.
The report also stated: "Officers from Operation Moorsel arrested the 39-year-old Westmead man in Burnett Street, Parramatta, at 8. 30am. The arrest relates to documents allegedly found on University of NSW grounds in August this year containing plans that purported to facilitate terrorism attacks."
Ahead of a crucial Test series, the turn of events seems to have put Usman through an emotional turmoil. He will be on the field on December 6 wearing the Baggy Greens.
~ Written by Harikrishnan Sivakumar