'Varun Aaron bouncer continues to give me nightmares': Stuart Broad
Updated - Mar 5, 2015 7:30 am
60 Views
'Varun Aaron bouncer continues to give me nightmares': Stuart Broad: England fast bowler Stuart Broad admits that he still gets nightmares of the Varun Aaron bouncer months after he was struck by a bouncer from Indian pacer that broke his nose last year in a Test match in India's tour of England.
Varun Aaron is among the fastest Indian bowlers and was hurling the ball at the lower order. One of his bouncers at considerable pace was too high for Broad to manage and he top-edged the ball, it went through the grille of his helmet and hit him really nasty blow on the nose. The England pacer was left with a damaged nose; he is still working with a sports psychologist to overcome the problem.
Broad played the next match with a mask and said he felt 'nervous but fine' but a break from cricket after knee surgery saw the nightmares start. He said, "It knocked my confidence big time, "Not for the next game —I felt fine going out to bat. Nervous but fine, but having had four months off subsequently I have had nightmares about it. I have had times when I have felt the ball just about to hit my face in the middle of the night. It has been quite tough."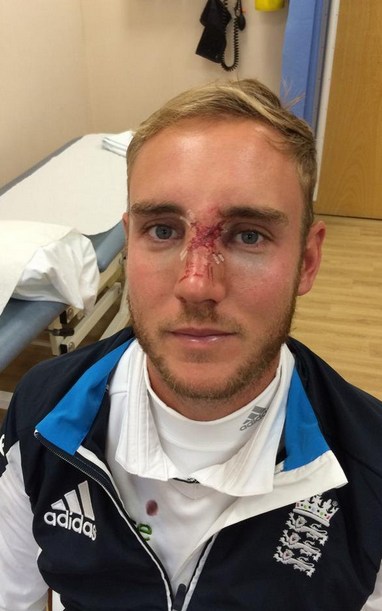 Follow us on Telegram
"I am working with the sports psychologist to try and focus the mind on other things. After my operation, I don't know if the drugs had anything to do with it, but I would wake up feeling like a ball had hit me in the face which is a bit strange. "It is a weird thing to see that ball, thinking you are about to hit it. I still have that picture in my mind and I can remember it clearly. It is a weird situation." He confessed.
Continuing his account Broad said, "I get nightmares still and I wake up thinking I have been hit in the face by a ball," he said. "Even when I get tired I see balls flying at me. My jaw clicks from it and if I have two glasses of wine I have black eyes."
He also struggled to explain England's poor run in the ongoing ICC Cricket World Cup 2015, though felt there was the need for senior players like including him to lifting the self-belief of a young team that has so far failed to deliver in the World Cup 2015.
"When things are not going well you tend to go within yourself and I think we were a bit like that in the field, "We don't have natural 'out there' guys at all."
Everyone's lovely.
Everyone's really nice.
"It is a young group. It's a danger with a young group that you've watched the guys you're playing against on TV. But actually you've got to stand up and believe you can take on these sorts of players. And we can. We've got the talent and skill to do it."
"I don't know if you've heard this phrase going round our group at the minute – attitude over skill. It doesn't matter how you hit them in the nets. Get out in the middle and front up and play. So that's a big push we're trying to go with at the minute." He concluded saying.
Follow us on Google News