Vidarbha woman wicketkeeper catches a burglar barehanded, praised by police
The cricketer suffered some bruises during the scuffle but never let the burglar go till the police came and arrested him.
Updated - Feb 28, 2020 7:24 pm
2.1K Views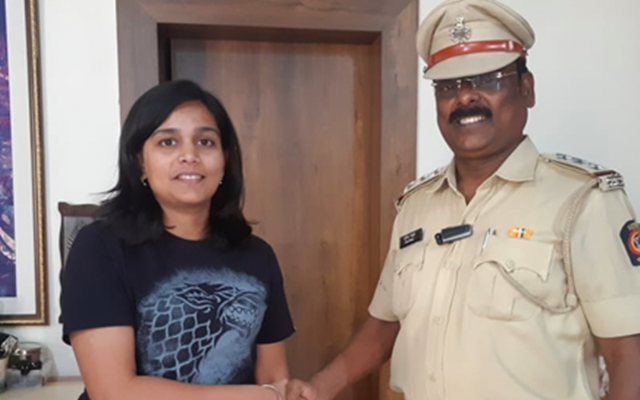 Follow us on Telegram
A wicketkeeper is one player in the game of cricket who is expected to be agile with strong reflexes. To see keepers taking stunning catches and effecting stumpings in a flash behind the wicket is always a treat to the eyes. But when a keeper ends up catching a thief and not a ball, how does it sound? Funny right? And that is exactly what has happened with woman wicketkeeper Saloni Allot.
The promising 24-year-old Vidarbha glove-woman, who has trained under former India wicketkeeper Anju Jain for the last couple of years, is a qualified chemical engineer-turned-cricketer. Last Sunday, she had gone out with her parents to visit relatives in Nagpur and when she drove back home, she noticed while parking her car a burglar trying to cross her building compound wall.
Driven by her sportsperson's instincts, Saloni grabbed on to the burglar and grappled with him for 10 minutes before her parents dialed the police. The cricketer suffered some bruises during the scuffle but never let the burglar go till the police, led by Senior Police Inspector Sunil Gangurde, came and arrested him. She did not allow the burglar to reach his tools which could see him injure Saloni.
Because of her brave act, Saloni has become a celebrity in her locality overnight and her story was even retweeted by ace India batswoman Mithali Raj. Saloni was congratulated by the police for her daring act. Gangurde told 'She The People TV', "It is not a joke to fight a burglar bare-handed for long." He was even approached by many local senior citizens who suggested that her name be recommended for the bravery awards.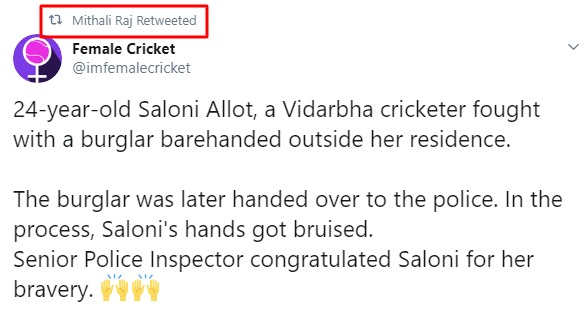 Saloni, who has had an impressive 2018-19 season with 37 dismissals from 26 games, is now on study leave. For her, the entire episode was unexpected. Hearing her mother shout seeing the burglar, she saw the latter coming out of the house and jumped on to him.
"Seeing my parents, the burglar scaled the boundary wall and jumped out. I had just stepped out of the car after parking it when he landed in front of me. There was hardly any moment to think before I acted," Saloni was quoted as saying by She The People. "I pounced upon him, but he managed to roll over to get on top. It was tough, but I was able to grasp him with my legs crisscrossed over him until others reached and grabbed him too," she added.
The burglar was identified as Dhanraj Pancheshwar from Balaghat, Madhya Pradesh, and the police were investigating the case.
Follow us on Google News