Vijay Hazare Trophy 2019-20: Day 1 – Round Up
Dinesh Karthik started his tournament with an unbeaten half-century.
Updated - Sep 25, 2019 10:41 am
153 Views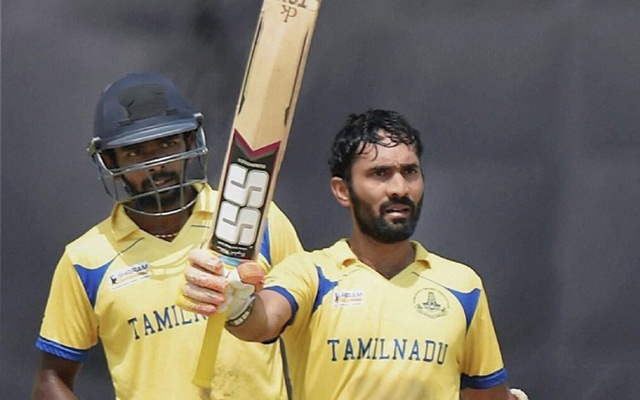 Follow us on Telegram
A total of five games were possible on what turned out to be a day of mixed emotions of the 2019-20 Vijay Hazare Trophy. While six fixtures [Delhi vs Vidarbha, Maharashtra vs Himachal Pradesh, Baroda vs Odisha, Mumbai vs Saurashtra, Andhra vs Chhattisgarh and Hyderabad vs Karnataka] were abandoned without toss due to wet outfield in Alur and Vadodara, only 58.4 overs were possible in the Round 01, Plate encounter between Nagaland and Manipur.
Opting to bowl first, Manipur had a great start to the game as Rex Singh [2-36] and Thokchom Kishan [2-47] reducing the Nagaland top-order into tatters. But skipper Rongsen Jonathan was not going to lie down easily. Amidst the ruins, the captain led from the front, scoring a 150-ball-104 to guide his team to a defendable total of 7-205. Only 8.4 overs were possible in Manipur's innings as persistent rains brought a fatal halt to the proceedings.
Ravi Teja's ton and Aditya Singhania's four-fer powers Meghalaya to a 194-run win
Meghalaya kicked off their 2019 Vijay Hazare Trophy campaign with an imperious performance against Sikkim; one that helped them register an eye-popping 194-run win at the Tanush Academy Ground in Dehradun. It was not all hunky-dory though for Meghalaya. Batting first, their top-order sent cheaply reducing them to 3-70 after 17 overs.
However, Dwarka Ravi Teja [109 off 88 balls] proved to be the fulcrum around which Meghalaya forged its comeback. Teja first accumulated 99-runs for the 4th wicket with Puneet Bisht, who scored an enterprising 50-ball-74 to take the score past the 150-mark.
After Bisht was dismissed for 74, Teja found an able ally in Amiangshu Sen (59 off 63 balls), with him he forged a 143-run stand to take the score to 5-318 after 50 overs. Chasing 319 was always going to be a difficult task for Sikkim. And, it was vindicated soon. Apart from Yashpal Singh's 53, none of the batsmen failed to put any resistance as Aditya Singhania's 4-18 wrecked through their batting unit.
Goswami's 79 in vain as Roosh Kalaris's 4-34 guide Gujarat to a 38-run win
Gujarat also started their 2019 campaign with a comprehensive 38-run win against Bengal. On a track which had considerable assistance for the fast bowlers, valuable contributions from almost every Gujarat batsman proved to be the eventual difference between the two sides.
Openers Parthiv Patel (17) and Kathan Patel (36) provided Gujarat with an ideal start. The duo accumulated 45 runs before Sayan Ghosh (2-50) dealt a double blow, nipping out both Parthiv and Manan Hingrajia (0) within a span of one run. But Gujarat's middle-order- spearheaded by Bharghav Merai (63) and ably supported by Manpreet Juneja (47) and Axar Patel (33)- insinuated their side's revival, taking the score to a respectable 8-253 after 50 overs.
Chasing 254, Bengal had the worst possible start to their run-chase as Roosh Kalaria [4-34] and Chintan Gaja reduced its top-order to tatters. At 3-25, Shreevats Goswami took matters in his hand and stroked a free-flowing 112-ball-79 and along skipper Wriddhiman Saha [26] and Anustup Majumdar [39] stitched partnerships of 62 and 77 runs respectively.
But just as it looked that Majumdar and Goswami would lead Bengal home, the duo fell in quick succession, insinuating a fatal collapse for Bengal; one that saw them lose their last six wickets for 51 runs, handing Gujarat a 38-run victory.
Tamil Nadu's collective batting performance helps them trump Rajasthan
A collective batting effort – spearheaded by Abhinav Mukund's 83-ball-75- Tamil Nadu made an easy meal of the target of 262, set by Rajasthan. Rajasthan wouldn't have even posted what they eventually did after their top-order was reduced to tatters by K Vignesh but a brilliant counter-attacking inning by Arjit Gupta [77 off 82 balls] followed by a blinder of a knock by Rahul Chahar [44 off 25 balls] saved them from the blushes.
Eventually, that too didn't prove to be enough as half-centuries from Abhinav Mukund [77], Baba Aparajith [52] and Dinesh Karthik [52 not out] coupled by a breezy 39-ball-48 by Shahrukh Khan guided Tamil Nadu home in just 48 overs.
Tripura edge Jammu & Kashmir in a low-scoring nerve jangler
Tripura pulled off a real nerve-jangler at Jaipur against Jammu & Kashmir. Chasing 198, it was a tale of three batsmen putting their hands up for Tripura as they came and went in what can be termed as a procession. Their top-order barring Bishal Gosh [62 off 98 balls] was reduced to tatters by Umar Nazir Mir [3-45] and Ram Dayal [1-32].
Tottering at 4-35, Milind Kumar [77 off 69 balls] and Bishal Ghosh [62] combined to forge a 99-run stand for the fifth wicket. After Gosh was dismissed by Nazir for 62, Kumar found an able ally in Manisankar Mursingh [26 off 33 balls]. The duo combined to accumulate crucial 46 runs.
But just as it looked the duo would guide team home, Kumar's dismissal caused a maniac collapse; one that saw them lose three wickets for seven runs. Luckily for Tripura that Harmeet Singh (6 off 4 balls) kept his cool and took his side past the finishing line in the 45th over.
Brief Scores
Meghalaya vs Sikkim, Round 01 Plate
Meghalaya: 5-318 in 50 overs (Ravi Teja 109, Amiangshu Sen 59; Bhusan Subba 2-38)
Sikkim: 124 all out in 46.3 overs (Yashpal Singh 53; Aditya Singhania 4-18)
Meghalaya won by 194 runs
Arunachal Pradesh vs Mizoram, Round 01 Plate
Arunachal Pradesh: 7-267 in 50 overs (Samarth Seth 102  Rahul Dalal 68; Sumit Lamba 2-35)
Mizoram: 3-147 in 29.2 overs (Abrar Kazi 50*)
Mizoram won by 7 wickets
Tamil Nadu vs Rajasthan, Elite Group C
Rajasthan: 9-261 in 50 overs (Arjit Gupta 77, Rahul Chahar 48; K Vignesh 3-34)
Tamil Nadu: 4-262 in 48.0 overs (Abhimanyu Mithun 75, Baba Aparijitjh 52, Dinesh Karthik 52*; Khaleel Ahmed 1-51)
Tamil Nadu won by 6 wickets
Gujarat vs Bengal, Elite Group C
Gujarat: 8-253 in 50 overs (Bhargav Merai 63, Manprit Juneja 47; Ashok Dinda 3-58)
Bengal: 215 all out in 46.2 overs (Shreevats Goswami 79; Roosh Kalra 4-34, Chintan Gaja 2-44)
Gujarat won by 38 runs
Jammu & Kashmir vs Tripura, Elite Group C
J & K: 197 all out in 43.2 overs (Qamran Iqbal 43, Fazil Rashid 37; Harmeet Singh 3-32)
Tripura: 8-198 in 44.1 overs (Milind Kumar 77, Bishal Ghosh 62; Umar Nazir Mir 3-45)
Tripura won by 2 wickets
Follow us on Google News