Virat Kohli and AB de Villiers send a heartwarming message to a kid recovering from a serious heart disorder
Both the cricketers are currently gearing up to play against Punjab Kings on Friday.
Updated - Apr 29, 2021 2:02 pm
1.4K Views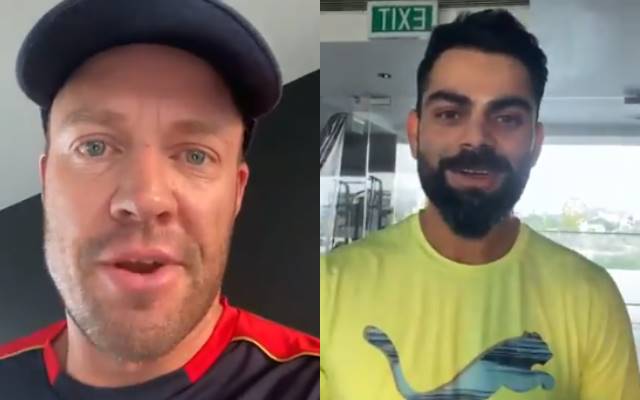 Cricket is no more than a religion in India. Certain cricketers, even foreign, have a massive fan following and similar is the case about Virat Kohli and AB de Villiers. Both the cricketers are currently featuring in the Indian Premier League (IPL) for the Royal Challengers Bangalore (RCB). The duo is currently busy playing but they have spared time to deliver a wonderful message for a kid from Delhi, Priyanshu, who had a serious heart disorder.
Priyanshu is currently in Boston and was recently operated for the said disorder. It took almost three years to collect the money for his family with Blood Donors India also helping along with some other organisations. After being operated, the boy is now safe as well and might soon come back to India.
RCB are currently gearing up for the game against Punjab Kings to be played on Friday and on Thursday, two of their top cricketers, Virat Kohli and AB de Villiers, spared time to send a heart-warming message for Priyanshu who has been fighting with the disorder for years. The cricketing duo lauded the fighting spirit of the boy and hoped that he returns to India soon.
"Hi Priyanshu, Hope you are doing well now. I heard about your operation. I just want to say you've been strong through it and very brave. You've gotten over the first hurdle and you will recover soon and you will be back in India in no time," Virat Kohli said.
Adding to the message, AB de Villiers said, " From my side I just want to say you really inspire us. Everything you've been through has been a very big challenge for you. And I want to congratulate you for being so strong and for being so motivated through this whole process. I hope everything goes well and you be strong enough to make it to your homeland."
A child, Priyanshu, from Delhi, had a very serious heart disorder, and had to be operated by Dr. Sitaram Emani in Boston. @crowngaurav from @BloodDonorsIn worked for 3 yrs to collect the money from donors. The boy is now safe, after surgery. Watch this video! #RCB #IPL pic.twitter.com/ji39Gm9h3M

— Blood Donors India (@BloodDonorsIn) April 29, 2021
RCB in good position in the IPL 2021
As far as the IPL is concerned, RCB are in a good position having won five matches out of six so far. They had won four matches to the start the season but their winning juggernaut was stopped by the Chennai Super Kings before the Virat Kohli-led side came back storming to beat Delhi Capitals by 1 run.