The Indian team gets a taste of 'Bhangra' in Centurion
The beating of the drums and the Bhangra stole the thunder of the jazzy music being played at the Castle Corner
Updated - Jan 15, 2018 3:42 pm
113 Views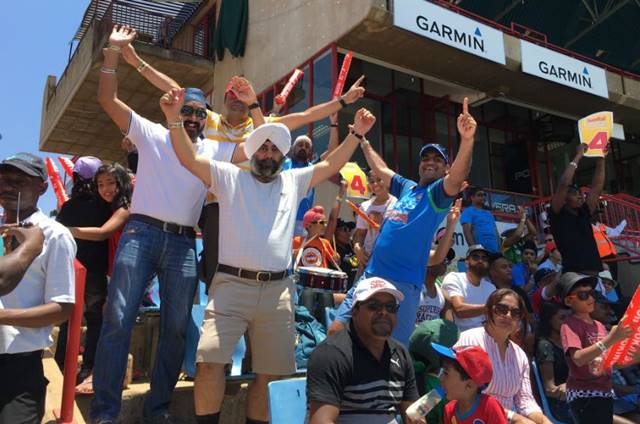 Follow us on Google News
Indian fans have always had a reputation as one of the most boisterous groups of fanatics. Wherever the Indian team goes, the fans follow. However, during the ongoing 2nd Test between South Africa and India at Centurion, there was an overwhelming presence of just home fans at the SuperSport Park, which came as a dampener. But just as one started to lose hope, from behind all the jazz, came the sound of the chants 'India, India'.
And with the chants, could be a heard a popular Indian instrument, the Dhol. The perks of having an open press box meant the ears slowly caught the tune of the Dhol and the sweet sound of Indian music on foreign soil.
That sound and the chants itself testified that the Indian fans were there. And yes, indeed they were, not just one or two. Close to around 35-40 people shouting their lungs out to keep the Indians motivated. The beating of the drums and the Bhangra (Punjabi folk dance) soon stole the thunder of the jazzy music being played at the Castle Corner.
Confident that India will in the Centurion Test
When the group was finally interviewed, it came to the fore that these people were a part of the Punjab United Club and had travelled all the way from Johannesburg to support the Men in Blue, and especially their favourite cricketer – Virat Kohli.
Speaking to CricketNext, chairman of the club, Parminder Sing said, "We are a group of about 40-45 people, including the kids, and we have come here to support the Indian players. We belong to the Punjab United Club and we are based in Johannesburg. This is our first visit to the SuperSport Park, but we are always present at the Wanderers in Jo'burg. The kids also wanted to watch their favourite player (Kohli) so we are all here and looking to enjoy ourselves."
For more recent cricket news around the world, keep following https://www.crictracker.com/
Follow us on Telegram