Virat Kohli collaborates with Sanjeev Goenka to launch Indian Sports Awards
The first edition of this award ceremony will take place on November 11 this year at Mumbai.
Updated - Sep 8, 2017 9:36 pm
689 Views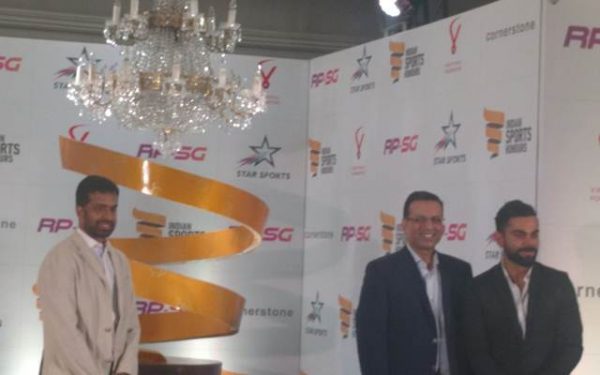 Indian skipper Virat Kohli has collaborated with businessman Sanjeev Goenka to come up with a unique set of awards. The two big names have joined hands to announce the Indian Sports Awards, an award which will honor the sportspersons in the country for their valuable and remarkable contribution in the various sporting fields.
As per the recent reports in News18, the basic idea behind the creation of these awards is to ensure that the sportspersons get rewarded for their achievements every year. A jury will be set up for selecting the award winners and national badminton coach Pulela Gopichand will be heading this jury. Virat Kohli has remarked that he will not be in contention to receive this award ever.
The first edition of this award ceremony will take place on November 11 this year at Mumbai. Speaking at the promotional event, Kohli cited that the nation has made giant strides in the world of sports. He believes that recognizing the efforts is of utmost importance.
"India has made rapid strides as a sporting nation. The day of being a one-sport country are behind us. The time is right to introduce an institution that will recognise our top sporting achievers and put the spotlight on those, who are expected to do the country proud in years to come," quoted Virat Kohli at the event launch.
Goenka resonates with Kohli's words
Businessman Sanjeev Goenka resonated with the words of Virat Kohli and noted that there will be a popular choice awards in this particular sporting awards. The fact that the stakeholders of the game will be involved in the entire process is what makes it unique.
"What makes this Sporting Awards unique is the direct involvement of the premier stakeholders of Indian sports — the sports-persons themselves, legends who have excelled at the highest level, the fans and the sports media. Apart from the recipients who will be shortlisted, there will be a 'popular choice' award as well, which will be voted directly by the fans," quoted the businessman.