Virat Kohli flaunts his abs while working out as he gears up for IPL 2020
Indian ccaptain Virat Kohli looks match ready in the new workout video posted by him on Instagram.
Updated - Aug 6, 2020 6:12 pm
4.2K Views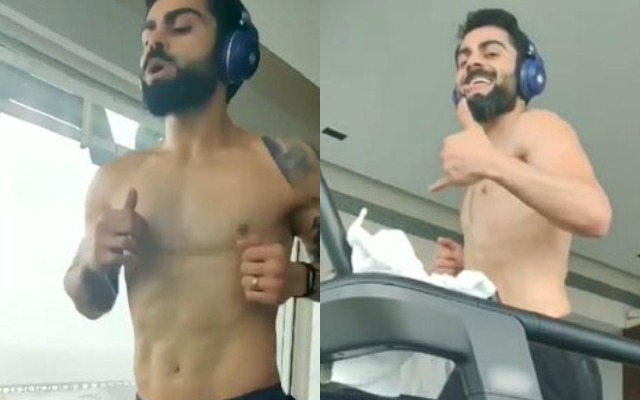 Follow us on Google News
Virat Kohli has been one of the fittest players in world cricket for quite some time now. He has always led his team with example. He is not just a prolific captain for his team but also someone whom players are dependent on getting good fitness tips. He has put forward huge standards for his teammates to follow which have resulted in the success of the Indian unit in terms of fielding department.
The prolific batsman has been a supreme leader ever since his under-19. His work ethic truly defines his class. Kohli has also set great fielding standards in the IPL and international cricket, taking some brilliant catches on the field.
The Indian great has also set some tough standards in the 'Yo-Yo' test which has been in news since its interception. The test was introduced in India in 2016. The then Team India coach Anil Kumble also played a vital role in making it compulsory for selection into the national squad.
Virat Kohli posts video while flaunting his abs
Kohli recently took to Instagram and posted a video of his workout. He can be seen running on the treadmill and the clip is also showcasing his hard-earned abs. The RCB captain never shies away from talking about fitness. He is a huge fitness freak and at times has said that he can never compromise on his fitness. 
There is a certain kind of fire in Kohli which has driven him to do better at the International level. No doubt he is regarded as one among the greatest of the game. He has never shied away from speaking his mind. He believes to be fit means a player can play a pivotal role in fielding. The 31-year-old is an athlete who is doing every bit to make this game of cricket a game of fit players.
Meanwhile, Royal Challengers Bangalore (RCB), under Virat, will be eyeing a good outing in the IPL 2020. The red army is still eluded from the title of IPL. Though they believe this year would be different and hopefully, their title drought will finally end. 
Follow us on Telegram