Virat Kohli gains a place in the Test rankings after his century against Sri Lanka
Kohli started the game behind Australia's David Warner.
Updated - Nov 21, 2017 1:46 pm
2.8K Views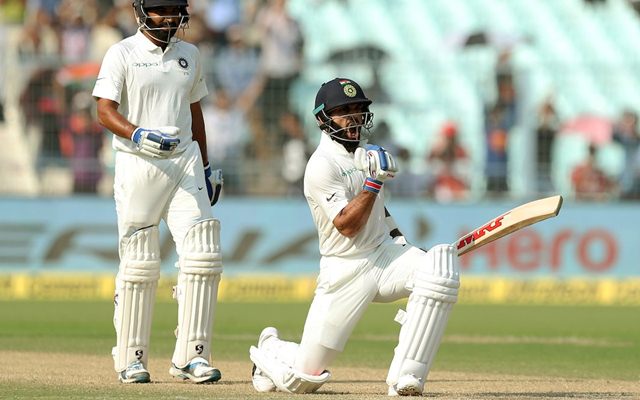 India captain Virat Kohli has edged Warner to take the fifth position after completing his 50th international century in the first match of a three-Test series against Sri Lanka in Kolkata, which ended in a draw on Tuesday. Kohli, who is top-ranked in both ODIs and T20Is, knocked up a fine 104 not out on the last day of the match.
Opener Shikhar Dhawan has gained two places to reach 28th position while among India's bowlers, pace bowler Bhuvneshwar Kumar has gained eight places to reach a career-best 29th position and Mohammed Shami has moved up one slot to 18th position.
All-rounder Ravindra Jadeja, who started the Sri Lanka series with the opportunity to reclaim the top bowling and all-rounder rankings, could not work towards the objective in Kolkata as all Sri Lanka batsmen fell to pace bowlers. Jadeja has slipped to the third position among bowlers and also lost 20 points in the rankings for all-rounders, but still has a lot to look forward to in the remaining matches.
For Sri Lanka, Niroshan Dickwella has gained three slots to reach 37th position among batsmen while off-spinner Dilruwan Perera has moved up three places to reach 22nd position among bowlers.
ICC Test team rankings
| | | | | |
| --- | --- | --- | --- | --- |
| Rank | Team | Matches | Points | Rating |
| 1 | India | 36 | 4493 | 125 |
| 2 | South Africa | 34 | 3767 | 111 |
| 3 | England | 43 | 4497 | 105 |
| 4 | New Zealand | 32 | 3114 | 97 |
| 5 | Australia | 34 | 3294 | 97 |
| 6 | Sri Lanka | 39 | 3658 | 94 |
| 7 | Pakistan | 34 | 2988 | 88 |
| 8 | West Indies | 33 | 2465 | 75 |
| 9 | Bangladesh | 23 | 1651 | 72 |
| 10 | Zimbabwe | 13 | 20 | 2 |
ICC Test batsmen rankings
| | | | |
| --- | --- | --- | --- |
| Rank | Name | Team | Rating |
| 1 | S.P.D. Smith | AUS | 936 |
| 2 | J.E. Root | ENG | 889 |
| 3 | K.S. Williamson | NZ | 880 |
| 4 | C.A. Pujara | IND | 866 |
| 5 | V. Kohli | IND | 817 |
| 6 | D.A. Warner | AUS | 807 |
| 7 | H.M. Amla | SA | 795 |
| 8 | K.L. Rahul | IND | 761 |
| 9 | A.M. Rahane | IND | 760 |
| 10 | Azhar Ali | PAK | 755 |
ICC Test bowlers rankings
| | | | |
| --- | --- | --- | --- |
| Rank | Name | Country | Rating |
| 1 | J.M. Anderson | ENG | 896 |
| 2 | K. Rabada | SA | 876 |
| 3 | R.A. Jadeja | IND | 868 |
| 4 | R. Ashwin | IND | 840 |
| 5 | H.M.R.K.B. Herath | SL | 820 |
| 6 | J.R. Hazlewood | AUS | 794 |
| 7 | N.M. Lyon | AUS | 752 |
| 8 | D.W. Steyn | SA | 748 |
| 9 | N. Wagner | NZ | 745 |
| 10 | S.C.J. Broad | ENG | 737 |
ICC Test all-rounders rankings
| | | | |
| --- | --- | --- | --- |
| Rank | Name | Country | Rating |
| 1 | Shakib Al Hasan | BAN | 438 |
| 2 | R.A. Jadeja | IND | 409 |
| 3 | B.A. Stokes | ENG | 396 |
| 4 | R. Ashwin | IND | 395 |
| 5 | Moeen Ali | ENG | 378 |
| 6 | V.D. Philander | SA | 319 |
| 7 | M.A. Starc | AUS | 306 |
| 8 | J.O. Holder | WI | 233 |
| 9 | M.D.K. Perera | SL | 230 |
| 10 | H.M.R.K.B. Herath | SL | 212 |