Virat Kohli heaps praise on Dimuth Karunaratne and Nuwan Pradeep
Virat Kohli highlighted the fact that even though the margin of victory was a colossal one, it was not an easy win for his team
Updated - Jul 30, 2017 4:52 pm
287 Views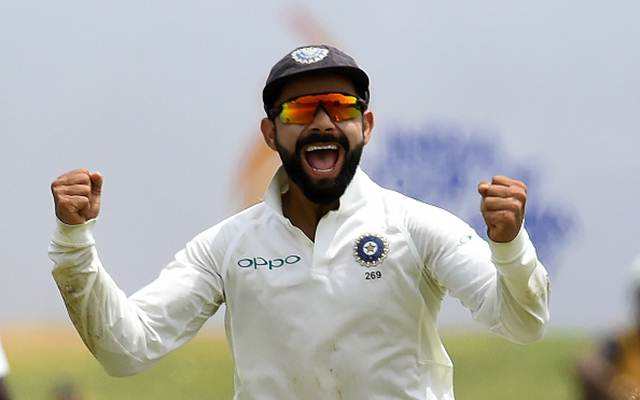 Indian skipper Virat Kohli lauded the efforts of Dimuth Karunaratne and Nuwan Pradeep of Sri Lanka for putting up a fight against the Indians with the bat and the ball respectively. Visitors India dominated the entire Test match as they crushed the hosts by a whopping 304 runs. However, Karunaratne and Pradeep were the two warriors from the Sri Lanka side who tried to steady the ship for the Lions.
While Karunaratne came up with a valiant effort with the bat in the second inning scoring 97 runs from 208 balls, Nuwan Pradeep picked up his career best of 6 wickets for 132 runs. Captain Virat Kohli showered praise on these two men.
What Virat Kohli said:
"Dimuth applied himself really well. We all know he's a very good player. He's proven himself before, at this level and he's got a good, sound game for this format. He's someone who is very solid at the top of the order for Sri Lanka," Kohli said.
"I think Nuwan Pradeep bowled really well. He was the one guy that looked like picking up a wicket every spell that he came back for. He hit some really good areas as well. That for me was also very good to see and challenging to face as well. All the guys who faced him felt like probably he's going to make something happen with the ball. I think these two guys from the opposition stood out," Kohli further said.
Virat Kohli highlighted the fact that even though the margin of victory was a colossal one, it was not an easy win for his team. According to the captain, the team had to do a lot of hard work in order to snatch the win. However, he also mentioned that the win will give the team a lot of confidence to perform well in such tough conditions in the future.
"The last time when we played here the surface offered much more to the bowlers. It kept the bowlers in the game throughout, the quicks and the spinners more so. This time around the wicket was really good to bat on even till today (Saturday)."
"I mean if you applied yourself, you could easily score runs on that surface. So, yeah, we had to work hard for getting all the wickets that we did. I think the bowlers came up with different plans, persisted long enough to get those breakthroughs and that's something that always helps at the beginning of a series to get a victory on a surface which is not offering much and that really gives the team the confidence of doing it once more if we get a surface like that," noted Kohli.