Virat Kohli is a hero we conveniently love and he has stopped caring
The Indian skipper has been simply amazing on the South African tour.
Updated - Feb 20, 2018 7:48 pm
1.3K Views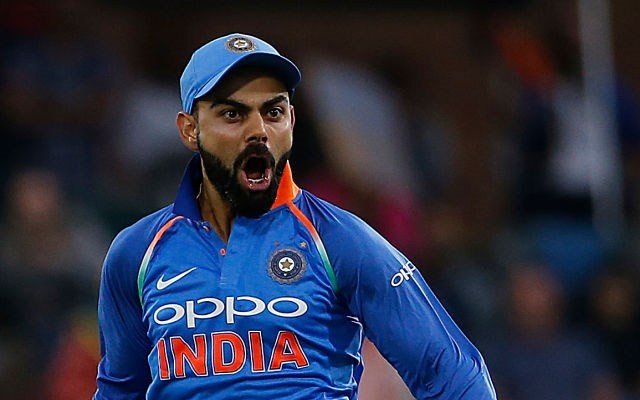 How often have you seen a sportsman denying the praise coming his way for a remarkable feat and how often have you seen a sportsman creating history and not sitting in the press conference with a smile on his face? Well if you haven't yet, you should go and watch Virat Kohli's press conference after India's thumping win over South Africa in the ODI series.
Normally a press conference gives you answers, but that was a press conference which threw more questions than answers. I heard an experienced broadcaster once saying that whenever the captains speak in the press conferences, they don't actually speak to the media, they speak to the opposition. Everything they say is redirected to the opposition. But the captain on this occasion was not even talking to the opposition, he was talking to the fans, the INDIAN FANS.
The Mike Brearley and Ian Botham Tradition
I have always been a firm believer of the fact that mavericks come in a package. You have to take the good with the bad. Who knows what would have happened if Mike Brearley hadn't managed the great Ian Botham as well as he did and who knows what would have happened if Alistair Cook had shown a little bit of patience with the great Kevin Pietersen?
The mindset of the Mavericks which leads to their overall attitude (an attitude which we don't like and we are not supposed to like) is actually the reason why they excel in their game to an extent not possible for others.
You can't separate a Virat Kohli who puts that huge stride forward on a minefield of Johannesburg against 6 ft. plenty bowlers of South Africa and drives them through Cover like a rocket from a Virat Kohli who gives all the South African batsmen a mouthful when they are dismissed.
Interesting selection process
Let's talk a bit about Virat's selections in the Test matches. It would have been a safer idea to go with Ajinkya Rahane in the first Test. Your most successful batsman Overseas and then you had Rohit. He was all at sea the last time India went on an Overseas cycle. Form? Well, Rohit scored only against Sri Lanka, you don't read too much into that.
The morning of the Test match, team sheet out and surprise, surprise. Rohit was in the XI. The message was simple from Virat. Splendid Form was on Rohit's side, he was hitting it well and if he had got going, with his array of shots, he would have caught the game by the scruff of the neck at no. 5. Also, Virat dismissed the theory that a batsman who couldn't do well in a country once can't do it again.
Similarly, it would have been a safer option playing Bhuvneshwar Kumar in the second Test. Got 6 wickets in the first game, why wouldn't you pick him for the next one? Well, surprise again. It was a brown wicket and Virat implemented something which had worked well for him in the past. He replaced Bhuvi with a hit-the-deck bowler.
That the moves worked or not is a different topic of discussion, what's important is the fact that on both the occasions, it was an aggressive and a maverick mind operating, a mind that was not scared to tilt towards something which might not have been the safest, might not have been the most popular but had Cricketing logic.
Disagreeing with the tactics of the players, captains, managers, and coaches is not something new in Sport. But the Indian fans didn't just disagree with Virat. They dismissed him as a leader, absolutely dismissed him. It seemed as if he had no idea of the game despite having played it at each and every professional level. How on earth is this lad the captain of Indian team? That's what people were asking.
Come the Third Test. India was 0-2 down and South Africa dished out a pitch which couldn't have been spicier. Everybody was a Malcolm Marshall or a Joel Garner. It was very easy for India to be overcautious considering where the series was standing. But Sorry Sir, it's Virat Kohli's India. It was his India that took the bull by its horns and the leader led the charge from the front. The result that came was just a reward, it was the process that went through tha Test match which defined Virat Kohli, the leader.
That he went on to select two wrist spinners in the ODI series thereafter (which was again not agreeable to many initially) and those wrist spinners rolled the bulldozer over the Proteas only enhanced the persona of Captain Kohli.
And then came that press conference. It was a hurt man sitting there more than a satisfied one. A man whom his fans had left alone at the time of adversity and were there to embrace him again when he was at the top of the world. He refused it, Virat simply refused to accept that piece of plastic praise. That restlessness on his face when he said "Sir I was sitting in the same room, 90% people didn't give us a chance" pinched me to the core and might have pinched a few others too.
Virat Kohli is a hero we conveniently love. It's very easy to enjoy the product of a mad scientist, but it can be embarrassingly tough to back him when he goes through the process of generating that product in his own mad way.  The Indian fans are not patient enough to see through that tough period.
That the captain of the national Cricket team has given up on his fans and is not even interested in their love and praise must give the fans something to ponder. As I am winding this article up, I hope the next time Virat Kohli sits in the press conference after an overseas triumph, there's a broad smile on his face
Disclaimer: The views expressed in this article are the author's alone and not Crictracker's entity