Virat Kohli justifies why he's not skilled enough to play shots like AB de Villiers
De Villiers, on the other hand, thinks Virat doesn't need to play all those shots.
Updated - Apr 18, 2018 7:31 pm
2.9K Views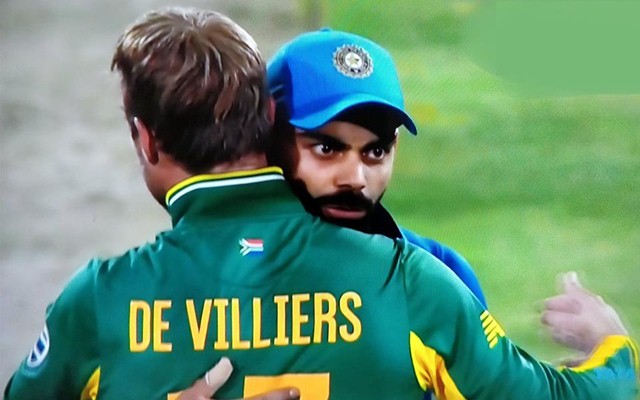 Follow us on Google News
Virat Kohli has been the life of the Royal Challengers Bangalore team. He joined them as an 18-year-old in 2008 and since then hasn't just been the batting mainstay but also leads the team at the moment. They've picked some of the top T20 players in the side over the years that includes the likes of Chris Gayle, Kevin Pietersen, Brendon McCullum to name a few but one overseas player who has been a standout is AB de Villiers.
Kohli and de Villiers to top batsmen in the world, share a great bond and mutual respect. It can be expressly seen when they are playing the IPL and also when on national duty and face off as opponents. While the world calls them both among the best in the business, Virat terms AB the best while the South African calls Virat the same.
The Indian captain is a more conventional player who plays textbook cricket shots with perfect timing and a lot of authority. AB de Villiers, on the other hand, is a 360-degree player, very unorthodox in his shot making but extremely effective and successful in what he does.
I am not skilled like AB
Talking about this further Virat said, "I have seen this debate a lot and while I can play all formats, I don't play these shots. But this is the way I know to play. I don't know to play the innovative shots. My inability to play these shots is why I have to stick to my game. People like AB have tremendous ability to play all kinds of shots and I don't so I have to mould my game according to that," he told India Today.
"People say I play safe but I am not that skilled to be able to try those shots. Because I have never practiced those shots and never worked on them. That shows the talent AB has; he can reverse sweep fast bowlers for six… that's something I have never seen in my life. That in many ways takes the game forward. But I stick to what I know which is to play to my strengths and conventional cricket shots," Kohli further said.
De Villiers, on the other hand, thinks Virat doesn't need to play all those shots to get his runs, he can still score tons of runs at a superb strike rate with the conventional style of shot making.
"Virat says he is not skilled to play some shots. But players who play 360 shots are not skilled to hit the ball in the V for six consistently.. So they have to look for other areas. So that's what I mean," de Villliers told India Today.
"He can consistently hit the ball in his zone because he will get it right nine out of ten times. I have to figure out a way to get it right nine out of ten times. See players do this and that means they are not as good as him. He doesn't have to go to those kind of shots," he said.
Thus far in his IPL career, Kohli has scored a total of 4619 runs, which makes him the highest run-getter in the history of the league. De Villiers is almost a thousand runs behind at 3595.
Follow us on Telegram