Virat Kohli makes relationship with actress Anushka Sharma official
Updated - Nov 21, 2014 4:21 am
69 Views
Virat Kohli has finally made the much rumoured about relationship between him and Bollywood starlet, Anushka Sharma official. He has asked the public to use common sense on his much talked about relationship, saying they indeed are seeing each other and their privacy should be respected. "It is out in the open (Jo hai sabke saamne hai abhi). We are not hiding anything, we are not trying to hide anything. I don't want to hide anything. But if you get repeatedly asked on the same thing and if it is made a matter of debate then both the individuals don't feel it is right," said Virat Kohli at the launch of his fashion line in Mumbai on Thursday.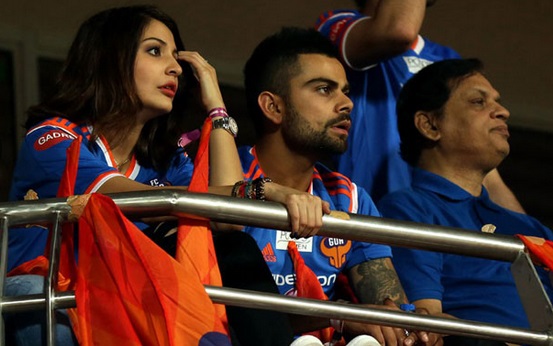 Follow us on Telegram
They have reportedly been dating for several years now and had mostly managed to keep their relationship under wrap barring a couple of instances when the two were seen together- Anushka going to meet Kohli in New Zealand when India were touring New Zealand last year being one such instance. Last month they made their 1st public appearance at ISL. Both Virat and Anushka were wearing the FC Goa team jersey which is owned by Virat himself and while Kohli looked visibly agitated as his team eventually lost, Anushka's presence seemed to have a soothing effect on him. Earlier, there were unconfirmed reports of a possible engagement after Virat's family met Anushka at her Mumbai penthouse. Anushka Sharma also came to the stadium to watch one of Indias ODIs against Sri Lanka in which after scoring a half-century, Virat blew a kiss towards Anushka Sharma. On Thursday morning the couple made their first public appearance together at the airport after the famous 'kiss' by Virat during the India -Sri Lanka match.
We give the couple our best wishes and hope their relationship flowers beyond any hurdles.
Follow us on Google News