Virat Kohli mentions how his life changed after marrying Anushka Sharma
I came from a very typical background.
Updated - Dec 11, 2018 4:47 pm
472 Views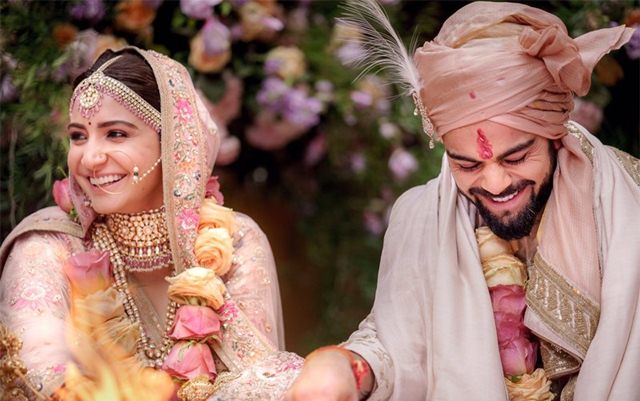 Indian captain Virat Kohli has had a gala time of late, both in his personal life and cricketing career. Albeit he strained a wee bit with the bat, he has led India to victory by 31 runs against Australia in Adelaide, he is currently celebrating his first wedding anniversary with better-half Anushka Sharma. Earlier today, he also dropped a message on Twitter, showering the Bollywood actress with admiration.
Last year, he entered the wedlock with Anushka Sharma in Italy after which they embarked on their honeymoon to the exotic destination of Finland. Thereafter, the power-couple threw two reception parties in Mumbai and Delhi where eminent personalities from various fields graced their presence.
Over the time being, Virat has mentioned how Anushka's presence has helped him grow as an individual. The 30-year-old also talked about how they spend their time together when they get time. Moreover, the right-handed batsman put forth how Mumbai is more comfortable for them.
She has changed me a lot
"It's hectic, if I have to be really honest. But we live in Mumbai now, which is a bit more relaxed because people are used to seeing known people there. You can go out for a nice meal. It's not going to be quiet, it's not going to be as casual as walking on a street here, but you can still go out a few times.
Whenever we get time together, we spend time at home because we hardly get time. Whenever we do, we like to spend quality time at home," Kohli was quoted as saying in an exclusive interview with former Australian cricketer Adam Gilchrist.
Furthermore, Virat went down the memory lane and talked about a time when he wasn't used to be aware of the happenings in his surroundings. Also, he remarked about how Anushka has transformed him into a 'practical' person as their relationship has passed the test of times.
"Since the time I met my wife, is the time when I started changing a lot. I came from a very typical background, from North India. And I did not have any idea about what happens in any other sphere of society or anyone else's life. Her life was very different, came with her own challenges and her own perspective of things.
It was amazing to just see myself how much different things are to the way I think. I was not a very practical person before that. She has changed me a lot. I have learnt so much from her. She has certainly helped me grow," the Delhi-born cricketer added.
[interaction id="5c0b8eb9fc61dd40362ab70c"]