Virat Kohli renews deal with MRF worth more than Rs. 100 crores
Virat Kohli is the only athlete in India to have signed two Rs. 100 crores endorsement deals.
Updated - Jun 13, 2017 6:22 pm
29.6K Views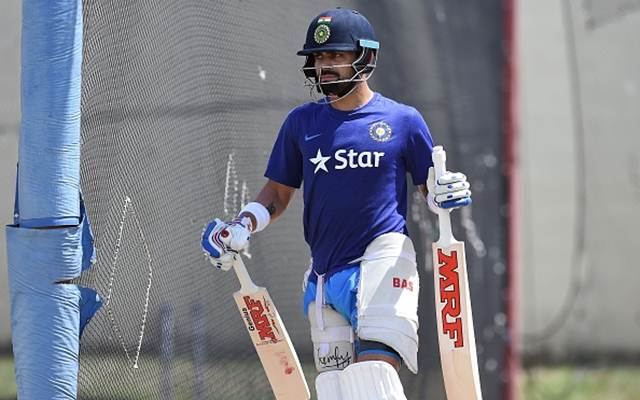 Follow us on Telegram
Virat Kohli has broken many records on the 22 yards. The 28-year stylish Indian skipper is now looking to sign groundbreaking deals off the field. He has reportedly renewed bat branding deal with tyre manufacturing company MRF. The world's most popular cricketer is set to receive a whopping amount to flash MRF's logo in his bat and endorse their product, which was once used to be on master blaster Sachin Tendulkar's bat.
It is reported that Virat Kohli will be getting more than Rs. 100 crores for 8 years under contract, as reported by the Economic Times. Previously, Kohli received Rs. 8 crores for sporting MRF's name on his weapon and for endorsing their product for three years. On an average, it was less than Rs. 3 crores per year. But with the new deal, he will be getting around Rs. 13 crores per year, a hike of around Rs. 10 crore per annum.
Kohli made headlines earlier this year when a signed a deal with sports brand Puma, which was termed as one of the biggest endorsements in the country. "We have renewed the bat sponsorship deal with MRF for eight years. MRF was keen on securing Kohli for a long term. Today, brands are seeing value in securing long-term deals. We also want to show loyalty and commitment to them. And Kohli has got a great rapport with MRF and the money is phenomenal," said Bunty Sajdeh, CEO of Cornerstone Sport and Entertainment, the agency that manages Kohli's endorsements.
Besides using the MRF logo in his bat, Kohli will be seen in MRF's advertisements. But the director of sports marketing firm Baseline Ventures, Mr. Ramakrishnan R feels that Kohli's pay slip is a bit on the higher side. "Kohli commands a premium as he is the top order batsman and in the current set up he is one of the three players who play all formats of cricket. However, it has to be a deal with some riders as the deal is on a higher side. It may be, if he has committed for three days per year for eight years, which will be around Rs.4 crore per day," was his opinion.
Only one king- Virat Kohli
With this deal, Kohli is the only athlete in the country to sign two Rs. 100 crore-plus deals. With a breakdown in relations with beverage manufacturing company PepsiCo, Sajdeh is trying hard to arrange for a new deal. "I am in constant touch with Pepsi officials not just here in India but also with their global team. I will be meeting top management in Chicago next month again and it is 50:50 right now," he said.
Why Kohli?
The question might arise that why is Kohli the most wanted athlete in India. The reason is explained by Mr. Vinit Karnik who is the business head at Group M's entertainment and sports division ESP Properties India. "Brand Kohli is at an alltime high. Kohli is in a unique position as he is a clear number one in terms of sporting icons currently, hence, his brand endorsement kitty is expected to increase and break all previous benchmarks. What sets Kohli apart as a cricketer is that he has a mix of Sourav Ganguly's aggression and Sachin Tendulkar's class. In a way, he has qualities of Young India, so all the brands that would want to target young Indians, would definitely want to get him on board," said Vinit.
Follow us on Google News