Virat Kohli reveals how he earned his national call-up
Kohli also talked about his comparison with Sachin and how it is not fair on the great man.
Updated - Nov 4, 2017 4:48 pm
707 Views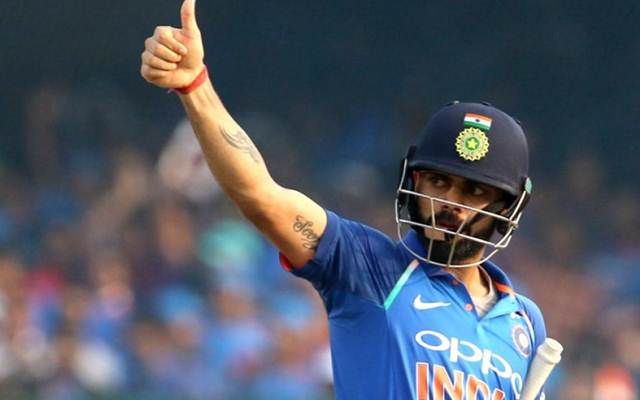 Virat Kohli has gone on from being just another young boy who was aspiring to play cricket to becoming the captain of the national team across all formats of the game. The right-handed batsman had to strive and struggled for a place in the squad, and since then has gone on to make 32 ODI hundreds with only 17 separating him from the all-time great Sachin Tendulkar.
The Indian skipper completed his 32nd century in the recently concluded series against New Zealand where he was tremendous for the home side. He looks destined to break Sachin's record in the next few years at least for the most ODI tons.
In a recent show with Gaurav Kapoor, Virat said that knew that there were talks around him about him being fast-tracked into the Indian team. He revealed that it began soon after the U19 World Cup win, and people kept telling him that Indian Premier League was a crucial tournament for him to get on the cards of the selectors. However, with young Virat took a bit too much pressure on himself and failed to show his true character and both he and the team RCB failed.
Luck by chance?
However, he kept believing that everything happens for the good and remembers the time when after being dropped he was asked if he'd open the batting with Shikhar Dhawan and he said yes. Against a New Zealand attack that consisted of Tim Southee and Corey Anderson, he didn't just get going but scored an unbeaten 120. Dilip Vengsarkar, who was the chief selector at that point was present to witness the game and decided that the Indian team required a Virat Kohli in the squad and picked him up despite the controversies.
Gaurav asked Kohli what was his first reaction when he met Sachin in the dressing room, to which the modern-day master said, 'I had prepared two days ago to interact with Sachin and the squad knew that I was nervous. The seniors (Yuvraj, Harbhajan, Munaf and Irfan Pathan) decided to play a prank on me, where they told me that the new guy in the team must pay respect to Sachin by touching his feet.' Just when Virat was trying to reach, an awkward Sachin told him to get up.
Comparisons with Sachin
Kohli banishes the question by saying that he does not believe in comparisons. People have always compared him with Sachin, someone he watched and picked the passion for the game. He said there is no way the two can be compared either on skill or at any level and it is not fair for the legend to be compared with anyone at all.
Watch the chat here