Virat Kohli reveals how he treated himself after scoring 235 against England in 2016
Kohli's 235 and hundreds from Murali Vijay (136) and Jayant Yadav (104) helped India scale down England's first innings total of 400.
Updated - Dec 2, 2019 10:30 am
31.1K Views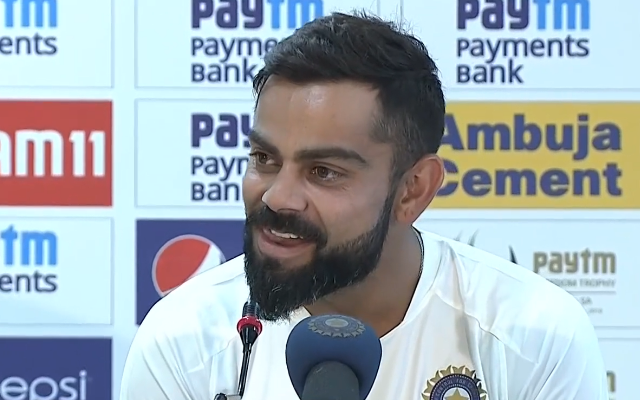 Follow us on Google News
As a fan, you are always intrigued by your favourite sportsman. You want to know everything about them. You want to know about their struggles, their childhood days, their work ethics, the way they respond to adversity and also how they react when they are at the peak of their powers.
Basically, you want to know each and every facet of their life. And, it is not only fascinating to delve into the insights but it also serves as a tutorial for us fans; something which we can take a cue from and implement the lessons in our own personal life.
Recently, Steven Smith revealed how he rewards himself whenever he scores a hundred. According to Smith, he treats himself with a bar of chocolate. That would have made you wonder, as an Indian fan,  how Virat Kohli celebrates or treats himself whenever he scores a three-figure-score.
Speaking to India Today, in an exclusive chat with Boria Majumdar, Kohli opened up on the same where he cited an example of one of the seven double-hundreds that he scored against England in Mumbai back in 2016.
Virat Kohli spills beans on how he treats himself after getting a hundred
According to Kohli, upon getting a monumental 235, the Indian cricketer treated himself with a chicken burger but with only a single bun.
"On tour, during games, I reward myself if I've gotten big runs," Kohli said in a chat with India Today. "I'll give you an example when I got 235 against England in Mumbai, which was hot and humid, so day [three], evening, I did not touch anything, I focused on my regular diet, and I was already batting on, I think, 100-plus overnight.
And then next day when I finished on 235, I was gone, I was cooked because during the game I don't like to eat heavy, so I was focusing on bananas and water and a little bit of dal-chawal and so on. So Basu sir (Shanker Basu, then India's fitness trainer) told me, 'Tonight, you can afford to eat anything you like,' but even then I ordered – and I was eating meat that time – I ordered a chicken burger, I took off the top bun – I couldn't stop myself – I said, okay, one piece of bread is okay, not two."
"But then I had a big plate of fries, and then I had a chocolate shake along with that because I knew, my body needs it," Kohli told India Today.
Speaking of that Test match, Virat Kohli's 235 and hundreds from Murali Vijay (136) and Jayant Yadav (104) helped India scale down England's first innings total of 400 and in-turn racked up 631. Ashwin's (6-55) six-wicket-haul on the final day meant England were bowled out for 195 in their second essay to hand the Men the Blue a win by an innings and 36 runs.
Follow us on Telegram