Virat Kohli and Sarfraz Ahmed at antipodes regarding social media ahead of final clash
"It's just another game of cricket tomorrow," said Virat Kohli.
Updated - Jun 17, 2017 11:20 pm
5.2K Views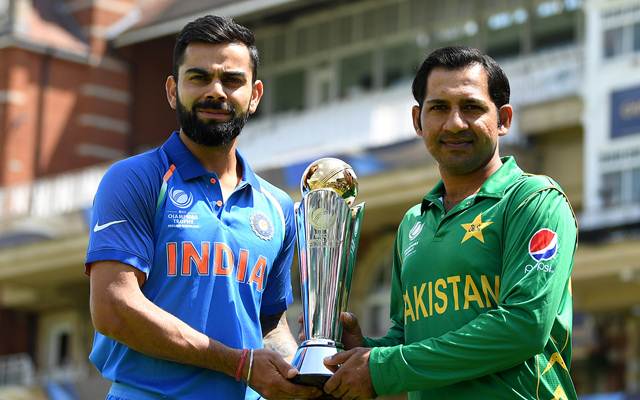 Social media has become a necessary part of the everyday life of the modern generation. For cricket enthusiasts, it is an excellent platform to communicate with their favourite cricketers and tell them how much they matter. Also, it allows you to have an insight into the team bonding through the videos uploaded by the player. But Indian skipper Virat Kohli wants his team to stay away from this boon of technology ahead of ICC Champions Trophy 2017 finals.
India will take on Pakistan on Sunday at Kennington Oval, London in the mega-encounter. While on one hand, the most popular cricketer is advising his team to stay away from social media, Pakistani skipper Sarfraz Ahmed decided to thank social media for its positive effect on the Men in Green. He acknowledged all the fans who wished them in social media websites.
"I would like to thank all the Pakistani fans on social media for the tremendous support that they have been providing us throughout the tournament. They have showed faith in us and we would like them to support us during the final too. I am indebted to millions on social media," said the first Pakistani captain to guide his team to the finals of the Supreme tournament.
But according to the Indian skip, social media can shift the focus of a player. "The biggest thing is to stay off social media. Honestly, it sounds funny, but it's so important to stay away from those things, to connect to things that matter, the things that a sportsman needs to take care of. You know, connecting to yourselves within, taking a bit more time to do stuff which you don't normally get to do and stay away from everything," said the 28-year-old.
"To be happy playing second fiddle in a big tournament like this throughout all the games, to be thinking about bouncing back after a setback. And that can only happen when you're able to connect with yourself first. If you are too distracted listening to too many suggestions or players or criticism, then you cannot focus on what you need to think as a sportsman first to be able to lead the team and then help the others in the team, as well," he further added.
Final is just another game for Virat Kohli
Virat also said mentioned that the high-voltage final is just another game for him. "Until now, we have never spoken of the semi-final in any different way. We have not spoken about this game in any different way. We have practised the same way from the first day we came here. Even today's practice was something extra. There is no over-excitement. People are just doing the normal things that they do in any practice session, and that's the kind of approach we have maintained throughout the tournament.
"It's just another game of cricket tomorrow, and whatever the result, we have to go forward and play more games after that. The more relaxed you stay in these kind of situations, it's a good thing because it helps you take better decisions when you are composed and calm mentally and you can help the team come out of difficult situations only if you are thinking in that fashion. We have changed nothing from the first day we came here, honestly," Kohli opined.
But here again, his counterpart had a different opinion. Sarfraz expressed the excitement in Pakistani camp by saying "The boys are really looking forward to this match. The youngsters are ready for the big event. They are motivated and if we can work had in the finals, we will get good results."