Virat Kohli talks about the likes and dislikes involving Anushka Sharma
Kohli fond of Anushka's caring and honest nature.
Updated - Oct 3, 2017 11:37 pm
4K Views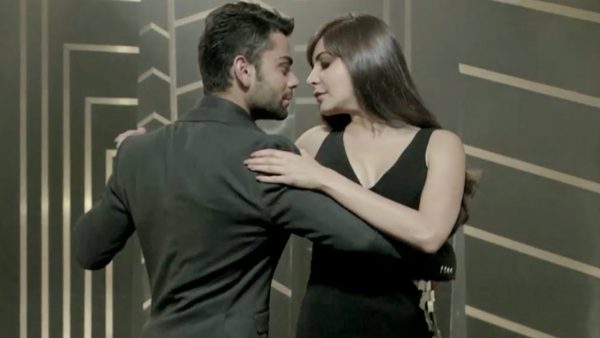 Follow us on Google News
In a recent event with Aamir Khan, India's all-format India Virat Kohli finally came out talking about partner Anushka Sharma, revealing about his like and dislikes about the actress. According to his interview, Kohli is not fond of Anushka's unpunctual behaviour.
If reports are to be believed, Kohli disclosed that the Bollywood star has the habit of arriving 5-7 late. Bollywood veteran Amir Khan posed a tongue-in-cheek question about the one thing Kohli loves about Anushka and one thing he hates about her.
To which the star batsman replied by saying that he has been fond of Anushka Sharma's honesty and her caring nature. When it was Kohli's turn to answer the second part of the question, he claimed that he doesn't quite "hate" about her unpunctuality but isn't something he is fond of either.
Although the two lovebirds have been one of the most talked about couples in the recent times, the two have made sure they keep things private between them. There have been a number of occasions during press releases or during film promotions that Anushka Sharma had brilliantly shut down the journalist waiting for a sensational news on the duo.
Here's an example:
Here's the post:
Virat Kohli spoke about Anushka, during a question round between both, Aamir asked him one thing he loves & one thing he hates about her

— Sameer Allana (@HitmanCricket) October 3, 2017
The thing he loves:- She being honest and always caring.
He hates:- 'I don't hate but one thing I dislike, she's always 5-7 mins late'

— Sameer Allana (@HitmanCricket) October 3, 2017
In the detailed interview, Kohli encompassed a variety of topics starting from partner Anushka Sharma to the originator of his unique nickname. Apparently, it is none other than former captain MS Dhoni who helped the name gain international recognition through the stump microphone.
Apparently, it was due to a funny haircut during his playing days at the U-17 level, which gave him a look resembling a rabbit and fetched him the name of 'Cheeku'. Furthermore, it was MSD who helped the name go viral in the Indian team and the masses while placing the field for a number of years.
Follow us on Telegram