Virat Kohli vs Steve Smith – Who's the best Test batsman?
Which rivalry would define the age we are in right now? Kohli versus Smith. That is what defines this era and that is what this age is going to be remembered by.
Updated - Aug 10, 2020 4:56 pm
2.3K Views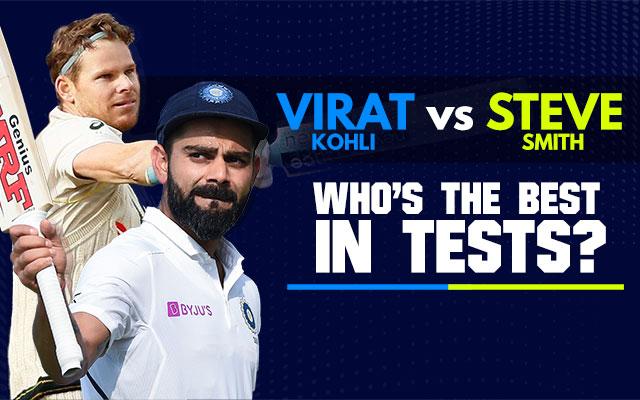 Comparisons in cricket are inevitable. We have seen immense evaluations and endless assessments of players throughout our years of watching the sport. From Bradman versus Hammond to Tendulkar versus Lara; Lille versus Hadlee to Imran versus Kapil; McGrath versus Akram to Lee versus Steyn; there have been some legendary and iconic rivalries in the past between two greats of the game.
The eras pass by, the generations change, new players make their way in whereas the veterans pass the baton and exit. Amidst all the entries and exits and debuts and retirements, the sport and its lovers are never left bereft of players to compare. There is a rivalry budding up at every point of time in any sport. There is one, if not more, that runs always and so runs the quest of finding the best.
It is through these contests that ages are defined and remembered by. This brings us to the question of who is the best in the contemporary era. Which rivalry would define the age we are in right now? What are we going to look back and gasp in disbelief when the present would become the past? Kohli versus Smith. That is what defines this era and that is what this age is going to be remembered by.
As a lover of cricket, I have always loathed comparisons across generations, for each generation learns from the previous one. Not too long ago did Kohli admit about consulting Tendulkar when things were going awry for him in England in 2014. That is what elders do: guide the young ones, show them the path, advice, and assist them in moments of trouble. And this must be sufficient a reason, amongst a thousand others, for us to not draw comparisons between Kohli and Tendulkar. Inter-generational comparisons are plainly unfair, period. However, intra-generational comparisons are just fine.
So let's make Virat Kohli and Steve Smith- two players from the same generation- face off and find who fares how in the purest format of cricket-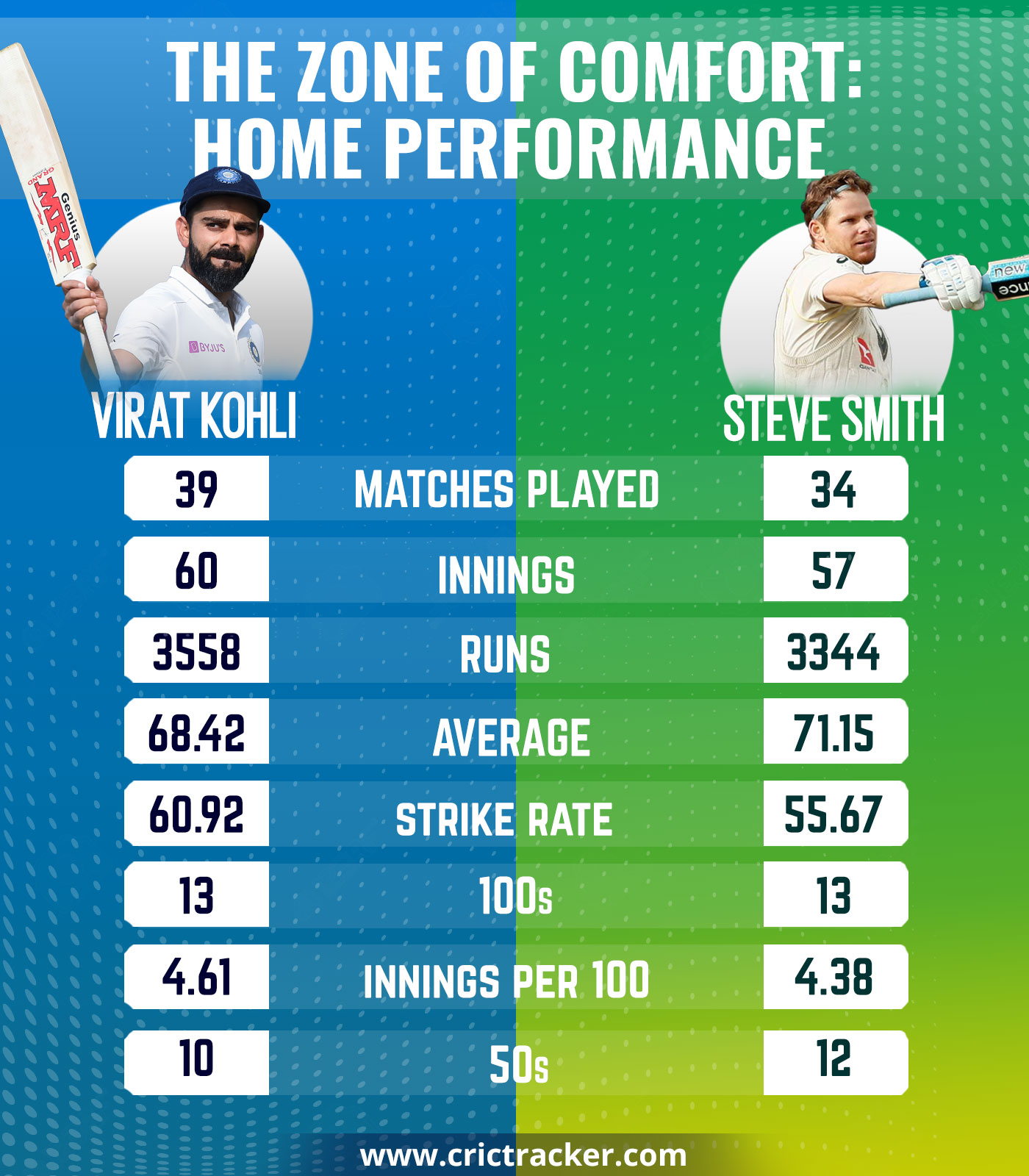 Home advantage is quite a phenomenon in cricket and it cannot be denied no matter what. The sense of familiarity, the support of the crowd, and the advantage of knowing the tracks; there is not one, but a range of advantages that playing at home offers.
There's little to compare when it comes to the home performance of these two. Smith fares marginally better in terms of average and innings taken per century. However, nothing conclusive could be drawn out on the basis of contrasting the home performances of these two modern greats.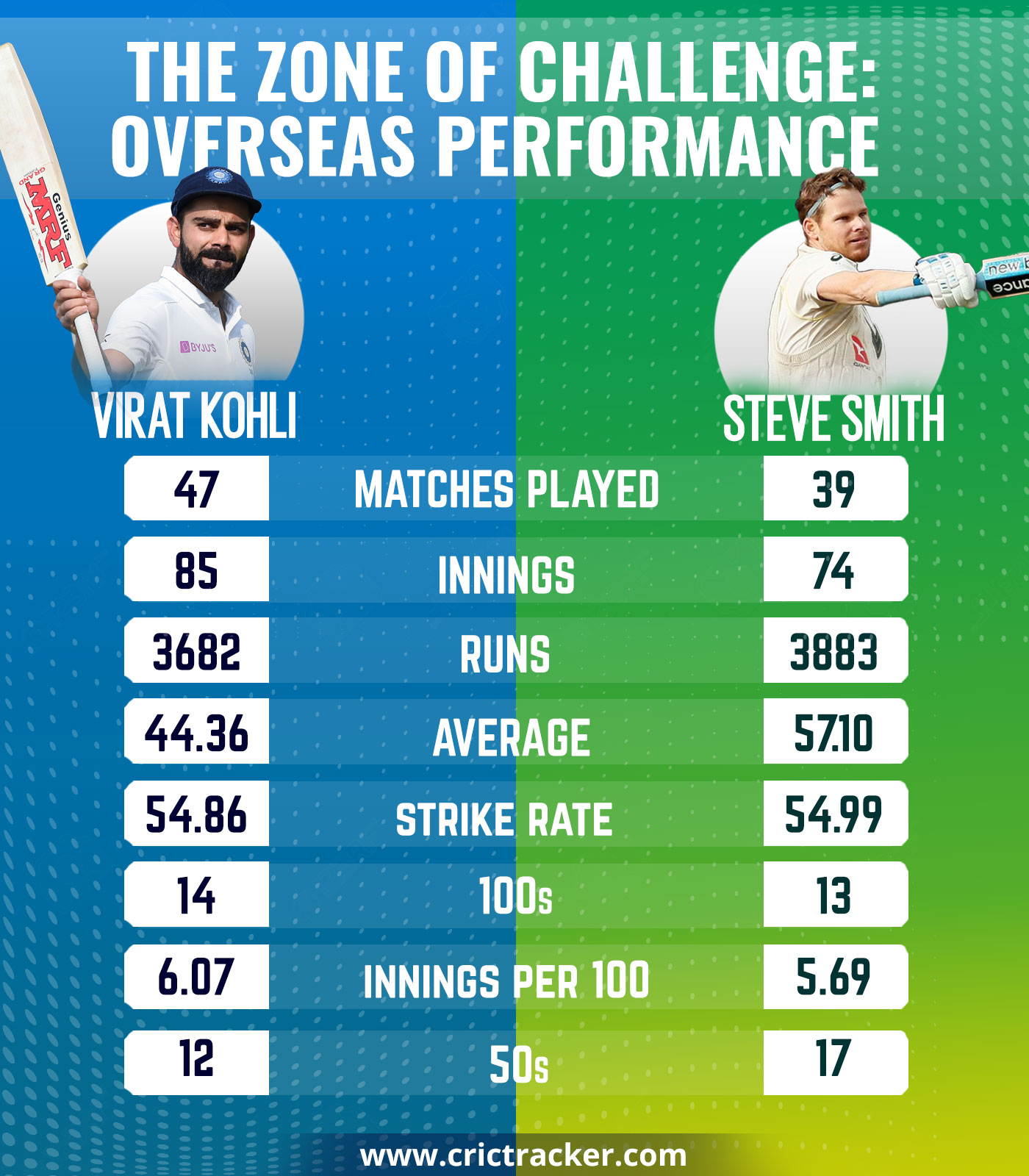 The real test of a player's character, grit, resolve, and adaptability comes to the fore when they visit other countries. Cricket is a game of variables and the variables are aplenty when it comes to travelling abroad and playing Tests. Every place has challenges of its own and making adjustments in style, altering technique and temperament becomes imperative for a batsman.
On this front, Smith comfortably outsmarts Kohli. When looked in isolation, Kohli's overseas statistics look marvelous, however, placing them aside Smith tells us a different story. Kohli averages 44.36 to Smith's 57.10, and though both the batsmen have scored an almost equal number of centuries, Smith runs past Kohli as soon as innings per century ratio is taken into consideration: Smith scores a century every 5.69 innings whereas Kohli takes 6.07 to notch one up.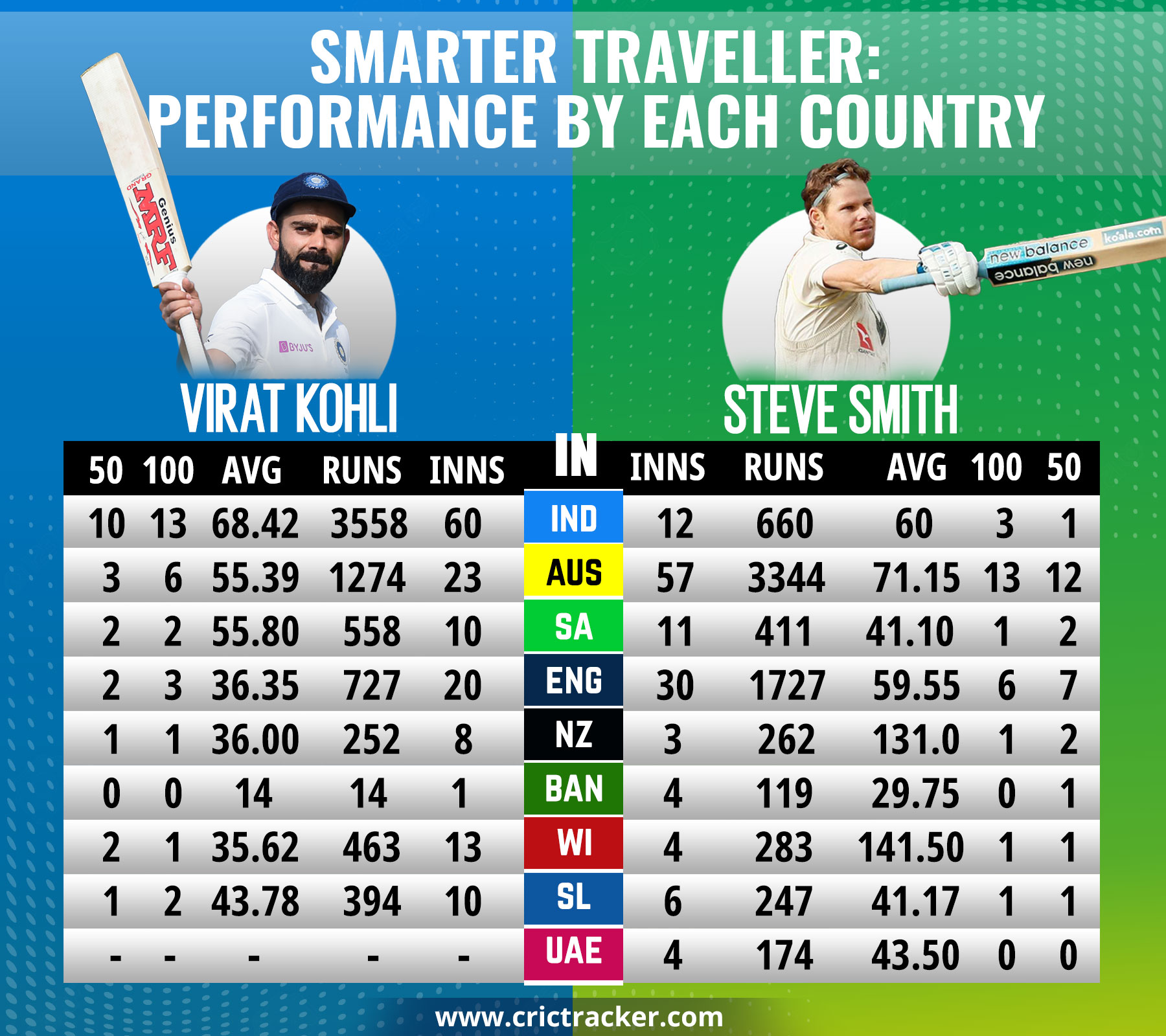 Kohli has played 60 innings to Smith's 12 in India. In terms of average, Smith averages 60 in India; extraordinary by every standard, however, Kohli edges over him with 68.42. In Australia, however, Smith averages a phenomenal 71.15 to Kohli's impressive but much lesser 55.39.
Considering their performance in South Africa, Kohli sails over Smith quite comfortably. But in England and New Zealand, Smith has a lucid edge in terms of average. Though both of them have not played too many innings in New Zealand, Smith has been just prolific each time he has stepped out there.
Smith has played merely 4 innings in Bangladesh whereas Kohli has just 1 and therefore there is not much to compare there. Kohli has not played any Test in UAE, however, in Sri Lanka, he is a tad better than Smith. However, against West Indies, Smith averages an astronomical 141.50 to Kohli's 35.62.
It is evident that both Kohli and Smith love playing against each other's team. Kohli has piled up 1604 runs against Australia at a healthy 48.61. However, Smith, having scored 1429 runs in just 20 innings at an astonishing average of 84.06, has been incredibly fine against India.
If Kohli has an evident upper hand against South Africa, Smith bags the battle versus New Zealand, where despite scoring nearly equal amount of runs, he leaves Kohli behind by a good margin in batting average. Against England, Smith is fabulous and his numbers reflect that quite clearly. However, the fact that Kohli has played 13 innings fewer against England than him must be noted.
Kohli, who has not played a single Test against Pakistan, fares much better against the other Asian nations- Sri Lanka and Bangladesh when compared to Smith. However, against West Indies, Smith emerges as the clear winner and seems to have crossed limits of realistic performances.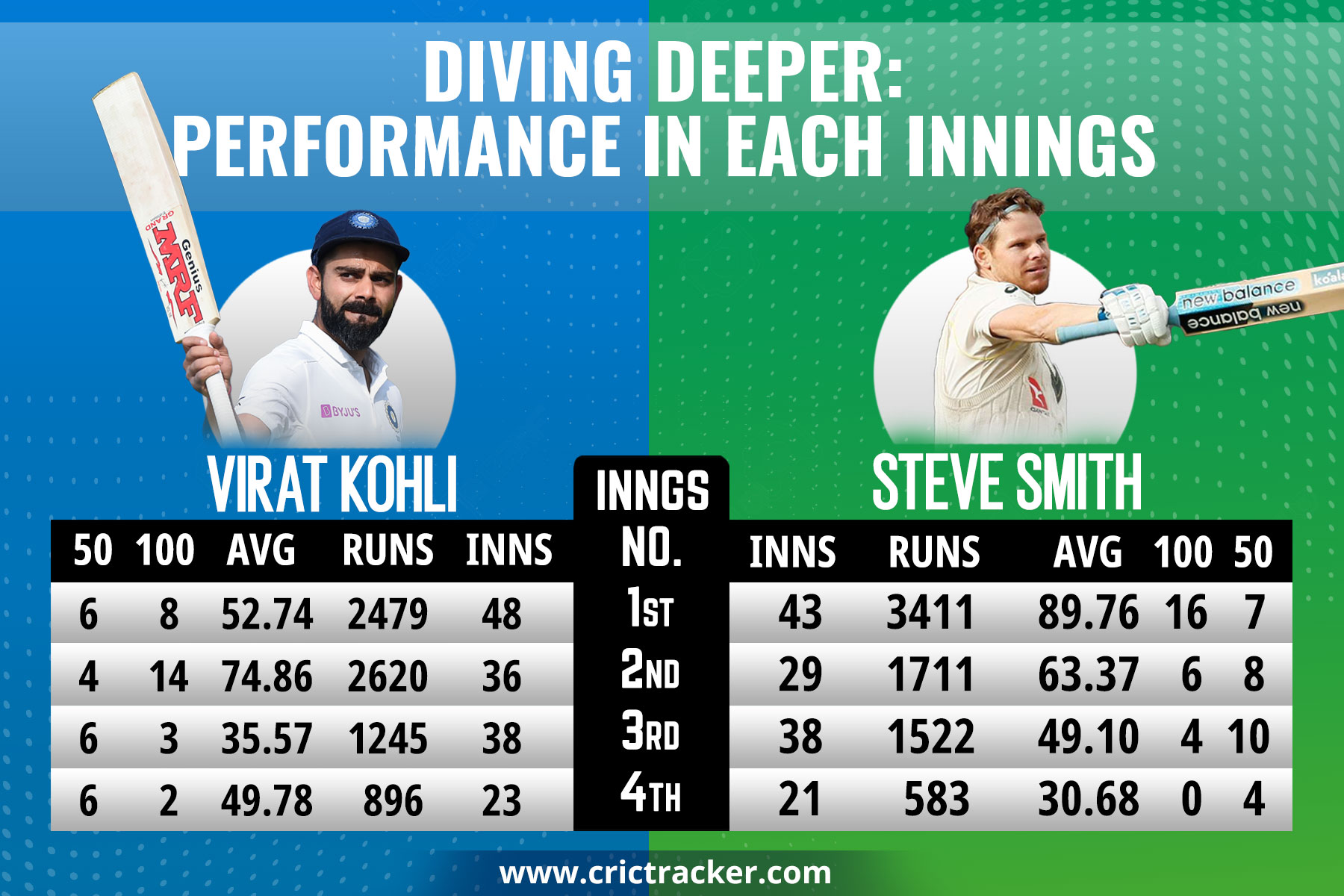 Smith's performance in the 1st innings is flabbergasting, to say the least. He averages a colossal 89.76 to Kohli's 52.74, and even after playing 5 innings fewer, he has slammed 16 tons to Kohli's 8. However, Kohli fares much better in the 2nd innings with an average of 74.86 to Smith's 63.37 and has registered more than double (14) of Smith's centuries (6).
Both of them have played an identical number of times in the 3rd innings and Smith fares decently better with an average of 49.10 to Kohli's 35.57. In 4th innings, unarguably the golden standard to judge a Test player's mettle, Kohli pips Smith by a reasonable margin as he averages an extremely impressive 49.68 to Smith's 30.68 and has 2 centuries to Smith's none.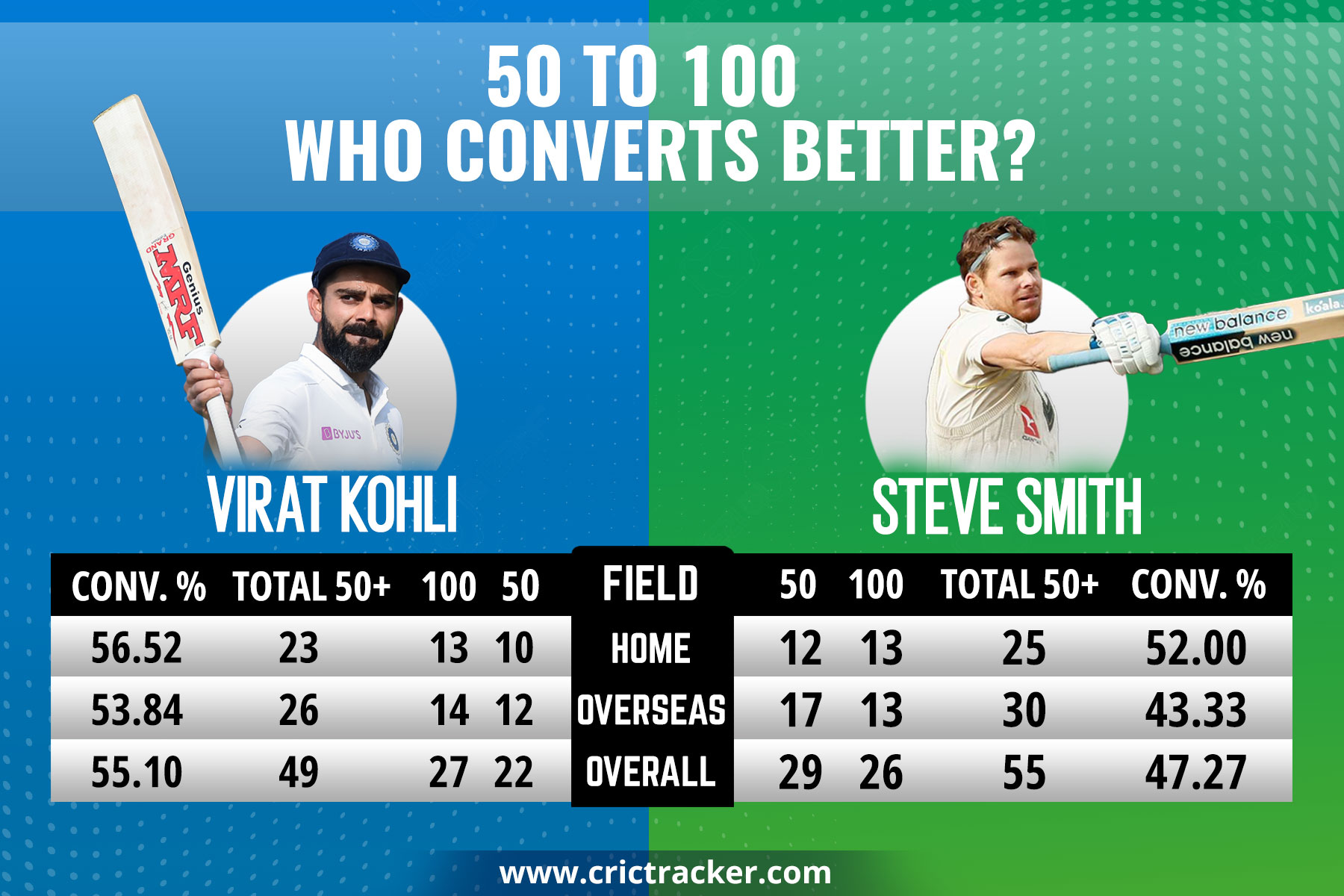 Of the 23 times, Kohli has gone past 50 at home, he has converted 13 into hundreds i.e. 56.52%. Whereas of the 25 times, Smith has crossed 50 at home, he has converted as many into hundreds i.e. 52%. The gulf between the two increases much more in overseas matches where of Kohli's 26 scores above 50, as many as 14 are centuries i.e. 53.84%. On the other hand, of Smith's 30 scores above 50, only 13 are centuries i.e. 43.33%.
Quite obviously, therefore, Kohli's overall rate of conversion is higher than Smith and his 55.10% beat Smith's 47.27%.
When contrasted with each other, their performance with the bat in contributing to their teams in matches won at home stands neck to neck. Kohli, in 29 matches he has won at home, has made 2783 runs at 73.23 whereas Smith, in 29 victorious matches at home, has 2378 runs at 70.42.
However, it is in contributing to the team in overseas victories where Smith is miles ahead of Kohli. In 15 matches that he has won overseas, Kohli has 1089 runs at 41.88 including 3 centuries under his belt. On the other hand, Smith, who has won a match lesser than Kohli, has accumulated 2077 runs at a Bradmensque average of 98.90 and a whopping 9 centuries.
Therefore, Smith, in 39 victorious encounters, has accumulated a massive 4455 runs at 81 with 18 centuries to Kohli's 3872 runs at 60.50 with 13 centuries in 44 matches.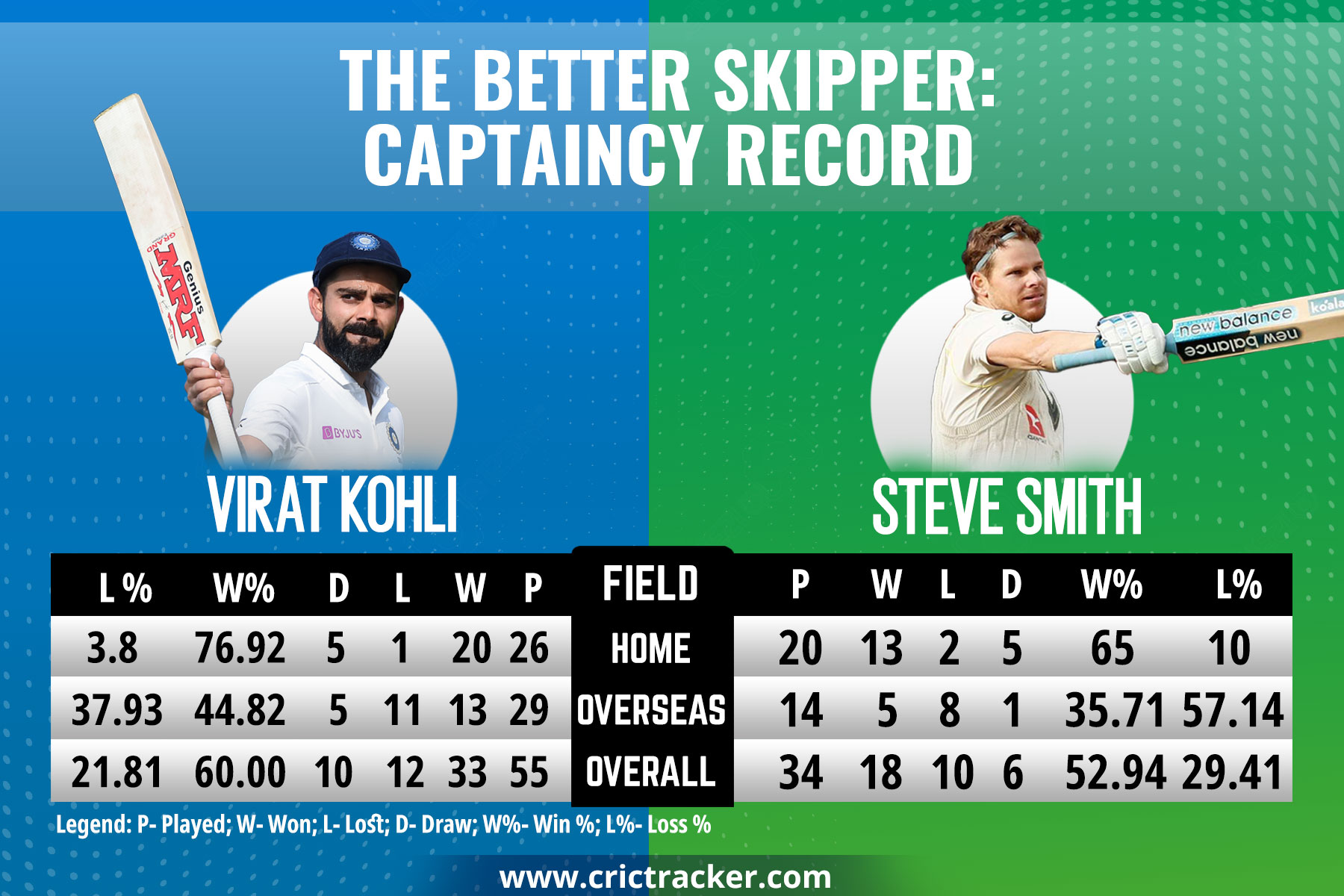 In terms of overall win percentage of captains who have captained in at least 25 Tests or more, there are only two captains- Steve Waugh (71.92%) and Ricky Ponting (62.33%)- who have a win percentage higher than Kohli. And no surprise, he fares much better than Smith as a captain.
Of the 55 Tests Kohli has captained India, he has won 33 and lost 12. Whereas Smith, who has played 34 Tests as a skipper, has won 18 and lost 10. Kohli has a mighty impressive win-loss ratio of 2.75 to Smith's 1.80.
On digging deeper, of the 26 Tests at home, Kohli has won 20 and lost only 1 to Smith's 13 wins and 2 losses in his 20 matches as captain in home Tests. In the Tests played overseas, both take a dip as compared to their record at home. However, Kohli still edges past Smith with 13 wins and 11 losses in 29 overseas Tests as captain to Smith's 5 wins and 8 losses in 14 Tests.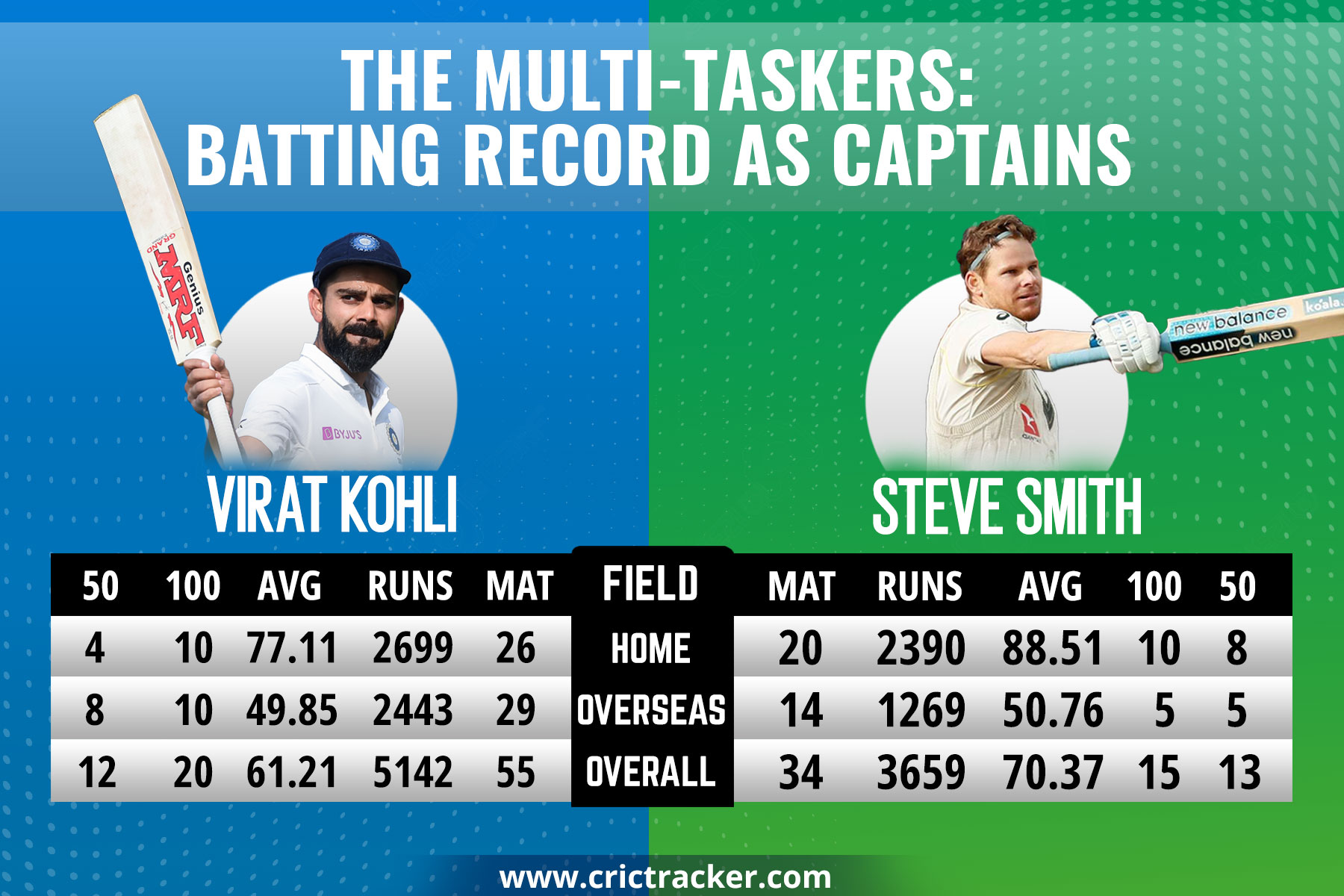 The numbers of both the batsmen being a captain in Tests at home are delightful. However, Smith is chartering new territories with 2390 runs in 20 matches at an enormous average of 88.51 and 10 centuries to Kohli's 2699 runs in 26 matches at 77.10 and as many centuries.
In overseas Tests, the battle gets extremely close. Smith has played half the number of matches as Kohli has overseas and has scored 1269 at 50.76 with 5 centuries. Kohli, on the other hand, has in 29 matches scored 2443 runs at 49.85 including 10 centuries.
Smith's magnificent average at home places his overall record a touch higher than Kohli, as he has scored 3659 runs in 34 matches at a spectacular 70.37 to Kohli's 5142 in 55 matches at 61.21.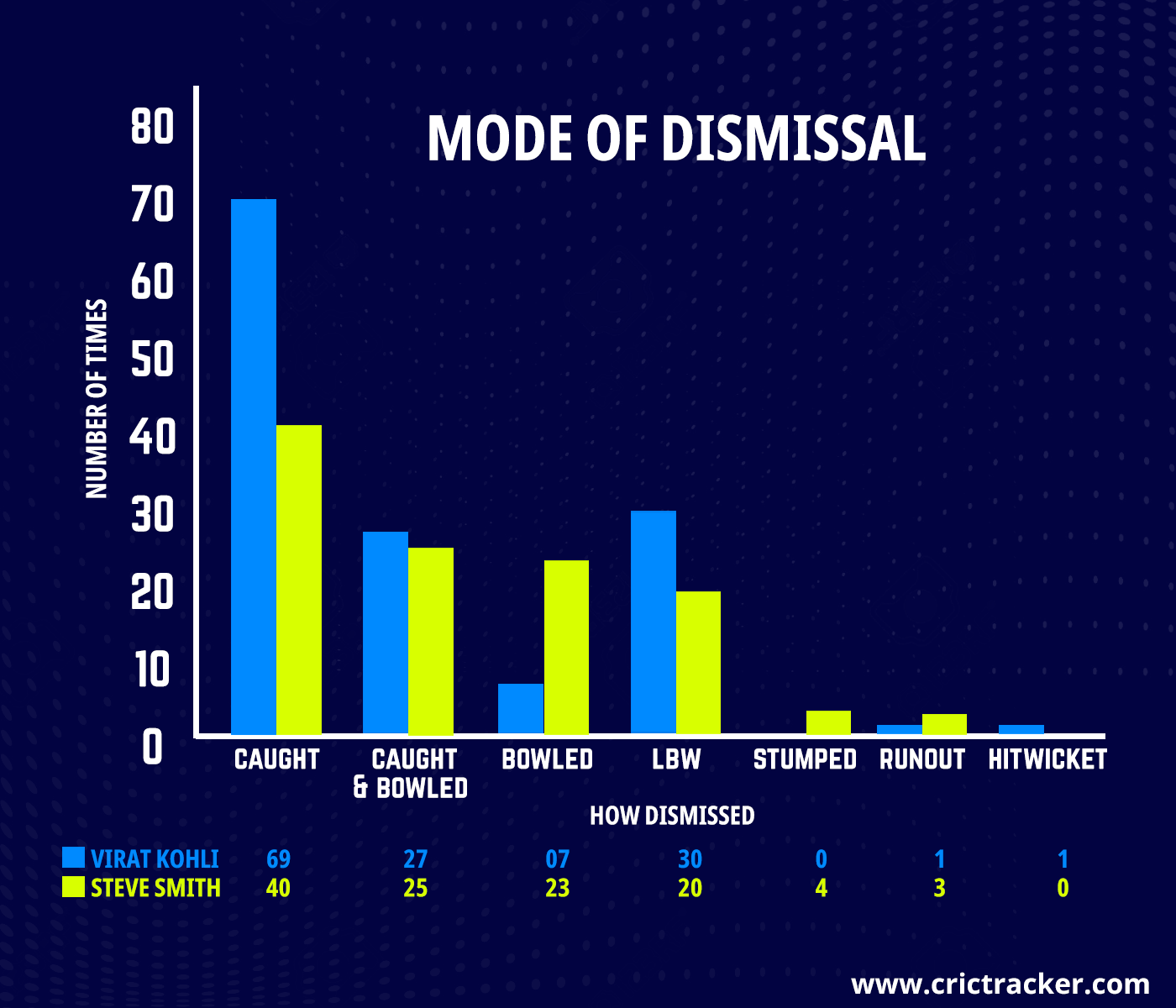 Out of all the modes of dismissal, Kohli tends to get out Caught fairly higher than Smith. In Test cricket, it is but obvious that most of the catches are taken behind the wicket, such as in the slip cordon and gully. Kohli is renowned for his risk-free stroke-making and not taking the aerial route, however, being caught often, indicates his vulnerability against the moving ball. Although he has worked upon this significantly ever since the dreaded 2014 tour of England.
On the other hand, Smith tends to get bowled much higher than Kohli. This is primarily because of his unorthodox technique and fidgety movement across the wicket that either exposes his stumps or brings him in line of the wickets to get trapped LBW. Kohli's LBW dismissals can be attributed to his habit of playing against the turn as well as getting early into the on-side flick. However, both of these issues were prominent only in his early days.
There is hardly a question that can be raised on Kohli's technical soundness today and hence there is little to analyze who is sounder as a batsman between these two. However, Smith has dismantled the long-established norm of technical prowess to be an essential parameter of success in Tests.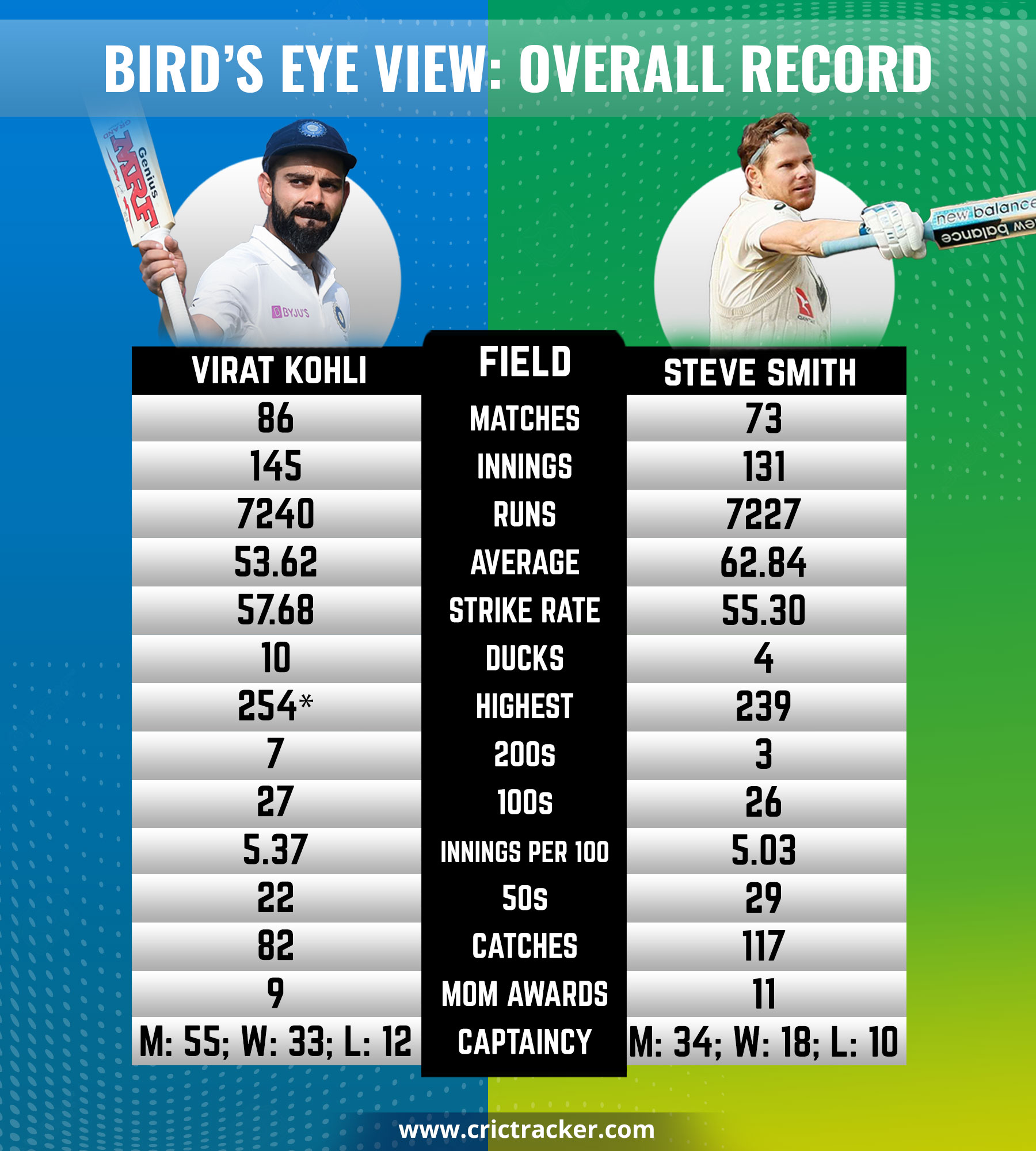 The battle between these two is rather chaotic. It is true that Kohli dulls Smith in a few areas, however, Smith outperforms him on the more major fronts. For his nearly-unbelievable exploits in whites, I will have to give it to Smith in Tests. However, with both the players having ample time left in their careers, what will this rivalry look like by the end is anybody's guess.
Right then, Kohli versus Smith… Who's better? None. Kohli versus Smith… Who's ahead? Smith!
Stats credits: ESPN Cricinfo and Howstat. All updated till 10th August 2020. 
Follow us on Telegram