Virat Kohli's cheeky birthday wish for Mohammed Shami invites trolls on Twitter
Shami is celebrating his 30th birthday today.
Updated - Sep 3, 2020 1:11 pm
10.1K Views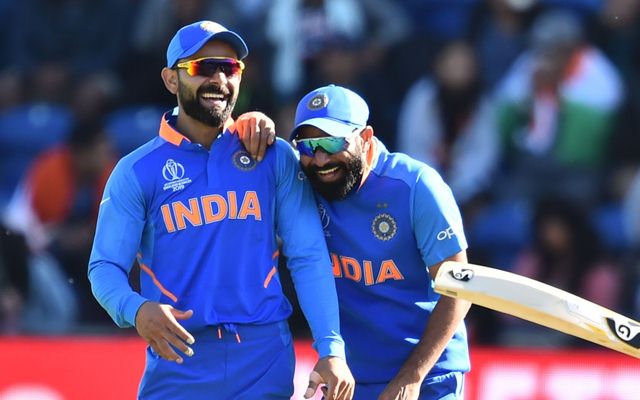 India pacer Mohammed Shami is celebrating his 30th birthday today. He is currently in the United Arab Emirates (UAE) with the Kings XI Punjab (KXIP) and is training hard ahead of the Indian Premier League (IPL). The tournament is set to start on September 19 and the pacer will be keen to take the field after a long time. Meanwhile, the wishes have flooded in for Shami on his birthday and even his skipper Virat Kohli wished him in a cheeky way.
It has become a norm nowadays for the cricketers and celebrities to wish their friends and teammates on social media. Wishes come in from every nook and corner even as the fans and followers celebrate their favourite player's birthday. Mohammed Shami has become a very important part of the Indian team, especially in Tests, over the last couple of years and it goes without saying that his fanbase has also increased.
However, Virat Kohli's wish for him has invited trolls for the birthday boy as Twitterati is enjoying taking a dig at the latter. "Happy b'day Shami @MdShami11 Mehnat aur bowling dono karte raho daba ke," Kohli's tweet read. The Indian skipper, in his wish, told the pacer to train hard and bowl well. But it turned out to be a double-meaning word and that was enough for the social media to troll the pace bowler.
Happy b'day Shami @MdShami11. Mehnat aur bowling dono karte raho daba ke 🤝😃

— Virat Kohli (@imVkohli) September 3, 2020
Thank you brother ❤️🙏🏻@imVkohli

— Mohammad Shami (@MdShami11) September 3, 2020
Mohammed Shami's past
Not long ago, Mohammed Shami was accused of cheating by his wife Hasin Jahan. Even some of his chats were leaked and the cricketer allegedly was having an extramarital affair. The period was a tough one for him as he was also accused of match-fixing by his wife only to be cleared by the BCCI's Anit-Corruption Unit.
He also recently admitted that thoughts of suicide crossed his mind during that period. While the allegations made on Shami were never proved, but the chats leaked and other personal things remained in public domain which were enough for the social media to take a hilarious dig at the cricketer. While Virat Kohli meant something else in his wish, Twitterati did its job by turning it into a meme and trolled Mohammed Shami hilariously.
Here are some of the trolling tweets:
Why did he add DABA KE at the end 👀 https://t.co/xO2r9r08Dt

— Yash (@SRKzKaali) September 3, 2020
Daba ke. Virat you crazy genius 😂 https://t.co/cB91Lgj4pQ

— Swanand (@Swanand_1) September 3, 2020
Dabake Cryptic msg de diya 😂😂 https://t.co/rFIvggIvgx

— Mr. Stark (@twt_debo) September 3, 2020
Aise kaun bolta hai bhai khulle mein 😂🤣 https://t.co/1caF18SNdp

— Tanmay (@fast_hostile) September 3, 2020
Hain bilkul theek boola sir jii 😄 https://t.co/qVgMD0S6oN

— Waseem Manan khan (وسیم منان) (@WaseemManankha1) September 3, 2020
😂😂😂😂😂

If you know, you know. https://t.co/BquNPIULhh

— Manya (@CSKian716) September 3, 2020
Thank you for giving us fresh meme material for the next one week 😊 https://t.co/mSacfGIU2t

— Richaaaa (@Richaaaa7) September 3, 2020
https://t.co/MvWAaTKBlw pic.twitter.com/wKN6OkZeNP

— Cheeru (@sobermonk) September 3, 2020
मेहनत कहां से करेगा बेचारे का तलाक हो रखा है मेहनत तो आपने करी है मुबारक हो https://t.co/xCqCa6Hvzw

— karan rawat (@kiru224) September 3, 2020
Ek dam Bihari bhasha😂😂 https://t.co/y8kffGKtFW

— Sanjay Yadav (@SanjayY35446126) September 3, 2020
Daba ke🤣🤭😋 https://t.co/gqI9fuBjS3

— Mohammad Saleem (@msaleem333) September 3, 2020
Are maat bolo.. issi chakkar me bande pe bahut controversy hua hai🤣🤣🤣🤣 https://t.co/4eHzZ6RmNT

— Ashi (@Aashiwadhwaa) September 3, 2020
Mehnat!! https://t.co/Urx4OziRS2

— Aditya Garg (@AdiGarg99) September 3, 2020
Blame my dirty mind 😭 https://t.co/YbjIw8eAZ8

— Ananya (@art_chieverr) September 3, 2020