'Virat sir hi toh bolo' – Rishabh Pant and Yuzvendra Chahal enjoy their banter during live chat session of Kevin Pietersen and Virat Kohli
As the chat between the two legends-- Kohli and Pietersen-- kept going on, the banter between Pant and Chahal also kept moving along.
Updated - Apr 3, 2020 6:20 pm
4.9K Views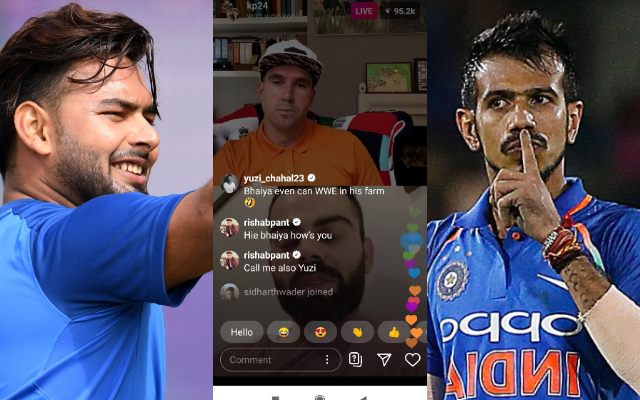 Coronavirus has led to the stoppage of cricket all across the globe. In the last hundred years, there has been only one such incident when cricket all across the globe was stopped. This had happened during World War II. Due to the COVID-19 threat, IPL has also been cancelled. This has prompted players to sit back at home and spend their time in isolation.
During this time, former England batsman Kevin Pietersen is interviewing several cricket stars on Instagram. Using the feature of the live chat session on Instagram, Pietersen has tried to engage with many stars over the last days. Rohit Sharma, Virat Kohli, and Ahmed Shehzad are some of the players with whom the former England star conducted interviews.
Rishabh Pant and Yuzvendra Chahal get ignored repeatedly in Instagram live
During the live chat session between Kohli and Pietersen, there were few of the Indian cricketers who were online and watching the session. Two of those Indian cricketers were not only watching but also having a banter of themselves in the comment section.
After the conversation between the two legends, Pietersen and Kohli started wicketkeeper-batsman Rishabh Pant commented whether he could join the conversation as well. Both Kevin and Virat did not even notice the comment. After facing this ignorance, Pant started getting mocked by Yuzvendra Chahal. Chahal commented, "Hi Rishab how are u bro our unique comment ignored by 2 legends so we both talk to each other."
Pant then asked Kohli to at least see and tell him hi but there was still no response from Kohli or Pietersen. Pant said, "Virat sir hie toh bol" Chahal then replied, "Pant le Bhai hi hi and hi." Pant continued to seek Kohli and Pietersen's attention though, asking them to take his name. Chahal then commented on the glass that Pietersen was holding, "Oh bhai beer glass mein water Kp sir you are a legend"
This was legit pic.twitter.com/xcuhGsM47J

— ㅤ ㅤ ㅤ ㅤ ㅤ ㅤ ㅤ ㅤ ㅤ (@theesmaarkhan) April 2, 2020
As the chat between the two legends kept going on, the banter between Pant and Chahal also kept moving along. Chahal and Pant both continued to seek the attention of the two players. But, even till the end of it, neither Kohli nor Pietersen replied to the two young players of the Indian side.
A few days back, when Jasprit Bumrah and Rohit Sharma were having a similar kind of video session, Pant had been asking random questions. Yuzvendra Chahal was also among the ones who were engaging with the two Indian stars. Rohit and Bumrah were responding to their words, unlike Kohli and Pietersen.