Virender Sehwag hasn't attended a single Anti-Doping Appeals Panel hearing since being inducted in November 2017
He had excused himself from all the previous hearings and isn't expected to attend the next few either.
Updated - Jul 30, 2018 8:30 pm
1.1K Views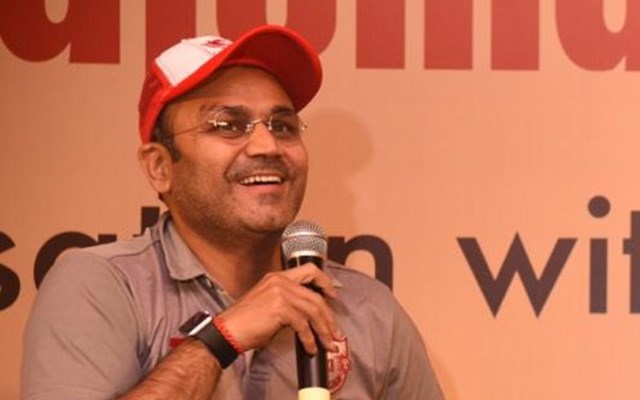 Follow us on Telegram
The Anti-Doping Appeals Panel (ADAP) of the National Anti-Doping Agency (NADA) in India in a bid to include popular sportsperson on the panel took former Indian opener Virender Sehwag onboard. He was introduced into the six-member panel in November last year. However, the prolific cricketer is yet to attend a single hearing as a part of the panel.
The committee includes Justice RV Easwar (head), advocate Vibha Datta Makhija, former Delhi captain Vinay Lamba, Dr Naveen Dang and Dr Harsh Mahajan. Scroll quoted a source who is in the knowledge of the development and it was revealed that the former Indian cricketer is a part of the panel for almost the last 9 months and neither has he attended a hearing nor has he resigned from the position.
"Virender Sehwag has not resigned from the ADAP Panel. He is very much a part of the panel. But yes, he has excused himself from the panel hearings till date," said source on condition of anonymity as quoted by Scroll.in. When the portal contacted with the query, Sehwag did not respond.
He has excused himself from the panel in all these months and as per the NADA website, he will not be participating in any of the upcoming hearings either. Since November the appeals that have been heard by the newly-installed panel are:
Sl.
No.

Name of Sportsperson
Sport/Event
Name of Prohibited Drug /Anti Doping Rule violation

Date of Decision

1
Ms. Komal
Athletics
Oxandrolone Anabolic Steroid
24.07.18
2
Mr. Rohit
Athletics
Stanozolol, Anabolic Steroid
21.05.18
3
Ms. Sarita Rani
Powerlifting
Exogenous origin of A, Etio, 5a-Adiol
28.02.18
4
Ms. Harkirat Kaur
Weightlifting
Testosterone
08.09.17
5
Mr. Ravi Kumar
Athletics
Oxandrolone
01.09.17
6
Mr. Rohit Kumar
Athletics
17-b Hydroxy methyl
01.09.17
Here are the upcoming hearings and again Sehwag has excused himself for it.
Date & Time
Name of the Panel
Orders to be issued
Cases listed for hearing
10/08/2018
@2:30 P.M
Ms. Vibha Dutta Makhija
Dr. Harsh Mahajan
Mr. Vinay Lamba
Mr. Ayush
14/08/2018
@5:00 P.M
Justice. R.V. Easwar
Dr. Navin Dang
Mr. Vinay Lamba
Mr. Jithin Paul
Ms. Priyanka Panwar
23/08/2018
@5:00 P.M
Justice. R.V. Easwar
Dr. Navin Dang
Mr. Vinay Lamba
Ms. Geeta Oniam
Mr. Shailender
06/09/2018
@5:00 P.M
Justice. R.V. Easwar
Dr. Navin Dang
Mr. Vinay Lamba
Health Fitness Trust
Follow us on Google News