I want to change my name to Sachin Tendulkar: Virender Sehwag
Virender Sehwag was an opening partner of Sachin Tendulkar for a long time in ODIs.
Updated - Sep 16, 2017 1:48 pm
859 Views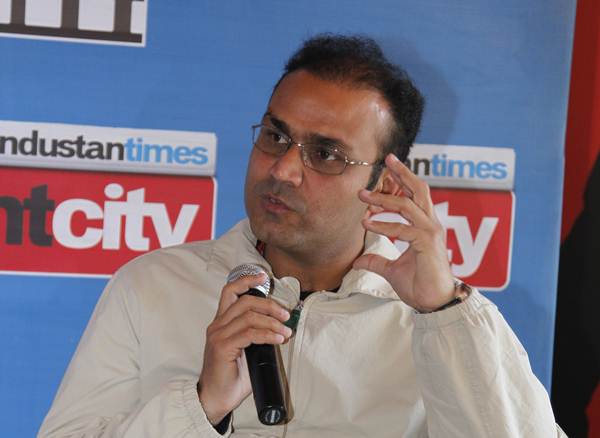 Virender Sehwag, the former India opener has expressed that he would love to change his name to 'God' Sachin Tendulkar if given an opportunity. This is a known fact that the camaraderie between the 'Nawab of Najafgarh' and the 'Little Master' is very special, may it be on the field or off the field. Both opened for India in the limited-overs format for many years and have given the opposition bowlers, sleepless nights during their playing days.
The 'Bharat Ratna', Sachin Tendulkar served Indian cricket for almost two and a half decades and was the complete batsman across all generations. He holds most of the batting records which, many believe, will stand forever. Even after his retirement, Sachin remains an admired and most respected figure in India which proves the nation's love for the 'God' of the cricket.
I am not even close to him
Viru has joined a news channel as a cricket expert on the show 'Cricket Ki Baat' and heaped praises on the Master Blaster. He said that he would love to be called as 'God' in this mortal world. "I would want to change my name to Sachin Tendulkar if I could do it. He has tons of records, I am not even close to him. He is called as the "God" and who would not want to be a God in this mortal world," the 38-year-old said.
The 'Sultan of Multan' also believed that the records of Sachin Tendulkar would not be broken easily. But also hailed the current Indian skipper Virat Kohli for his immense skills in his batting and also said that he could overtake Sachin's records. "We never thought that there would be another Sachin Tendulkar. But Virat Kohli has changed this mindset. I think Virat can surpass Tendulkar's records," Sehwag added.
Kohli currently is in great form, especially in One Day Internationals and has 30 centuries to his name which is the second highest in the format. Now he is only behind Sachin Tendulkar who has scored 49 ODI centuries.