Want to be as flexible as possible whenever the team needs me: Shreyas Gopal
At just 23 years of age, Shreyas is already an experienced player in the tournament.
Updated - Aug 18, 2017 4:35 pm
158 Views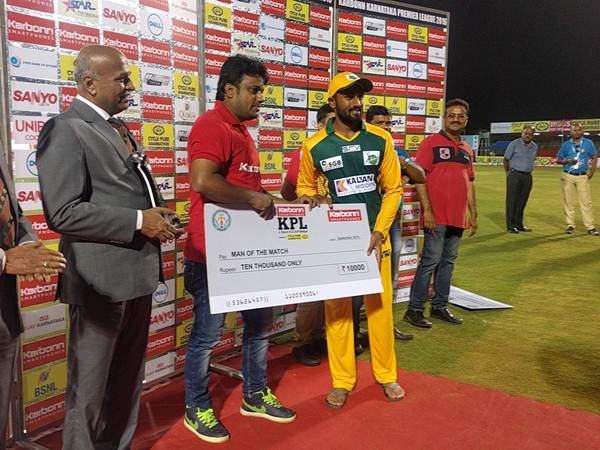 Follow us on Telegram
Bengaluru, 16 August 2017: At the KPL 2017 player auction Mysuru Warriors came out on top in the almighty tussle for Shreyas Gopal, bagging the Karnataka all-rounder for Rs 3.4 lakh. At just 23 years of age, Shreyas is already an experienced player in the tournament. He has almost 40 first-class matches under his belt, with over 1500 runs and 129 wickets, and his inputs will be lapped up by his Mysuru teammates.
For Shreyas, however, the KPL is about another opportunity to perform whenever needed for his team. In this chat, he speaks about starting the season by lifting the KPL trophy, his work during the off-season, and his hopes for the coming year.
Excerpts:
On paper, Mysuru warriors have a strong squad with yourself, Karun (Nair), J Suchith and Kaushik (Shivil). How do you rate your chances of lifting the trophy?
We have a great balance of experience and youth. We are really looking forward to this tournament as a team and if we perform to our abilities there's no reason why we won't take the cup back home.
You started your career as middle-order batsman and now have taken a role as an all-rounder. Has the T20 format been responsible for this change?
Not really, I used to even bowl a bit in school. It (T20) gives me a chance to perform with both bat and ball – even if I didn't perform with one, I would have the other aspect to fall back on. Continuing to be a utility cricketer and having the option of both gives me a better chance of performing in any team. That was the whole idea behind it.
How does it feel to be a senior figure in this Mysuru team at just 23, and how do you pass on your experience to the younger players?
To be honest, in our team there's nothing like a junior or a senior. We have a few experienced players in our team, who I have looked upto in my career. Similarly it's all about making it as easy as possible for the newer members to perform at their best.
What would be your message to the youngsters who would be taking to the field this KPL? 
It's just another game of T20 cricket, its going be exciting, you have crowds and it's also going to be telecasted on television. There's nothing better to look forward to, give it your best and try winning matches for your team.
Has any youngster with tremendous potential caught your attention?
Well, I've played with all the youngsters in the squad at some point or the other in my career. I have seen their game for a couple of years now. You need to watch out for all of them.
What have you changed or improved during the off-season?
There are a couple of things, minor tactical things I've improved on. I haven't changed my technique much because at this level I think tactics are more important. Other than that, I've just stuck to the basics and I am looking to perform better.
What are your goals for this season?
Definitely winning the KPL and Ranji trophy are the most important things right now. I want to perform to the best of my abilities and be as flexible as possible whenever the team needs me. I think that's the best I can give from my side.
Follow us on Google News