Wasim Akram reveals the toughest batsman he bowled to in his career
Wasim Akram was known as "Sultan of Swing" during his playing days.
Updated - Dec 3, 2019 5:14 pm
69.5K Views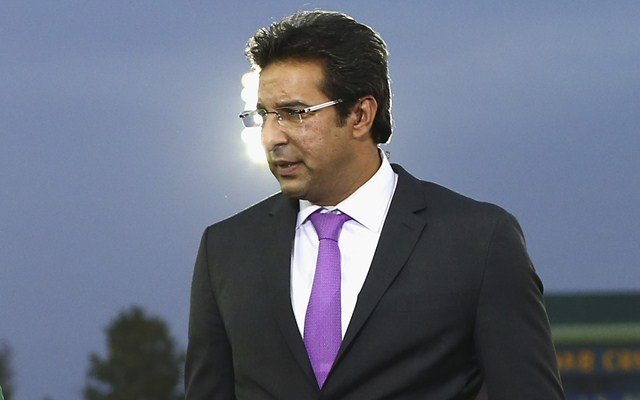 Follow us on Google News
Wasim Akram, the former Pakistan speedster was arguably the best swing bowler of his time. He is also known as the "Sultan of Swing", and had the talent to swing the ball in both directions. Moreover, when it comes to his pace Akram was very quick on it. Now the former Pakistan bowler, who was a nightmare for the batsmen, has revealed the toughest batsman he ever bowled to.
Akram was one of the rarest players during his playing days, who made his first-class debut after playing for Pakistan at the international level. He is one of the best swing bowlers that Pakistan has ever produced in its cricketing history. The "Sultan of Swing" grabbed 414 wickets in Tests and 502 wickets in ODIs. Moreover, he was also the part of Pakistan's World Cup-winning squad in 1992.
The 53-year-old played against some of the best batsmen in the history of cricket like Sachin Tendulkar, Sir Vivian Richards, Allan Border and many more. However, he admitted that it was Martin Crowe, the former New Zealand skipper, whom he found difficult to bowl at throughout his cricketing career. He explained about the same in a video posted by Fox Cricket.
Akram said that Martin scored runs against him and Waqar Younis in 1993 when they were bowling at their best. In further explanation, the former player recited that Martin played brilliantly against them in the bowling friendly conditions. The duo was extracting reverse swing when nobody knew about it but even then, Crowe managed to hit a couple of tons.
"The reason was he got runs against me and Waqar (Younis) in 1993 in Pakistan. In three Test matches, I think Waqar got 30 wickets and I played two Test matches and I got 16 wickets. It was reverse swinging after about 10 overs and we were quick, we were [at the] peak of our careers, 23 or 24 both of us were, and he got two hundreds," Wasim Akram said.
Me and Waqar used to get frustrated, says Wasim Akram
Wasim Akram feels that Martin Crowe had a great batting technique, who used to play on the front foot against him. It was a difficult task to dismiss the former Kiwi player early in the game. He also said that in 1995-96 everyone got aware about the reverse swing and later on many bowlers mastered the art of bowling it as well.
"I think his (Crowe) technique was as such that he was always on the front foot and he always played the in-swing. When it's reverse swinging, you always play in-swing and the out-swing will automatically go away. As a bowler, me and Waqar used to get frustrated because he was always on the front foot.
"And then we used to bowl short, and that's what he wanted us to do. By the time it was 1995/96, the world knew what reverse swing was like you guys said he was ball-tampering and then you learned the art, it became reverse swing," he added. 
Here is the video:
.@wasimakramlive on who are the best batsmen he's bowled to. pic.twitter.com/OcGrsG7jB4

— Fox Cricket (@FoxCricket) December 3, 2019
Follow us on Telegram