Watch: Glenn McGrath reaches 300 Test wickets and claims a hat-trick
Updated - Dec 2, 2016 7:22 pm
48 Views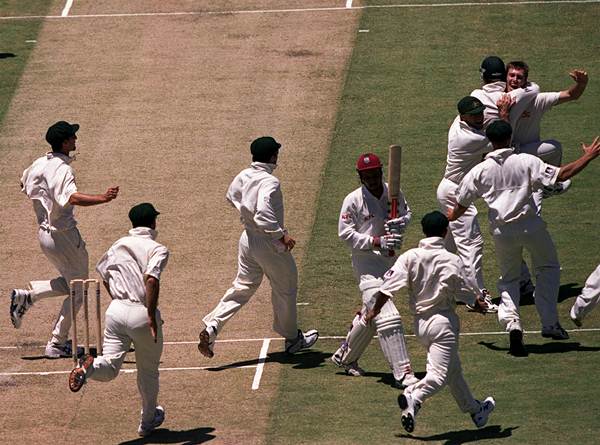 December 2, holds a lot of importance in Australian legend Glenn McGrath, life. The right-arm pacer completed 300 Test wickets on this very day back in the year 2000. He came into the match with 298 wickets in his account and bowling with the new ball at Perth had the best chance to get to the milestone.
He started off well and in his fifth over of the game he got the 299th as Sherwin Campbell edged one to Ricky Ponting at first slip. In walked the legend, Brian Lara. Ahead of the match in an interview with Mark Taylor McGrath had said that he would want to get Lara as his 300th wicket to make it even more special.
The first ball that he bowled to the left-hander was pitched on middle and leg, it seamed off the surface and trying to defend it Lara got an edge and the ball flew to Stuart McGill at fourth slip and after juggling it for a bit but managed to keep it in and that was it, McGrath got the man he had asked for.
But it wasn't done yet, he was on a hat-trick now and facing him was West Indies captain Jimmy Adams. McGrath knew he would be expecting a fuller delivery and so to surprise the batsman bowled it short, around his ribs and he was caught off guard. A leading edge safely landed in the hands of the short leg fielder Justin Langer and he completed the hat-trick. Those three wickets left West Indies reeling at 19/4.
With that Glenn McGrath became the third Australian bowler and 16th overall to achieve 300 wickets in Test cricket. He got there in his 64th Test and he was the 6th fastest to the milestone. His hat-trick was the 10th by an Australian in Tests.
Watch: Glenn McGrath claims a hat-trick to reach 300 Test wickets: