Watch: Imran Tahir shows respect to preacher Junaid Jamshed
Updated - Jan 23, 2017 12:41 am
111 Views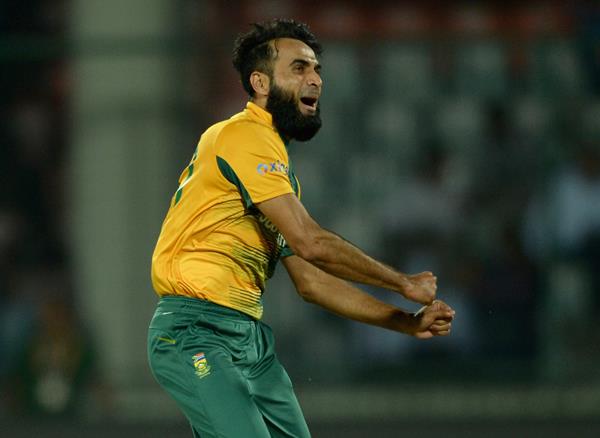 Ace South African leg-spinner Imran Tahir got a little emotional during the second T20I against Sri Lanka recently. During the match, Tahir celebrated in his trademark style and in the process also marked his respect for Islamic preacher Junaid Jamshed. The incident took place when Tahir got the wicket of Sri Lanka batsman Asela Gunaratne.
Soon after he got the wicket, the leggie celebrated as he usually does. But in addition to that, he rolled his jersey over to show the inner skinned jersey that a photo of Junaid Jamshed. Junaid was recently killed in a plane crash in Pakistan. According to the reports on ptvcricket.tv, Tahir and Hashim Amla were very good friends of Jamshed.
Jamshed usually made visits to South Africa and they got along very well. It was a flight of Pakistan International Airlines (PIA) from Chitral to Islamabad that crashed near Havelian in Abbottabad district in Khyber Pakhtunwala on December 7. As many as 48 people were reported dead. Chances of anybody surviving the deadly plane crash was reported to be nil. The PK-661 flight had a ground engineer, 5 members of crew and 42 passengers on board.
Singer-turned-Islamic preacher Junaid Jamshed, his wife, deputy commissioner Chitral, Osama Warraich and three foreigners were among the list of passengers on the flight. As per PTI, the Civil Aviation Authority later confirmed that there were no survivors of the crash.
The flight took off from Chitral around 3 pm. A lapse in communication and loss of communication with control tower happened at 4:30 pm. The flight eventually crashed in the Saddha Batolni village near Pakistan Ordinance Factory. The PIA later released a press release with heartfelt condolences.
Talking about the match, South Africa lost the low scoring match by 3 wickets. Sri Lanka were set a target of 113. It was Angelo Mathews half century that guided the visitors to their first win on the tour. The three-match series is now leveled 1-1 with one match to play.
https://www.dailymotion.com/video/x59b9la_imran-tahir-wearing-junaid-jamshed-photo-imprinted-tshirt-video-dailymotion_news