Watch: James Anderson bowls the banana in-swinger to Kraigg Brathwaite the best ball of 2015
Updated - Jun 23, 2018 2:55 pm
1.2K Views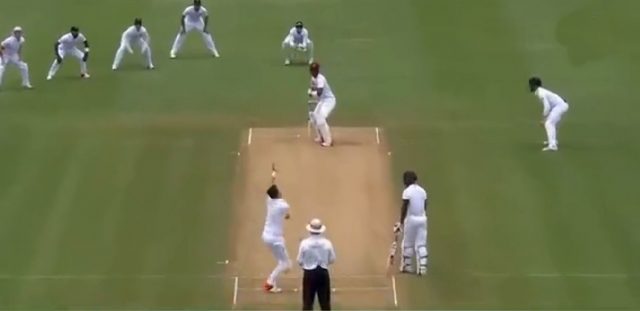 Who is the best swing bowler in International cricket today? Is there someone who can swing the ball better than England's James Anderson? West Indies opener Kraigg Brathwaite found out the answer himself during the first innings of the second test match between West Indies and England at the National Cricket Stadium, St George's, Grenada.
Alastair Cook won the toss and elected to bowl first; on the first morning when the wicket is the freshest, the leading wicket taker for England in test cricket had the beautiful red cherry in his hands. On the first ball of his second over Jimmy bowled an unplayable in-swinger to Windies opener Brathwaite who had no answer to it whatsoever and was clean bowled.
The ball first swung in the air coming in towards the right hander, it further shaped in after pitching on the middle stump. Kiraigg tried his best to negotiate the swing and somehow get his bat in between; but she zoomed past the bat and his pads making inroads and crashed the head of the middle stump. It swung more than the conventional inswingers' "banana swing" the term we use to refer such a huge deviation. This is probably one of the best balls we have seen this year.
Watch: James Anderson bowls the banana in-swinger to Kraigg Brathwaite: