Watch: Jonny Bairstow hobbles back to the dressing room due to an ankle niggle
Updated - Nov 19, 2016 4:05 pm
55 Views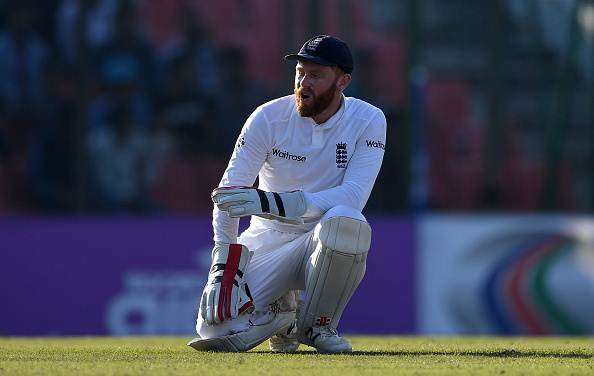 English wicket-keeper batsman Jonny Bairstow today gave a sort of injury scare to his team when hobbled back to the pavilion after experiencing sudden pain in his ankle. The incident happened when he came out to bat with Ben Stokes after the lunch session. Bairstow came in quite usually warming up but just after he crossed the boundary ropes he started limping due pain.
He did not proceed and decided to go back again and get his leg attended by the physio. Fortunately, nothing serious showed up and the batsman soon walked back to the ground. Bairstow, unfortunately, could not bat for any significant amount of time post lunch and lost his wicket to Umesh Yadav.
The right arm fast bowler produced a spectacular delivery, a full reverse swinging ball which broke through the defense of Bairstow. Batting with Stokes, Bairstow had revived England's chances in the match. He put up a defiant 110 runs stand for the 7th wicket and took England from 80/5 to 190/6 before departing.
The incidents of players picking up freak injuries are quite common. The latest incident happened when Australian fast bowler Mitchell Starc while attempting to take a catch during a fielding session, cut his leg so badly that he had to undergo a surgery to recover from it. Another example can be of Glenn McGrath once landed his foot on the cricket ball right ahead of the Ashes Test in 2005 and was ruled out of the entire series.
Watch: Jonny Bairstow hobbles back to the dressing room due to an ankle niggle
Jonny Bairstow trumps dog-walking Quinton de Kock for funniest injury… pic.twitter.com/4hRFvLjH9E

— Derek Alberts (@derekalberts1) November 19, 2016