Watch: Sachin Baby announces his marriage in the most candid way
Updated - Dec 29, 2016 8:30 am
72 Views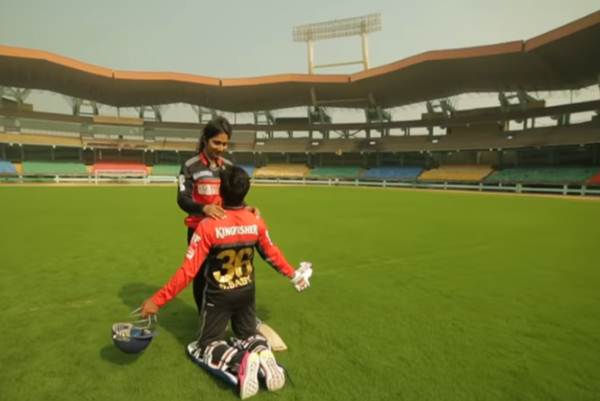 Royal Challengers Bangalore and Kerala batting star Sachin Baby is ready to take his one and a half year relationship with Anna Chandy to the next level. Sachin, who joined RCB in the ninth edition, will get hitched to Chandy on January 5, 2017 at St. Sebastian's Church in Thodupuzha. Sachin and Anna have been dating each other since 2014. But, they weren't interested in the announcing it in the normal fashion and chose do it in a dramatic fashion.
Over the years, the 'Save The Date' messages have taken creative forms. Be it in the form of plain text E-mails to the fancy graphics. But the soon to be husband and wife took the whole custom a step further and got a video produced by a professional agency.
Sachin Baby enjoyed his share of fame being a Sachin Tendulkar namesake and through his explosive cameos for RCB in the last season. The video begins Baby padding up in the dressing room with the chants of Sachin! Sachin! playing in the background.
Baby walks out as wearing the gloves for a friendly game with his opponent who was none other than Anna.  The couple, wearing RCB's jersey, then get into action as Baby take the mark. While Baby, regarded as Kerala's batting mainstay may have enjoyed success against many bowlers, this time around, it was not going to happen as Ann got him clean bowled off the very first delivery. The duo announced their wedding date and are flat out on the field in complete Bollywood manner with the trademark trumpet sound of the IPL in the background.
Sachin has represented his state in 47 first-class matches, where the left-handed batsman has scored 2092 runs which include three hundreds and 11 half-centuries. Anna Chandy, on the other hand, is a BDS graduate and is preparing to crack Civil Service Examination.
Watch: Sachin Baby announces his marriage in the most candid way