Watching the likes of Dale Steyn and Brett Lee bowl fearlessly inspired me: Ishan Porel [Interview]
The fast bowler talked about his journey so far, coming from a small town outside Kolkata to becoming Bengal's brightest young talent and a lot more.
Updated - Jun 7, 2021 5:23 pm
991 Views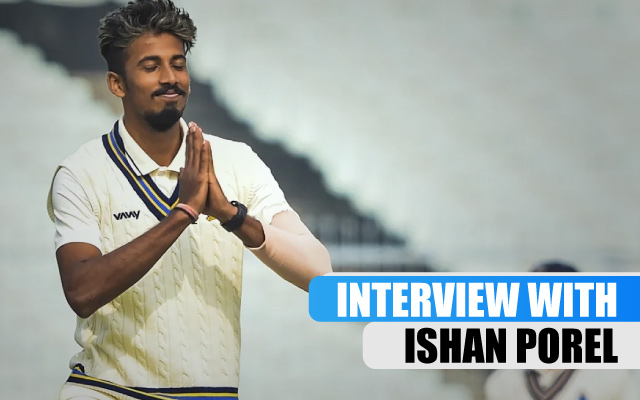 In early 2020, Bengal team was playing a home Ranji Trophy semi-final at the Eden Gardens against quite a strong Karnataka team. They batted well and managed to score 312 runs in their first innings. The team full of stars like KL Rahul, Manish Pandey, and others were bowled out for just 122 runs. It was a spell of 5/39 from a young pacer that ripped apart Karnataka. Bengal won the match eventually and qualified for the final for the first time since the 2006-07 season. 
His name is Ishan Porel. The 22-year-old pacer, who can clock up high speeds and frustrate batsmen with his lines, has been in the limelight ever since he returned home winning the U19 World Cup for India in 2018. He was one of the star bowlers in that team as well. CricTracker interviewed the fast bowler as he talked about his journey so far, coming from a small town outside Kolkata to becoming Bengal's brightest young talent and a lot more.
Here are excerpts from the interview:
Q. I come from a place which is just 13 KMs away from where you are, Chandannagar. Having been here around the town, I can tell you kids from places like these don't just turn up and become an out-and-out fast-bowler. How difficult were the initial days when you had sought recognition? I ask that more so because I read you had to travel every day for a long time to come to practice. 
Obviously, whatever experiences I have had, have made me believe that nothing will come easy for me. You need to earn it by hook or crook. Fortunately, I got a lot of support from my family, my parents never forced me to do anything, so I was lucky in that part. My father and grandfather used to play Kabaddi, so in that sense, I came from a sporting background.
I had to take leave from school because of matches and they always supported by letting me go. They had the faith in me that maybe I can do something. During the exams also, they used to support me a lot. Then, going from Chandannagar to Kolkata was difficult, and getting recognized among the people there was not easy. There was a camp in Ganjapark. I used to go there to a coach named Chandi sir. He was the one who fixed my wrong-footed action. Unfortunately, he is no more and I had to stop going there after his demise.
Then in the next two teams, I didn't get many chances. They used to make me sit at the back. You know, as I was from a little far away, so they wouldn't care enough. Even after performing well in the district or school matches, they never really took me seriously. There was always a sense that the level of cricket played in the city was much higher than what we had back in the town.
Then, in Chandannagar, there was a player, we would refer to him as Anup Da. He sent me to my current coach as he had also played there. After that, sir understood my potential, and finally, he trusted me with a spot in the XI. I even captained the U14 CAB team. So, yes, it wasn't easy. On top of that, traveling from Chandannagar, waking up at 5 am, going with that huge kit bag was trouble. People would often not allow me inside the general train compartments, because of the kit bag.
Q. You have mentioned Dale Steyn and Brett Lee as your childhood heroes? Was there anyone else, what exactly was it about them or the skill of fast bowling which attracted you? There is also a story that you actually started as a batsman in age-group cricket.
When I was young, I chose many sports. I went for swimming, played table tennis, played Kabaddi for my father and grandfather. But I knew that wasn't my thing. I grew about a foot in just a year. And my lower limbs didn't have enough strength to play Kabaddi. I left all of these sports. But what I enjoyed the most was the cricket which I played with the friends of my para (colony).
I only had a passion for those colony matches in the evening with my friends. I used to hit fours and all. If someone got out, we would fight and my friends depended on me for runs or wickets.  I think, the fact that the craze of cricket in India increased during that 2007-08 period also played a role. When India won the T20 World Cup under Mahi Bhai, a lot of people got into the sport again. People were getting interested more and more and I was just a kid, who was caught in the middle of it.
That is when I started going to coaching camps and all. I used to bat there. Playing in your colony with a tennis ball and playing against the leather ball on a turf wicket are two completely different things. At academy, some of the coaches recommended that I take up fast bowling because I had good height. I started bowling and I could bowl better than I thought and I was a little quicker too. But I was a wrong-footed bowler. That changed when I went to the Ultra Plus Academy thanks to Chandi sir.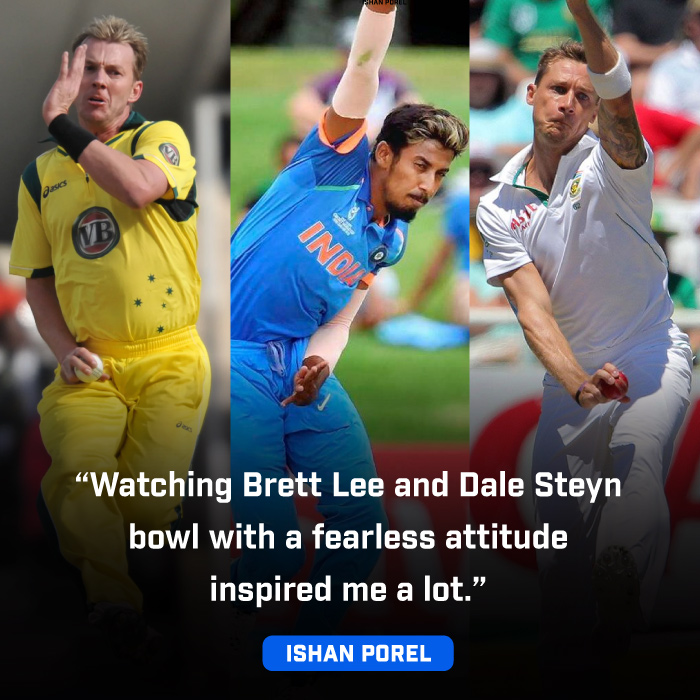 Slowly, I started following more and more cricket. I started watching matches that didn't even involve India. My interest grew a lot. In my early days, I used to bat more and I loved watching Adam Gilchrist, Brendon McCullum, and Kevin Pietersen. I never liked orthodox batsmen. In my colony as well, we used to play unorthodox shots. Hence, I liked watching them. I remember buying two Woodworm bats (Pietersen's bat sponsors during his early days) and a Puma bat as well (McCullum and Gilchrist's sponsors in the 2000s). 
After that, I shifted to fast-bowling. I loved watching Dale Steyn and Brett Lee. Their attitude was very solid. Their aggression, bowling style, and passion for the game. They had an eagerness to take wickets even when the going was tough. Irrespective of the conditions, hardness of the wicket or the opposition, they just never gave up. They have succeeded in Indian conditions and even overseas. Watching those fearless bowlers going out and doing something for their team really inspired me. Both of them could bowl really quickly. Steyn could move the ball more. I just knew I wanted to be like them. I wanted to bowl fast and take wickets like them.
With time, I understood I may not be able to bowl 145 consistently but what I can do is just bowl in the right areas, on the right channel and still get wickets. My control was good, so I tried to perfect that. Now, I am at a stage of my career where I have understood that I have to increase my pace a little. I have control, so I am trying to gain speed. I want to bowl between 140 to 145 constantly and I am working for it. You need to analyze what needs to be done to play for India, and you have to work on it.
Q. You bowled 47 overs on your Ranji Trophy debut in one inning, at the age of 19. Having seen a couple of matches at Kalyani, I can say the pitch does offer a lot to the pacers. Bowling overs after overs is something that you are known for in domestic circles. From where exactly do you find that rhythm and mindset to keep bowling the overs even without reward at times? Also, there is a story that Venkatesh Prasad, one of then U19 selectors saw you there chose you for the World Cup. 
Well, I didn't know that Venkatesh Prasad was there or not. My debut happened in quite a dramatic fashion. I had gone for a U23 match, I flew back and I reached one day before the Ranji match. Didn't know that I would make my debut, no one said anything to me in the practice as well. I was bowling to Wriddhi da (Wriddhiman Saha) as just a regular warm-up. They didn't bowl me a lot in the nets as well, because I had just flown in and they wanted to manage my workload. I just bowled 20 odd-balls, basically just a warm-up. 
At that time, Rahul sir (Rahul Dravid, then U19 India Head Coach) had told me that if I don't get to play in the Ranji, I must go and play in a U23 or a U19 match. He told me that I shouldn't just be warming the benches as the U19 World Cup was around. He wanted me to be playing matches because the selections were about to take place for that World Cup and a Challenger Trophy. I remember that morning when I returned after warming up and Manoj Da (Manoj Tiwary, Bengal captain then) and Sairaj Bhatule (then Bengal coach) came just before the toss and said that I was playing. I was kind of taken aback. 
Speaking of bowling those 47 overs, I used to bowl a lot of overs in club matches. Even in the U23 match which I played right before my Ranji debut, I bowled 40 overs. So, bowling long spells was a thing I was known for. For some time during my debut, I couldn't even realize it was a big thing. I was still in shock that I was playing. Before I could realize that I was playing for my state, the first day was over. I had already bowled 27 overs. I was just excited and didn't think too much. It was on the second day that the ball started coming out nicely from my hand. I bowled 14 overs on the trot between Lunch and Tea on day two from one end. 
Q. Bengal has found you and two other really good pacers in Akash Deep and Mukesh Kumar. You three did a terrific job during the Ranji Trophy last time. Has the culture changed in Bengal a little bit when it comes to bowling? Eden Gardens, which used to turn square from day two, gives pace, bounce, seam movement to the fast-bowlers. I want to understand the mindset of the three of you, your approach, and your working relationship.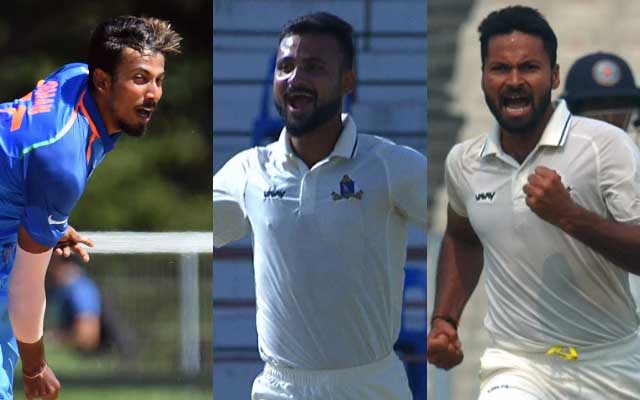 Follow us on Telegram
In club matches, wickets haven't really changed. At the start of the season, the wicket is green and slowly slowly, it starts breaking, bringing the spinners in. One thing has changed though. Several elite clubs play on big grounds like the Eden Gardens. On those wickets, the conditions are a bit different. There have been bowlers coming in from some parts of Bengal who bowl really fast. Once these players get more experience, it will be a good thing.
Talking about Mukesh and Akash, all three of us have a good understanding of each other. There is no senior-junior situation between us and we treat each other as equals. We are playing top-level cricket together, hence there is no animosity or jealousy between us. It is not that to get on top, you need to bring the other person down. We get along quite well and maybe that is helping us get better along with each other. During the last season, we were enjoying each other's success.
It is not that we used to hang around with each other a lot, but on the ground, we would always give each other company. We would suggest things to each other, like what is happening on the surface. Like if I am standing on mid-off and I see Akash change a plan which is working, I would go directly and tell him to not change it. They have given me tips which helped me to take wickets and vice versa. All of these things have helped us create a good bond between each other and maybe because of this bond we are succeeding as a unit. 
Bengal pace trio in Ranji Trophy 2019-20
| | | | | | | |
| --- | --- | --- | --- | --- | --- | --- |
| | Matches | Wickets | Average | Strike rate  | Best figures in an innings | 5 wicket haul |
| Akash Deep | 9 | 35 | 18.02 | 32.7 | 6/60 | 1 |
| Ishan Porel | 6 | 23 | 18.95 | 44.2 | 5/39 | 1 |
| Mukesh Kumar | 10 | 32 | 22.40 | 50.5 | 6/61 | 2 |
Q. The legacy of Ashoke Dinda, has that had an effect on you and the Bengal team? We can also talk about Mohammed Shami, who has turned out to be a world-class bowler from Bengal. 
Obviously, there has been an effect on us. The gap we are trying to fulfil might not be ever fulfilled. We can't become like them. I can't be like Dinda da or Shami Bhai, I can only be Ishan Porel. They have left a huge space. I have spent a lot more time with Dinda da than Shami Bhai. From sharing the pitch to going out to eat. As a fast bowler in the team, I would stay close to him more than anyone else.
Even though he was going towards the end of his career, he was still quite good. The legacy they have left us, only inspires us to do better. Bengal has always had good pacers. Before us, there were bowlers like Shiv Shankar Pal, Ranadeb Bose, Veer Pratap Singh, Sourabh Sarkar, Ashoke Dinda, and then Mohammed Shami. We have to keep doing well because what they have left for us is something that motivates us. This has affected me a lot.
I have learned a lot from Dinda da. I remember before the Ranji Semi-final, he had called me saying that I shouldn't worry too much. He even gave some tips. Dinda da motivated me by saying that he knows I would do well. He talked to me like a big brother. We were playing against a quality side like Karnataka. So, to get that encouragement from him then, was a big boost.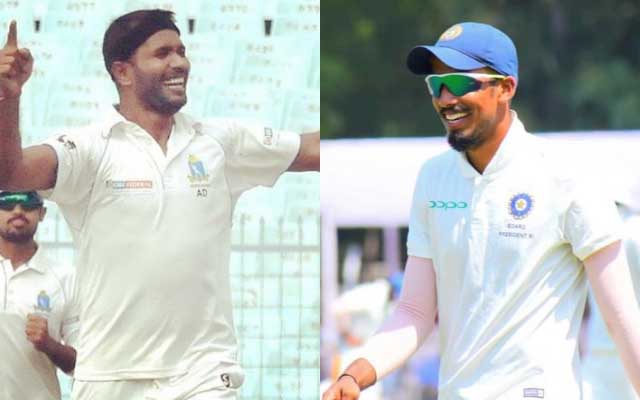 I remember my first five-wicket haul against Punjab, during my debut season, happened mostly because of Dinda da. He was standing at mid-on and Manoj da was at mid-off. I got five wickets in one session and that happened because they were completely guiding me and telling me what I should do. People say sometimes that senior players might treat you badly, but I can confidently say that has not been the case with me. They have taken care of me.
Even now, seniors like Anustup Mazumdar, Sudip Chatterjee treat me like I am of their age. It doesn't seem that they have kids or they are married. Even Manoj da, as a captain, has backed me a lot. When a player is up and coming, he might need support, so that is something Manoj da has done a lot. Even after a couple of bad shows, his faith in me didn't reduce. All these senior players have served Bengal so well, that have even inspired me to perform better. 
Q. They say you create a buzz everywhere you go. As you are one of the youngest players in Bengal. There is always an attempt to keep you under the shed, away from the limelight, and with all the praises comes a single statement, 'Don't get carried away.' Who in the Bengal dressing room takes up with you and looks after you the most.
In the recent past, I didn't bowl well. There were some headlines on that. People said all sorts of things like I was into nightlife and women, neither of which I am involved in. I have been to clubs just twice in my life. In Bengal, you do get praises, but people never shy away from writing or saying things when you are going through a rough patch. So, there are players who keep telling me that I should maintain a few things so that people don't talk about me.
They keep me aware that people can write bad things about me. In modern-day cricket, style is something everyone looks at. If you have a certain style, then people will look at you. If you can stay in control of your game on the field and stay within the limits, then you don't worry. As a fast bowler and a cricketer, I know which are the lines I shouldn't be crossing. 
There are ups and downs in sports. Even Sachin sir has failed to score sometimes. So, when my form went a little down, I wasn't worried but I knew things would be said. I believe in my abilities and I have trust in my well-wishers. I am trying to improve and I am positive that in the near future, the form will get better. 
Q. You had said at 19 that your ultimate goal is to play Test cricket for India. In 2021, when everyone is looking for an IPL contract to launch a career, Is that why you put your focus on first-class cricket so much? I read a story about the time when you didn't go for a trial at Sunrisers Hyderabad because you had a Ranji game. 
My coaches also told me that I have to play Test cricket for India. My mindset was always like that. I enjoyed that format a bit more. In first-class, you can plan your bowling. You can control your game. In white-ball, that happens only in 50 overs to an extent. In T20, your execution has to be 100% every time. Test cricket is different, to wear that white jersey, come and play, it just feels absolutely different. Getting that Test cap is really difficult, you need to work hard. I enjoy watching Test cricket a lot more than the other formats. 
Ishan Porel's career so far
| | | | | | | |
| --- | --- | --- | --- | --- | --- | --- |
| | Matches | Wickets | Average | Strike rate | economy | Best figures in an innings |
| First-class | 22 | 61 | 25.75 | 54.90 | 2.81 | 5/32 |
| List A | 30 | 47 | 24.91 | 29.50 | 5.05 | 6/34 |
| T20 | 19 | 29 | 15.82 | 14.60 | 6.46 | 4/24 |
Talking about that trial, I knew if I go and play in domestic cricket and do well, I will definitely get selected in the IPL. Doing well in a trial doesn't assure you that. I had done well in the KKR trials, but they didn't select me. But, the year I did well for India A and my state team, I got picked up in the auction.
If you look at my India A selection as well, I haven't played a single IPL match yet, but I was chosen based on my domestic performances. I knew that doing well for your state team always pays off. I believe that if you are working hard and doing well, your performances will never go unnoticed. 
Q. What is the goal that you have set for the next Ranji Trophy season?
I don't have any personal goals as of now. Cricket is a team game and at times you have to keep your personal goals aside and think for the team. As of now, my goal is to win a trophy for Bengal, Vijay Hazare, Syed Mushtaq Ali, or Ranji. Obviously winning a Ranji trophy is remembered for many many years, but all trophies have value for me.
It's been a while since the Bengal people have got a trophy. Hopefully, I can help my team go to the final next time and win the trophy. And talking about personal records, if we do well and go long in the tournament and I can stay fit through it, then obviously my wickets tally will also increase. Who knows, I might actually end up getting 50 wickets. 
*"It's been a while since the Bengal people have got a trophy. Hopefully, I can help my team go to the final next time and win the trophy," Porel on dreams of winning trophies for Bengal*
Q. Let's talk about the IPL. How much do you think sharing a dressing room with the likes of Mohammed Shami and Chris Jordan helped your game?
Trust and instincts. T20 is all about that. Obviously, you have a game plan for a particular player and a particular team, but you should listen to your instinct. If you are hit for a six off a yorker, and you think you can still get a wicket off the next yorker, you should do that. Often we forget to trust our instincts and not back ourselves. One thing which I learned from them was in white-ball cricket, you will get hit, but you should not get demotivated.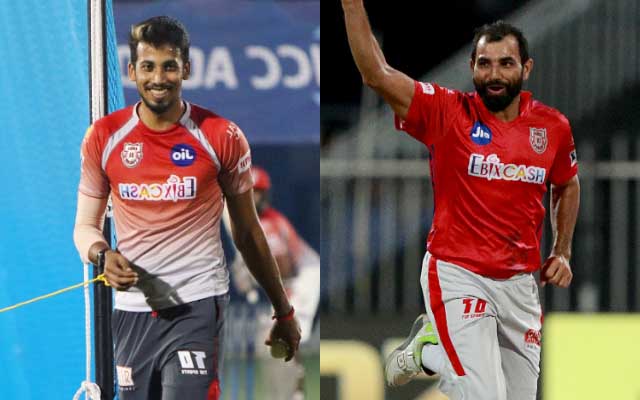 You may get hit for a four and a six or you can be expensive, but you shouldn't get demotivated. Rather you have to think about how you can pick up three or four wickets in the next over to bring your team back in the match. I can't pinpoint what else they taught me but I can tell you that I have grown as a person. I have grown mentally and understood how to interact with one another.
We from the outside wonder that Virat Kohli is a huge icon, but once you are in his vicinity, he will never make you feel that he is bigger than you. When you see that, you will feel good. There are these little things that help you grow as a person and player. 
Q. Your captain in Punjab Kings, KL Rahul was dismissed by you during the 2019-20 Ranji Trophy semi-final match, was there any leg-pulling or any 'i got you once' kind of conversation with him?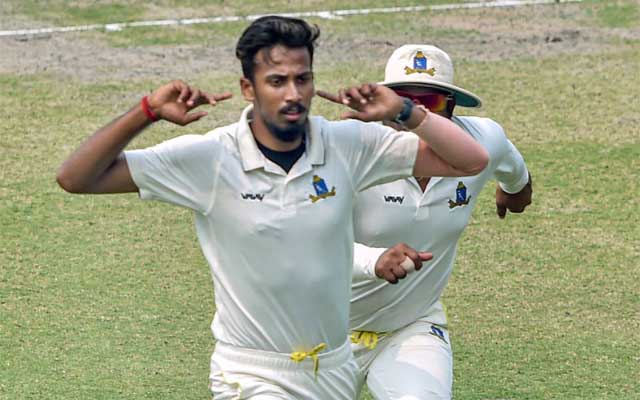 Yeah, once. Actually there was the last wicket partnership of around 50 or 60 runs between me and Mukesh and they were talking about that. That is when KL said, 'Dada tumne jitna batting kiya, utna hum log se nahi hua." He calls me Dada for some reason, maybe because I am from Bengal. At that time I told him that I had to get trolled after taking his wicket. KL said, "Haan maine dekha kuch celebrate kiya tha tune."
Q. Let's take you back to New Zealand, early 2018. Two years of practice. Four overs into your first World Cup, you're injured. You come back and become the star of the semi-final. During this, you had Rahul Dravid, Paras Mhambrey, and Anand Date, who had known you for four years by then. Can you shed light on how each of them played a role during that time?
Frankly speaking, whatever physical strength I have gained and whatever fitness I have, is solely because of Anand Date sir. Had he not noticed and taken me under his sheds since the U19 days, I wouldn't have been here. He made me understand the importance of training. Rahul sir's role is very important as well. He is one of the legends of Indian cricket and such a well-renowned cricketer.
He came to me and gave me an option. Because I had some experience of playing Ranji by then, he would often ask me about things. He made a point to converse with players, especially the ones who have some Ranji experience. Sir knew the importance of that experience. After the injury happened, he noticed that I was really down when we were playing against Zimbabwe and I was out.
He came to me and asked if I wanted to go home or stay. At that time, I honestly told him that it would hurt to go back home, but it wasn't likely that I was going to get fit. I also told him that if I stayed and saw a new player come in place of me and play in the matches, for which I have worked so hard, it would break my heart. He assured me that there are protocols because of which a player will be asked to come as a cover for me.
But, he also said that I would get the first priority to play once I am able to bowl again, whether it is the quarter-final or semi-final. He backed me. When someone of his stature comes to you and shows faith in you, no matter how unfit you are, you will surely get a boost from inside. 
Those words from Rahul sir after I got injured have left a deep impact on me. Those words did in fact change my life I believe. Had it not been for him, I might not have played that World Cup entirely. 
Paras sir kept motivating me as well. He was giving his own examples and telling me stories of the times when he got injured just to keep hopeful and encouraged. Then everyone from West Bengal was looking at me to do something. At least, people who follow cricket were hopeful. Everyone who lived in my colony and all my relatives was looking at me to do something. My parents as well. I didn't want to let anyone down. I went through a lot of pain. If you wanted to rate that pain, I would give it 100 out of 10. 
Q. Quarterfinal match. Against Bangladesh. Second innings. Stump mics pick you and Riyan Parag giving a little back to the opposition in Bengali. Can you share some stories from that day?
Before the World Cup, there was an Asia Cup. We lost that final to Bangladesh. We didn't have all our players in that squad, just some of the B team players had gone. When we lost that match, they had treated us really badly. Rahul sir didn't like that. I have not seen him so aggressive during his coaching tenure. During one meeting, he motivated us to show them what we were and where the standard of Indian cricket was.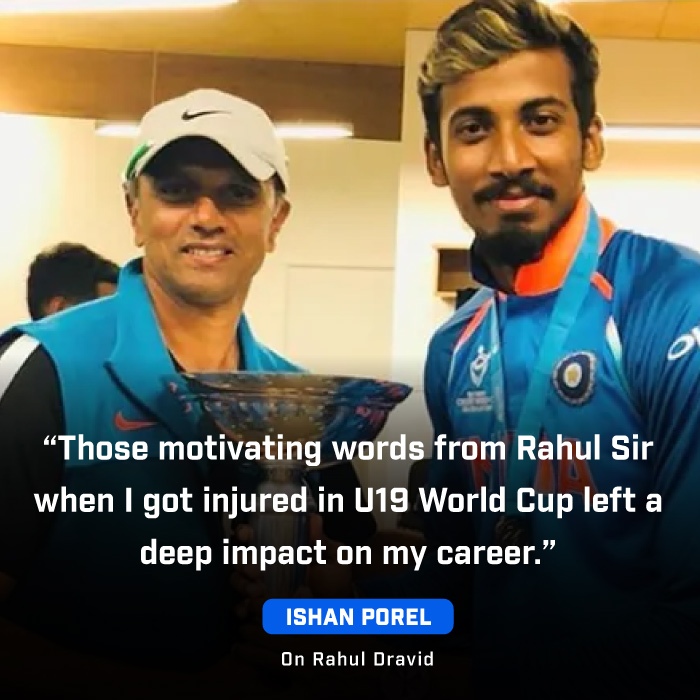 He wanted us to show how consistent we can be. He gave us the license and said "go till the last extent, just don't cross the line, whatever happens then I will see, but make sure you know the limits. Show them what you guys are made of. I don't care if we win the World Cup or not, but I want everyone to perform in this game." 
As Riyan (Parag) and I knew Bengali, so we didn't let go of any opportunity to have a go at them. If you go and see the footage of that match, whenever a spinner bowled, we both were close in fielders. 
Q. Talk me through your journey and struggle from 'Porel medium fast' to 'Porel Fast' and what is next for you. 
As a fast bowler, your pace is important. I know I can pick up the pace and bowl consistently. At this moment, I am just trying to work as hard as possible and build my game. I have faced a lot of injuries which have resulted in me missing a lot of matches. Sometimes, three months, sometimes six minutes. Life has been hard and I want my fitness to be better so that I can play more and more. I have had coaches who have helped me understand how I can gain pace and work around everything. It's a long journey and I am learning something new every day. 
Follow us on Google News