WBBL 2015: Teams, Squads, Schedule and Fixtures
Updated - Dec 5, 2015 2:28 pm
102 Views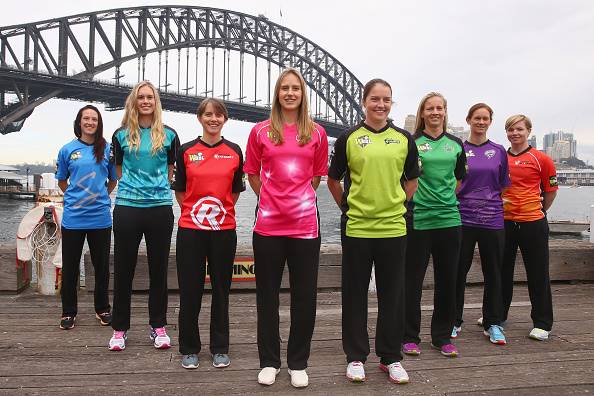 Follow us on Telegram
WBBL 2015: Teams, Squads, Schedule and Fixtures: Women cricket has slowly caught up with the pace at which Men's cricket goes on. In terms of playing, women's cricket has also had major tournaments like the 50-over World Cup, World T20. The Australia and England women's teams also fight it out for the Ashes series. Now, there is one more addition to make their professional calendar little busier.
No one ever would have imagined a T20 league, especially for women cricketers. Women cricket has grown as a result of increased coverage and eye-catching performances. Seeing this, Cricket Australia has launched the Women's Big Bash League (WBBL).
Just like the male's version of this league, the WBBL will feature eight city-based teams that of Brisbane Heat, Sydney Sixers, Sydney Thunder, Melbourne Renegades, Melbourne Stars, Hobart Hurricanes, Adelaide Strikers and Perth Scorchers. A league competition will lead to the knockout finals series. Overall, 59 games will be played over a span of two months and the finals will take place on 24th January 2016.
Most games will be played around weekends and will have free entry, an idea specially designed to draw as many spectators as possible to watch the games. The venues list is also long as the matches will be conducted apart from the usual international venues like the Junction Oval in St Kilda (Melbourne), Kingston Twin Ovals in outer Hobart, Blacktown Oval in Sydney's west, Aquinas College in Perth, Drummoyne Oval by Sydney's harbour, and Allan Border Field in Albion.
Franchises
Hobart Hurricanes Women Squad, Perth Scorchers Women Squad, Brisbane Heat Women Squad, Melbourne Stars Women Squad, Melbourne Renegades Women Squad, Sydney Sixers Women Squad, Sydney Thunder Women Squad, Adelaide Strikers Women Squad
Squads – 
Hobart Hurricanes Women Squad:
Erin Burns, Katelyn Fryett, Corinne Hall, Brooke Hepburn, Julie Hunter, Heather Knight, Hayley Matthews, Sasha Moloney, Meg Phillips, Veronica Pyke, Celeste Raack, Amy Satterthwaite, Emily Smith, Emma Thompson.
Perth Scorchers Women Squad:
Nicole Bolton (c), Megan Banting, Suzie Bates, Emma Biss, Katherine Brunt, Jess Cameron, Piepa Cleary, Charlotte Edwards, Heather Graham, Emma King, Chloe Piparo, Nicky Shaw, Elyse Villani, Jenny Wallace.
Brisbane Heat Women Squad:
Delissa Kimmince (c), Jemma Barsby, Ashleigh Barty, Kate Cross, Holly Ferling, Jodie Fields, Grace Harris, Courtney Hill, Sammy-Jo Johnson, Jess Jonassen, Beth Mooney, Kirby Short, Lauren Winfield.
Melbourne Stars Women Squad:
Meg Lanning (c), Kelly Applebee, Lily Bardsley, Kristen Beams, Hayleigh Brennan, Mignon du Preez, Kath Hempenstall, Emma Inglis, Hayley Jensen, Emma Kearney, Alana King, Anna Lanning, Katie Mack, Morna Nielsen, Natalie Plane, Natalie Sciver, Gemma Triscari.
Melbourne Renegades Women Squad:
Sarah Elliott (c), Briana Binch, Kris Britt, Cassie Brock, Nicola Hancock, Erica Kershaw, Kirsty Lamb, Sophie Molineux, Rachel Priest, Molly Strano, Jenny Taffs, Dane van Niekerk, Georgia Wareham, Danielle Wyatt.
Sydney Sixers Women Squad:
Sarah Aley, Rhiannon Dick, Ashleigh Gardner, Alyssa Healy, Jodie Hicks, Sara Hungerford, Marizanne Kapp, Emily Leys, Sara McGlashan, Laura Marsh, Ellyse Perry (C), Angela Reakes, Lauren Smith, Lisa Sthalekar, Kara Sutherland.
Sydney Thunder Women Squad:
Samantha Bates, Alex Blackwell, Nicola Carey, Lauren Cheatle, Stefanie Daffara, Rene Farrell, Maisy Gibson, Rachael Haynes, Mikayla Hinkley, Claire Koski, Erin Osborne, Naomi Stalenburg, Stafanie Taylor, Belinda Vakarewa
Adelaide Strikers Women Squad:
Sarah Coyte, Sophie Devine, Lauren Ebsary, Tegan McPharlin, Shelley Nitschke, Bridget Patterson, Alex Price, Megan Schutt, Sarah Taylor
WBBL 2015 Schedule:
5th December 2015, 10:00 local|04:30 IST –
1st Match – Brisbane Heat Women v Melbourne Stars Women, Junction Oval, Melbourne
5th December 2015, 14:30 local|09:00 IST –
2nd Match – Melbourne Stars Women v Brisbane Heat Women, Junction Oval, Melbourne
6th December 2015, 14:30 local|09:00 IST –
3rd Match – Sydney Thunder Women v Sydney Sixers Women, Howell Oval, Penrith
11th December 2015 10:00 local | 07:30 IST –
4th Match – Perth Scorchers Women v Brisbane Heat Women, Aquinas College, Perth
11th Dec 19:00 local | 13:30 IST-
5th Match – Melbourne Renegades Women v Hobart Hurricanes Women, Aurora Stadium, Launceston D/N
12th Dec 10:00 local | 07:30 IST –
6th Match – Perth Scorchers Women v Sydney Sixers Women, Aquinas College, Perth
12th Dec 13:30 local | 08:00 IST –
8th Match – Hobart Hurricanes Women v Melbourne Renegades Women, Aurora Stadium, Launceston D/N
12th Dec 14:30 local | 12:00 IST –
7th Match – Brisbane Heat Women v Sydney Sixers Women, Aquinas College, Perth
12th December 2015 18:00 local | 12:30 IST
9th Match – Hobart Hurricanes Women v Adelaide Strikers Women, Aurora Stadium, Launceston D/N
13 December11:00 local| 05:30 IST
12th Match – Adelaide Strikers Women v Hobart Hurricanes Women, Aurora Stadium, Launceston
13th December 2015 09:30 local | 07:00 IST –
10th Match – Sydney Sixers Women v Brisbane Heat Women, Aquinas College, Perth
13th December 2015, 14:30 local | 12:00 IST –
11th Match – Brisbane Heat Women v Perth Scorchers Women, Western Australia Cricket Association Ground, Perth
18th December 2015, 10:00 local | 05:30 IST –
13th Match – Melbourne Renegades Women v Brisbane Heat Women, Allan Border Field, Brisbane
18th December 14:30 local | 09:00 IST –
15th Match – Melbourne Stars Women v Sydney Sixers Women, Drummoyne Oval, Sydney
18th December 2015 14:00 local| 09:30 IST –
14th Match – Sydney Thunder Women v Adelaide Strikers Women, Allan Border Field, Brisbane
19th December 10:00 local| 04:30 IST –
18th Match – Hobart Hurricanes Women v Perth Scorchers Women, Blacktown International Sportspark, Sydney
19th December 2015 10:00 local | 05:30 IST –
16th Match – Sydney Thunder Women v Melbourne Renegades Women, Allan Border Field, Brisbane
19th December 14:30 local| 09:00 IST
19th Match – Sydney Sixers Women v Melbourne Stars Women, Drummoyne Oval, Sydney
19th December 14:30 local| 09:00 IST
20th Match – Perth Scorchers Women v Hobart Hurricanes Women,  Blacktown International Sportspark, Sydney
19th December 2015 13:40 local| 09:10 IST
17th Match – Brisbane Heat Women v Adelaide Strikers Women, Brisbane Cricket Ground, Woolloongabba, Brisbane
20th December 2015 10:00 local | 04:30 IST
25th Match – Melbourne Stars Women v Hobart Hurricanes Women, Blacktown International Sportspark, Sydney
20th December 2015 – 19th December 2015 10:00 local | 05:30 IST
21st Match – Brisbane Heat Women v Melbourne Renegades Women, Brisbane Cricket Ground, Woolloongabba, Brisbane
20th December 2015 – 19th December 2015 10:00 local | 05:30 IST
22nd Match – Adelaide Strikers Women v Sydney Thunder Women, Allan Border Field, Brisbane
20th December 2015 11:40 local | 06:10 IST
24th Match – Sydney Sixers Women v Perth Scorchers Women, Sydney Cricket Ground
20th December 2015 14:30 local | 10:00 IST
23rd Match – Brisbane Heat Women v Sydney Thunder Women, Brisbane Cricket Ground, Woolloongabba, Brisbane
26th December 2015 11:25 local | 08:55 IST
26th Match – Melbourne Stars Women v Perth Scorchers Women, Western Australia Cricket Association Ground, Perth
27th December 2015 10:00 local | 07:30 IST
27th Match – Perth Scorchers Women v Melbourne Stars Women, Western Australia Cricket Association Ground, Perth
27th December 2015 14:30 local | 12:00 IST
28th Match – Perth Scorchers Women v Sydney Thunder Women, Western Australia Cricket Association Ground, Perth
28th December 2015 10:00 local | 07:30 IST
29th Match – Sydney Thunder Women v Perth Scorchers Women, Western Australia Cricket Association Ground, Perth
31st December 2015 14:10 local | 09:10 IST
30th Match – Adelaide Strikers Women v Perth Scorchers Women, Adelaide Oval
1st January 2015 14:40 local| 09:10 IST
32nd Match – Brisbane Heat Women v Hobart Hurricanes Women, Bellerive Oval, Hobart
1st January 2015 14:40 local| 09:40 IST
31st Match – Perth Scorchers Women v Adelaide Strikers Women, Adelaide Oval
2nd January 2015 12:00 local | 06:30 IST
33rd Match – Sydney Thunder Women v Brisbane Heat Women, Kingston Twin Ovals, Hobart
2nd January 2015 13:40 local | 08:10 IST
35th Match – Melbourne Stars Women v Melbourne Renegades Women, Melbourne Cricket Ground
2nd January 201518:00 local | 12:30 IST
34th Match – Sydney Thunder Women v Hobart Hurricanes Women, Bellerive Oval, Hobart (D/N)
3rd January 2015 11:00 local | 05:30 IST
36th Match – Hobart Hurricanes Women v Brisbane Heat Women, Kingston Twin Ovals, Hobart
3rd January 2015 14:30 local | 09:00 IST
38th Match – Melbourne Renegades Women v Melbourne Stars Women, Melbourne Cricket Ground
3rd January 2015 15:00 local | 09:30 IST
37th Match – Hobart Hurricanes Women v Sydney Thunder Women, Kingston Twin Ovals, Hobart
8th January 2015 10:00 local| 04:30 IST
39th Match – Adelaide Strikers Women v Melbourne Stars Women, Junction Oval, Melbourne
8th January 2015 14:30 local| 09:00 IST
40th Match – Melbourne Renegades Women v Sydney Sixers Women, Junction Oval, Melbourne
9th January 2015 10:00 local| 04:30 IST
41st Match – Sydney Sixers Women v Adelaide Strikers Women, Junction Oval, Melbourne
9th January 2015 14:30 local | 09:00 IST
43rd Match – Adelaide Strikers Women v Sydney Sixers Women, Junction Oval, Melbourne
9th January 2015 14:40 local | 09:10 IST
42nd Match – Melbourne Renegades Women v Sydney Thunder Women, Docklands Stadium, Melbourne
10th January 2015 10:00 local | 04:30 IST
45th Match – Melbourne Stars Women v Adelaide Strikers Women Junction Oval, Melbourne
10th January 2015 14:30 local | 09:00 IST
44th Match – Sydney Sixers Women v Melbourne Renegades Women Junction Oval, Melbourne
15th January 2015 14:30 local | 09:00 IST
46th Match – Melbourne Stars Women v Sydney Thunder Women, Sydney Showground Stadium
15th January 2015 14:30 local | 09:00 IST
47th Match – Hobart Hurricanes Women v Sydney Sixers Women, Waverley Oval, Sydney
15th January 2015 14:00 local | 09:00 IST
48th Match – Adelaide Strikers Women v Melbourne Renegades, Women Adelaide Oval No 2
16th January 2015 10:00 local| 05:00 IST
51st Match – Adelaide Strikers Women v Brisbane Heat Women, Adelaide Oval No 2
16th January 2015 13:40 local | 08:10 IST
49th Match – Sydney Sixers Women v Sydney Thunder Women, Sydney Cricket Ground
16th January 2015 14:30 local | 09:00 IST
50th Match – Hobart Hurricanes Women v Melbourne Stars Women Blacktown International Sportspark, Sydney
16th January 2015 14:40 local | 09:40 IST
52nd Match – Perth Scorchers Women v Melbourne Renegades Women Adelaide Oval No 2
17th January 2015 10:00 local | 04:30 IST
53rd Match – Sydney Thunder Women v Melbourne Stars Women University Oval, Sydney
17th January 2015 10:00 local| 04:30 IST
54th Match – Sydney Sixers Women v Hobart Hurricanes Women Hurstville Oval, Sydney
17th January 2015 10:00 local | 05:00 IST
55th Match – Melbourne Renegades Women v Adelaide Strikers Women Adelaide Oval No 2
17th January 2015 14:40 local | 09:40 IST
56th Match – Melbourne Renegades Women v Perth Scorchers Women Adelaide Oval No 2
Eliminator:
1st Semi-Final – TBC v TBC Venue TBC
21st January 2016
2nd Semi-Final – TBC v TBC Venue TBC
22th January 2016
Final – TBC v TBC Venue TBC
24th January 2016
Women's Big Bash League|Fast Facts
Total games: 59
Tournament duration: 51 days
First game: Saturday, December 5, Brisbane Heat vs Melbourne Stars at Junction Oval, Melbourne
First Sydney derby: Sunday, December 6, Sydney Thunder vs Sydney Sixers at Spotless Stadium, Sydney
First Melbourne derby: Saturday, January 2, Melbourne Stars vs Melbourne Renegades, MCG
WBBL final: Sunday, January 24
Quota for Southern Stars' representatives per team: five
Quota for foreign cricketers per team: three
CA's 'Women's Payment Fund' for wages: $2.26 million
Retainers for WBBL players: $3000-$10,000 per campaign
Follow us on Google News