'We have injected anger into ourselves' – Harsha Bhogle reacts after being criticized for his tweet on Buttler-Philander controversy
Bhogle said that it was purely his personal opinion on sledging and abuse in cricket.
Updated - Jan 9, 2020 6:01 pm
1.1K Views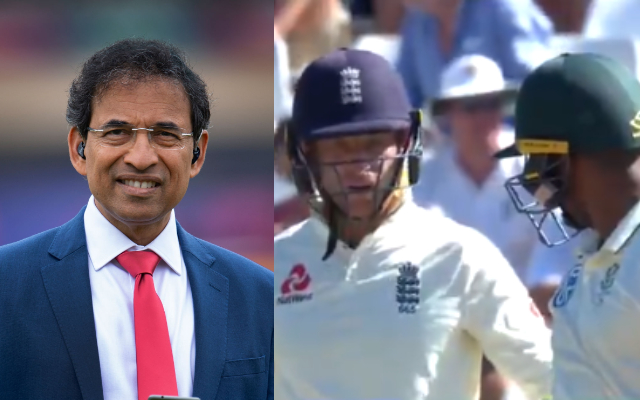 Vernon Philander and Jos Buttler got themselves tangled in a bit of a controversy in the second Test at the Newlands in Cape Town. It happened during the dying stages of the final day's play when South Africa were trying to save the match after being set a target of 438 to chase down. The Proteas had three wickets in hand and had around 19 overs remaining in the match.
The pressure was on Philander as he had the potential to see his team through to safety. On the other hand, the situation got the better of Buttler as well. The English wicketkeeper lost his cool and hurled abuses at Philander, calling him a 'f*****g knobhead'. Philander looked around at Buttler, who didn't refuse to stop and kept on using expletives for the lower order batsman.
Harsha Bhogle critical of Jos Buttler
The Three Lions went on to win the game by 189 runs and drew level in the series with a couple of Tests left in Port Elizabeth and Johannesburg. Buttler had to bear the brunt of the netizens after his unsportsmanlike behaviour. In the meantime, Harsha Bhogle, the renowned sports journalist, opined on the controversy and expressed his dissatisfaction. He took to Twitter and wrote, "What a pity…"
But Bhogle's reaction didn't quite go down well with his followers by any stretch of the imagination. The fans criticised him for showing bias in such a scenario. The supporters felt that he doesn't put in similar reactions when Virat Kohli, the Indian skipper, uses abusive languages on the field.
Virat has often found himself under the cosh for showing aggression on the field of play. Meanwhile, Bhogle has reacted after the backlashes. The veteran reckons that the hostile reactions of the players come from the anger they have injected into themselves.
He replied to the trolls and wrote, "The responses to this this post, a purely personal opinion on sledging and abuse in cricket, by the way independent of which player it is emanating from, show you how much anger we have injected into ourselves,"
Here is Bhogle's reply
The responses to this this post, a purely personal opinion on sledging and abuse in cricket, by the way independent of which player it is emanating from, show you how much anger we have injected into ourselves https://t.co/37crqiQ1bX

— Harsha Bhogle (@bhogleharsha) January 8, 2020