'Well done Lala' – Harbhajan Singh praises Virender Sehwag for cooking food for the underprivileged in COVID fight
The migrant labourers have had to go through some serious troubles in the lockdown period.
Updated - May 29, 2020 7:25 pm
90 Views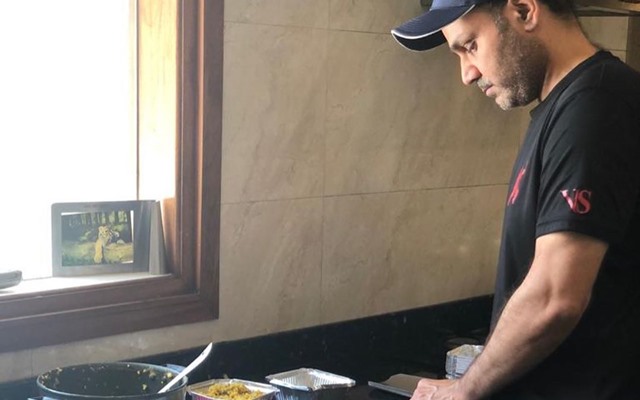 Follow us on Telegram
India have been fighting with all its might over the last few days owing to the coronavirus pandemic across the globe. The lockdown in the country has been going on for the last two months and it's not yet known when things would go back to normal. For now, over 1,66,000 people have been affected with 4,706 persons losing their lives. In the meantime, Virender Sehwag has been doing his bit.
The Nawab of Najafgarh has been trying to lend his helping hand for the ones affected in the current situation. He posted a picture on Instagram where he can be seen preparing some dishes, putting all his concentration. Sehwag wrote that he is the quest to help out the migrant labourers, who have faced a whole lot of troubles. By doing so, the veteran also found immense satisfaction.
He captioned the picture and wrote, "The satisfaction of cooking and packing food from the comfort of your own homes and getting it distributed to the most needy migrant labourers in these times is a satisfaction few things can match,"
Here is Virender Sehwag's post
Seeing the efforts, Harbhajan Singh, Sehwag's former national teammate, lauded him. Harbhajan replied and wrote, "Well done Lala,"
Here's the screenshot of Harbhajan's reply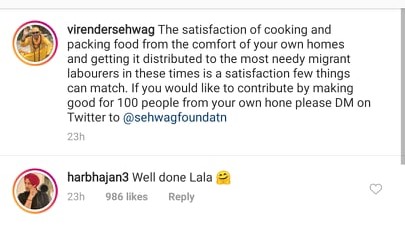 In the lockdown period, it's been a painful sight to see the migrant labourers walking their way to their homes. They have had to strain a lot for getting their daily food. Recently, Sonu Sood, the popular Bollywood actor, came out in support of the needy. The veteran has been helping the labourers, stranded in Mumbai, to get back home while all his heart.
He, along with his childhood friend Niti Goel, has also been distributing food packets and groceries to the poor people in the situation of crisis. The country has almost been brought onto its knees by the pandemic situation. The death tolls have kept on increasing at the rate of knots.
The fourth phase of lockdown is until May 31 and the restrictions have somewhat loosened. However, it's yet not known if the lockdown would be lifted completely in the month of June. The world is also waiting for an appropriate vaccine to come forward.
Follow us on Google News