West Indies v Pakistan, 3rd Test, Day 3 Review – Roston Chase fights back for West Indies with a brave half-century
West Indies finished with 218/5 and trail by 158 runs
Updated - May 13, 2017 11:34 am
237 Views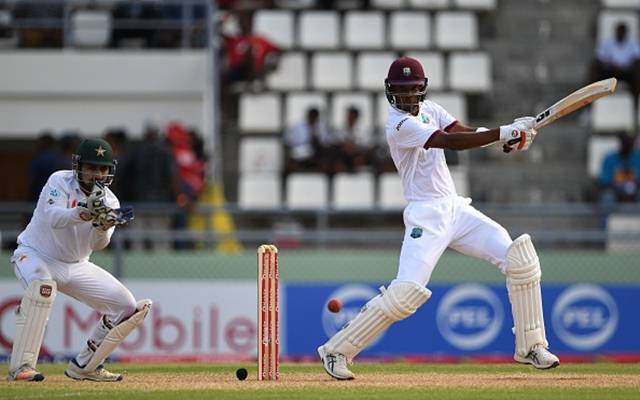 An engrossing yet slow-moving day of Test cricket at Roseau witnessed a sturdy retaliation by hosts West Indies, who didn't buckle down despite Yasir Shah's ordeal. Resuming from 14 for no loss, the West Indies openers were greeted to fluffy white clouds and bright conditions to bat. Much like the first two days that meandered along at snail's pace, the duo of Kieran Powell and Kraigg Brathwaite began with an akin sluggishness.
Pakistan's pacers imposed a threat on the batsmen out in the middle. A rejuvenated Mohammad Amir, who seems to grow with every game of cricket he plays, bowled a couple of exceptional overs. A Wasim-Akram like yorker veered in towards Brathwaite's toes, who just about managed to dig it out. Mohammad Abbas beat the outside edge on several occasions; his best delivery was one that nipped off the seam from length on middle stump and whizzed past Powell's non-convictional poke.
After 16 grinding overs, Pakistan finally struck, but it was the leggie Yasir Shah who did the damage. In the dying hours of Day 2, Yasir had already shown glimpses of arousing the devils in this pitch. On this occasion, he tossed the ball up to draw the batsman out of his crease. Powell stepped out, but couldn't quite reach the pitch of the delivery, only to lob it to deep midwicket. Kieran Powell had given away another start as he fell for 31.
Accelerating the Windies innings was on Shimron Hetmyer's mind. He was straightaway targeting the boundaries, as he put away Yasir for four, followed by huge six over square leg. Hetmyer's onslaught though was short-lived with the leg-spinner having the last laugh. The umpire didn't think bat met ball, hence Sarfraz asked for a review. Despite the absence of Snicko, there seemed to be a bit of noise as the ball passed the bat. Bruce Oxenford was forced to reverse his decision, much to the disappointment of Hetmyer who departed for 17 off 18.
West Indies plodded along with Shai Hope being the new man at the crease. Along with Brathwaite, he negotiated 12 overs and added just 28 runs. Brathwaite fell on the very first ball of the 22nd over, as the ball kissed the outside edge through to Sarfraz. It was that man Yasir Shah again who was in the thick of things. Following Brathwaite's wicket, players moved for Lunch, as smiles adorned the Pakistani players.
After a satisfying midday meal, the West Indies began pulling things back from a slide of sorts. The man who architected the revival was Roston Chase, who's continuously proved his utility in this West Indies side. Hope and Chase stitched a valuable 50-run partnership for the West Indies, thus putting off the Pakistan bowlers who seemed to get no reward for their probing spells. Shafiq put down a hard chance to allow Hope to continue on 23. It didn't turn out to be such a costly drop as Hope perished after adding 6 runs. Unexpectedly, Azhar Ali was the man who delivered the breakthrough. Meanwhile Misbah reached another landmark as he held on to his 50th Test catch.
Roston Chase got to yet another fifty after Tea. His measured knock was duly appreciated by the dressing room. Unfortunately for the all-rounder, he was forced to leave the field retired hurt on 60. A Mohammad Amir delivery close to 140 clicks hit Chase flush on the elbow. He looked in some pain. However, Chase walking off played right into Pakistan's hands, leaving the Windies lower middle order exposed to the new ball.
As expected, Vishaul Singh bit the dust with Mohammad Abbas getting him plumb. The batsman chanced his luck by calling for a review, but he had paid the price for minimal movement of the feet. The West Indies had lost half their side, having scored half as many runs as Pakistan in the first innings.
Skipper Jason Holder then partnered wicketkeeper-batsman Shane Dowrich to see the final few overs through. The duo ensured the hosts didn't have to face any more speed bumps as they ended the day at 218/5. A total of 204 runs were scored in the day, at 2.29 per over, maintaining the creeping theme of this third and final Test. Pakistan might have looked the happier side at Stumps, but it must be said that they were made to work hard for their wickets. Meanwhile, the West Indies will be reassured to know that Roston Chase will be back out at some point of time on Day 4. The third day at Roseau displayed some proper Test cricket, thus setting up an interesting couple of days to come.
Brief Scores:
Pakistan 376/10 in 146.3 overs (Azhar Ali 127, Misbah 59, Chase 4/103, Holder 3/71)
West Indies 218/5 in 100 overs (Chase 60 retd., Powell 31, Yasir 3/108, Azhar 1/15)
Check full scorecard here.